This Vegan Blueberry Coconut Pie is filled to the brim with fresh seasonal berries! Coconut milk in the filling makes this pie extra rich and creamy.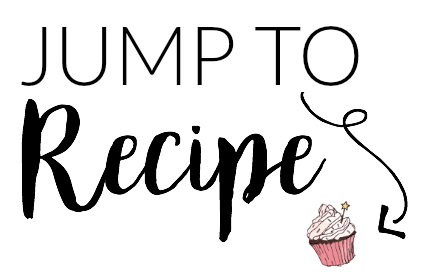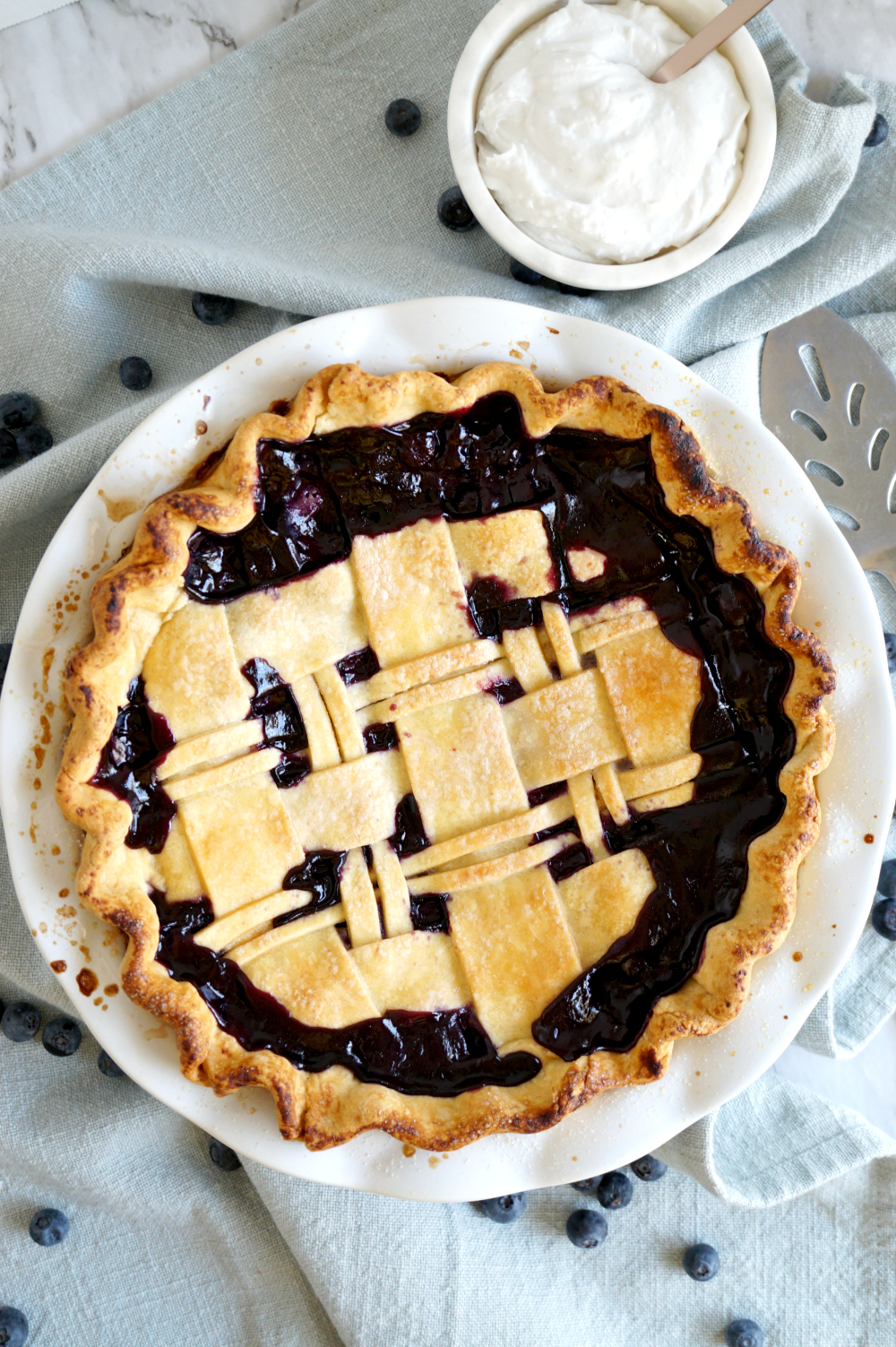 Hi friends and happy Friday! Today is officially the last day of #BlueberryWeek, and I am wrapping it up with this delish Vegan Blueberry Coconut Pie! I used my favorite simple pie crust recipe, and filled it with loads of fresh blueberries and coconut milk for a pie that tastes perfectly summery. It really is all sorts of perfection with a dollop of whipped coconut cream (or coconut ice cream)!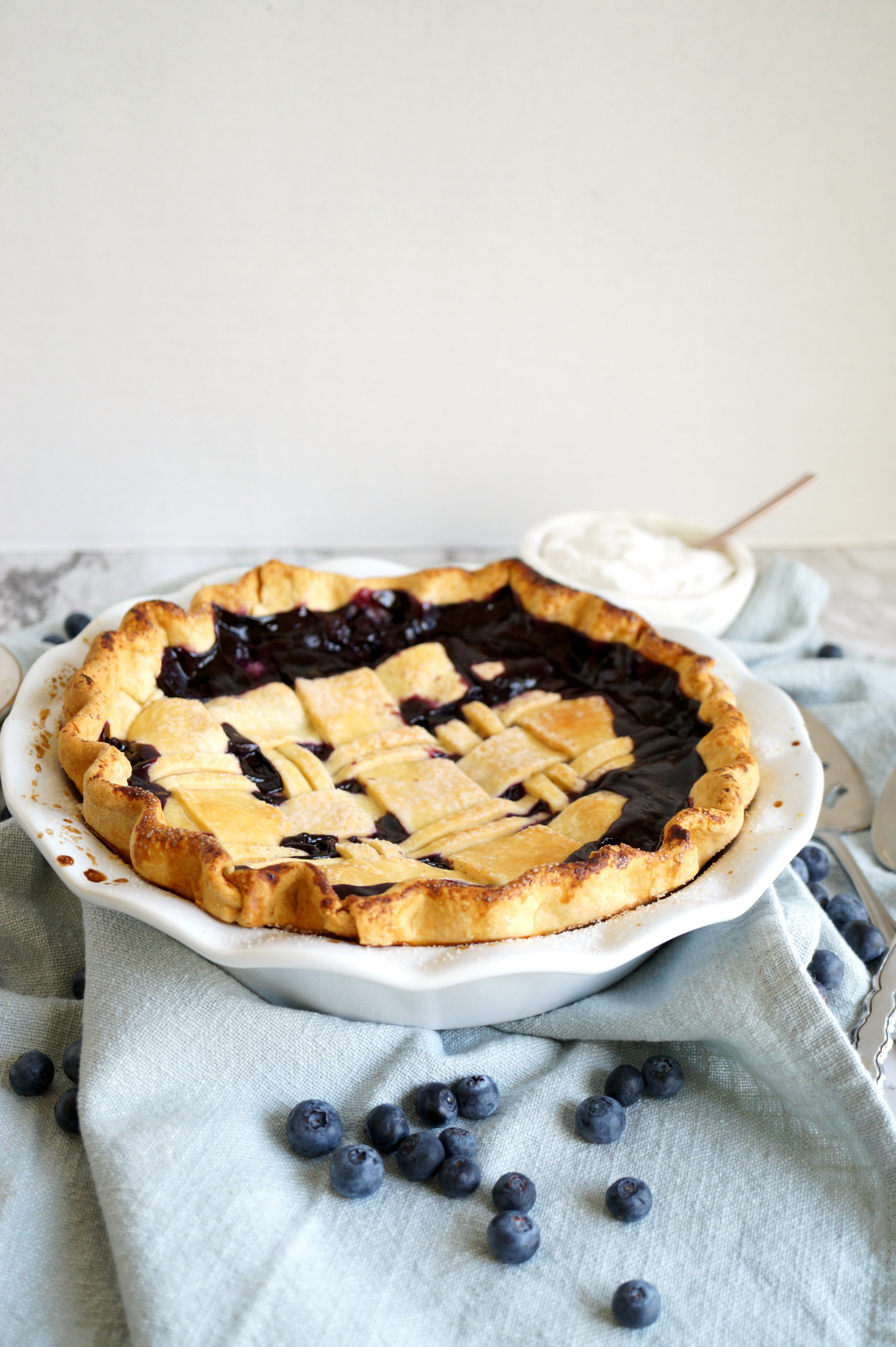 I've talked about how I am not a pie connoisseur time and time again, but I do have to say that since I started making THIS pie crust (from my friend Sugar & Satire), I have hated making pie just a little less. I'm still definitely not an expert and I'm sure I overwork the dough 100% of the time, but if the crust can come together and stay together... that's a win in my book! Though in a pinch, I'm still a big advocate for the storebought stuff. So easy! So cheap! And... most of the time, accidentally vegan. Works for me 😉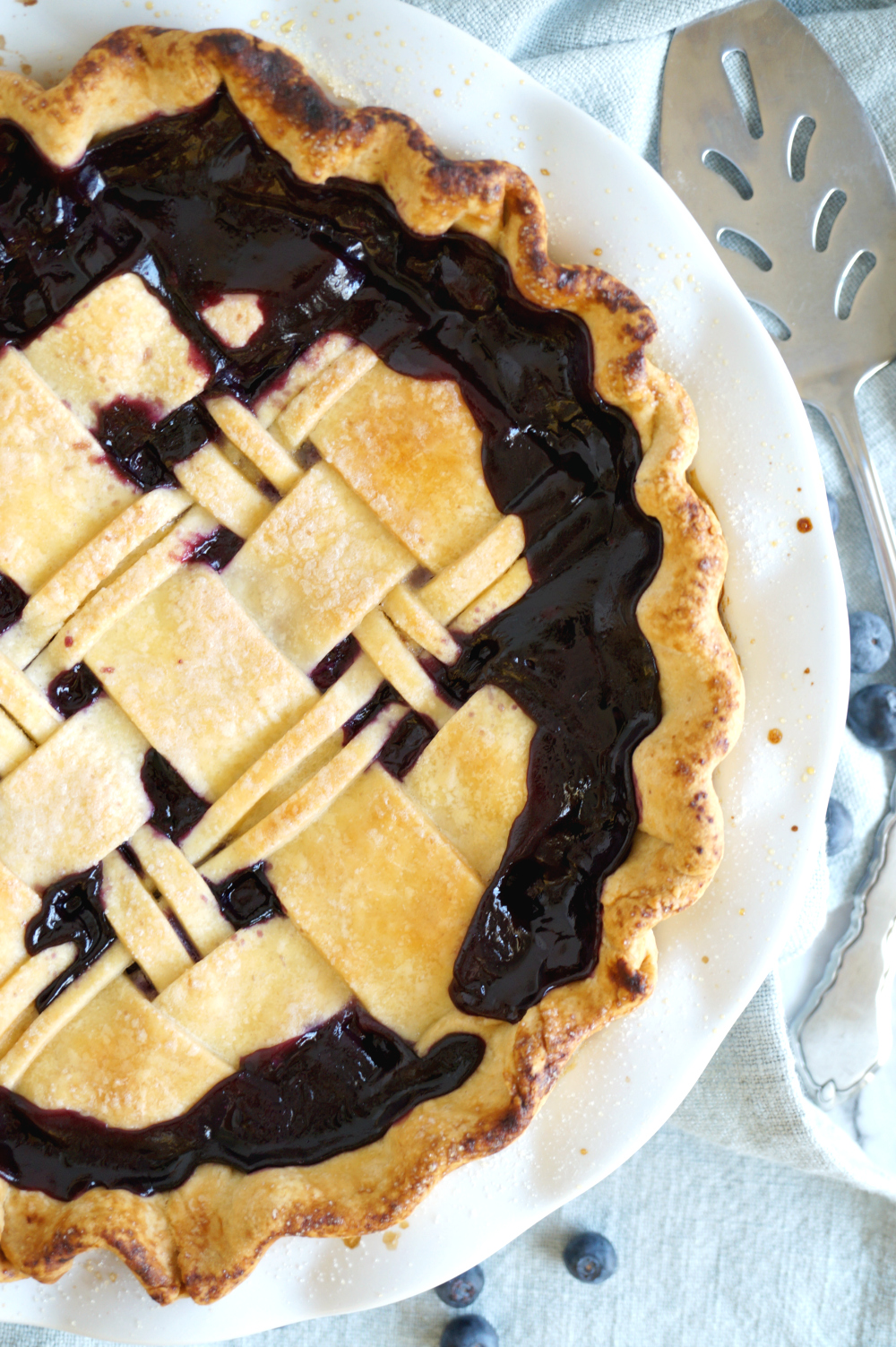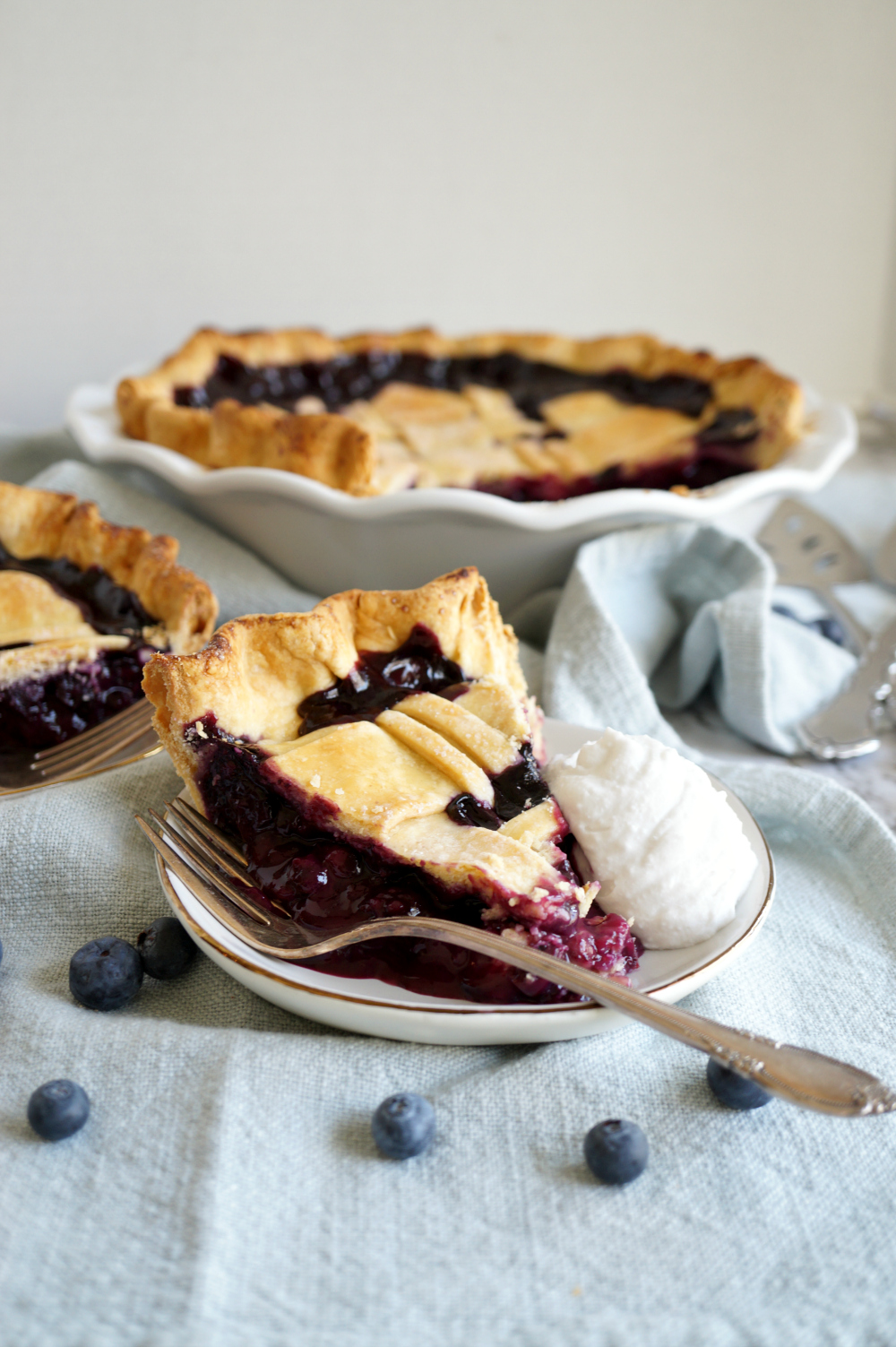 For this blueberry coconut pie, I actually took inspiration from my creamy apple pie... I wanted to know what would happen if I mixed in rich, silky coconut milk into my pie filling. Magic is what happens, people! This pie is definitely not a custard pie or anything (as you can clearly see), but the coconut milk makes the filling creamier, and mellows out the floral aspect of the blueberries, which can be a little harsh in large amounts. If you want to play up the coconut aspect even more, you can of course add in some coconut extract or even make a coconut oil pie crust! I decided to stick with the coconut milk inside, and I served it with whipped coconut cream for a little extra oomph 🙂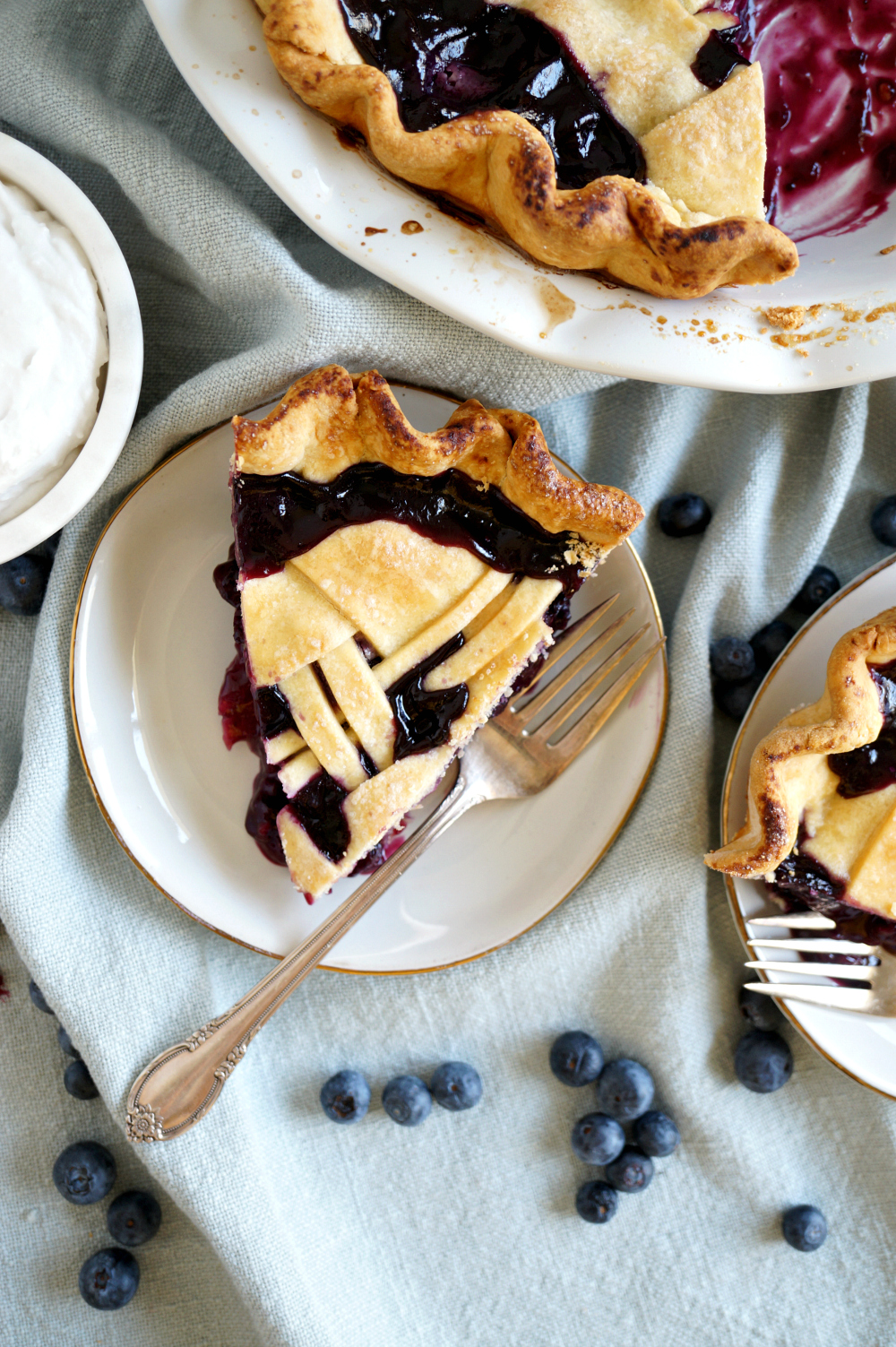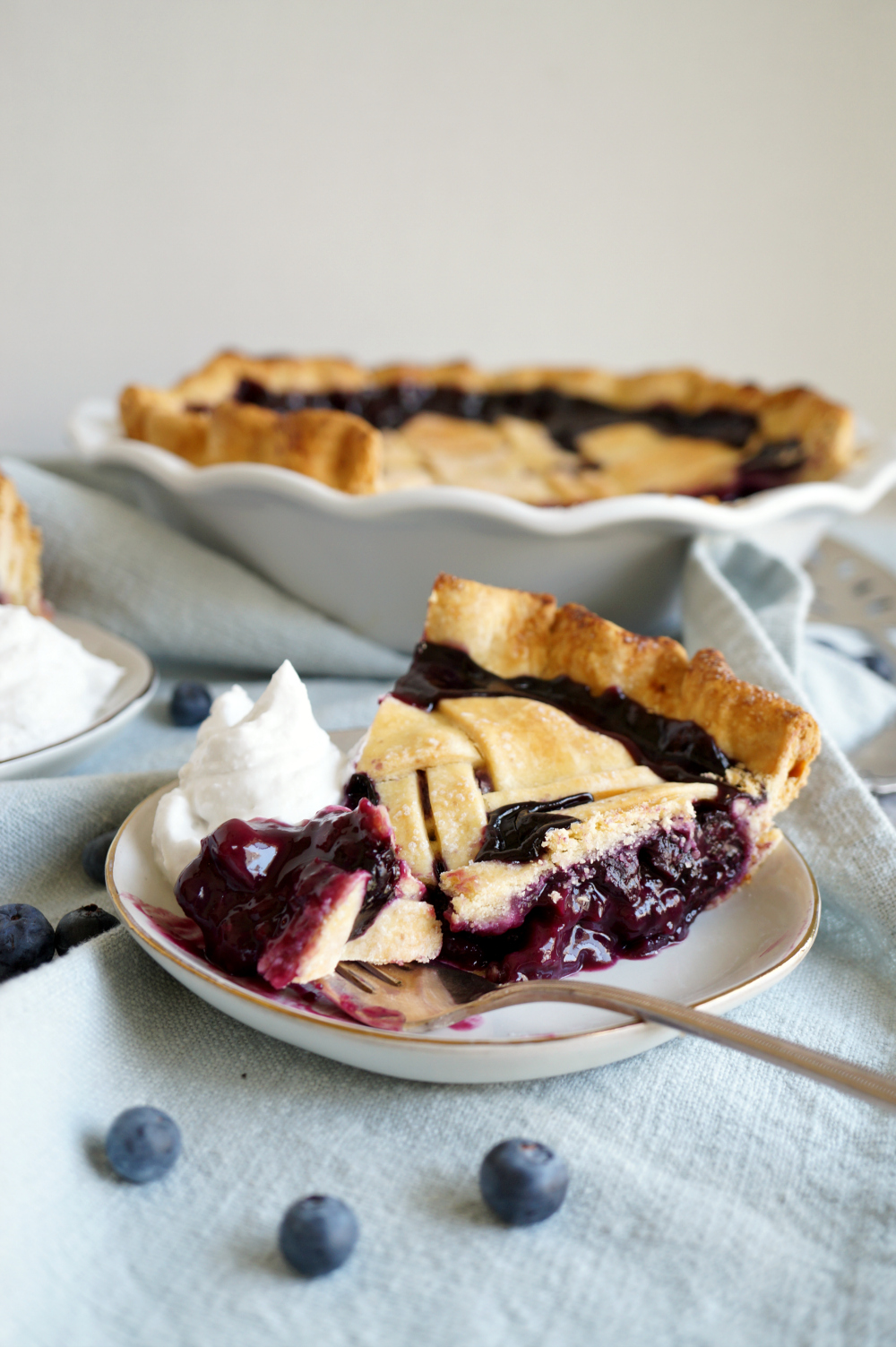 For one last time... let's hear it for all the delicious blueberry creations of the day!
Breakfast
Drinks
Dinner
Dessert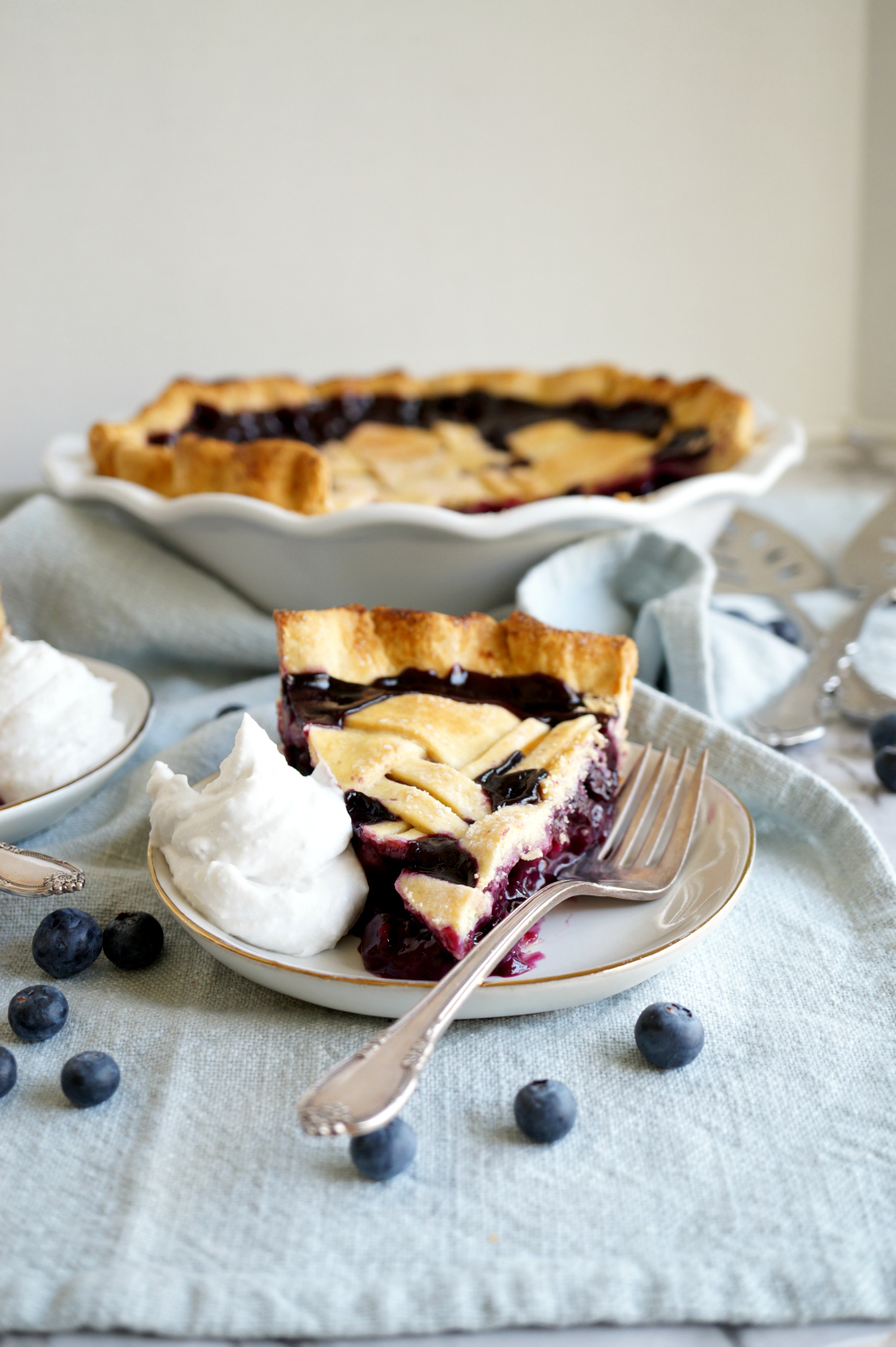 I hope you guys have had fun this #BlueberryWeek... I know I have! Be sure to check out what I made earlier this week, too.
Looking for more pie inspiration?
vegan blueberry coconut pie
This Vegan Blueberry Coconut Pie is filled to the brim with fresh seasonal berries! Coconut milk in the filling makes this pie extra rich and creamy.
Author:
Valentina | The Baking Fairy
Recipe type:
Pies & Tarts
Ingredients
*for the crust*
2½ cups all purpose flour
½ teaspoon salt
⅔ cup vegan shortening
¼ - ½ cup cold water
*for the filling*
4 cups fresh blueberries
1 tablespoon fresh lemon juice
¾ cup light brown sugar
4 tablespoon flour
½ teaspoon cinnamon
1 cup canned coconut milk
*for finishing*
2-3 tablespoon coconut milk
granulated white sugar or turbinado sugar
Instructions
First, prepare the pie crust.
In a large bowl, combine the flour and salt. Add in the cold shortening and mix in using a pastry blender or your hands. Combine until mixture appears sandy and the biggest pieces of shortening are about pea-sized.
Slowly add in the water, mixing as you go, until dough holds together without being too crumbly.
Divide the dough in half, and pat each piece into a round shape, and wrap in plastic wrap. Place in fridge to chill until needed.
When ready to bake, preheat oven to 375F.
Prepare the filling. In a large bowl, combine the blueberries, lemon juice, brown sugar, flour, cinnamon, and coconut milk. Mix to combine.
Grab one of your prepared pie crusts, and roll it out on a clean working surface sprinkled with some flour.
Place it in your 9" pie dish, then pour in the prepared blueberry mixture.
Place the second pie crust on top as desired. Brush with the remaining coconut milk and sprinkle the sugar on top.
Wrap aluminum foil around the crust to prevent it from burning, and bake the pie in preheated oven for about 25 minutes with it on. Then remove the foil and continue baking for another 30 or so minutes.
The total baking time will be around 50-60 minutes. Pie is done when the crust is golden brown and crisp and filling is bubbling.
Let pie cool for a couple of hours so filling can set. Slice and serve with your favorite vegan vanilla ice cream or coconut whip!