This Vegan Mango Coconut Snack Cake is super simple to make, and packed with inviting tropical flavors. Fresh, seasonal mangos really shine in this dessert!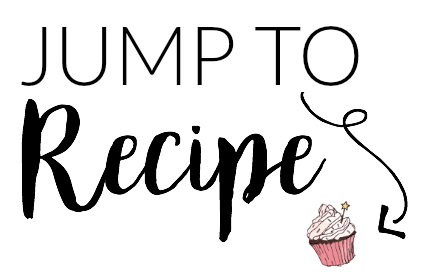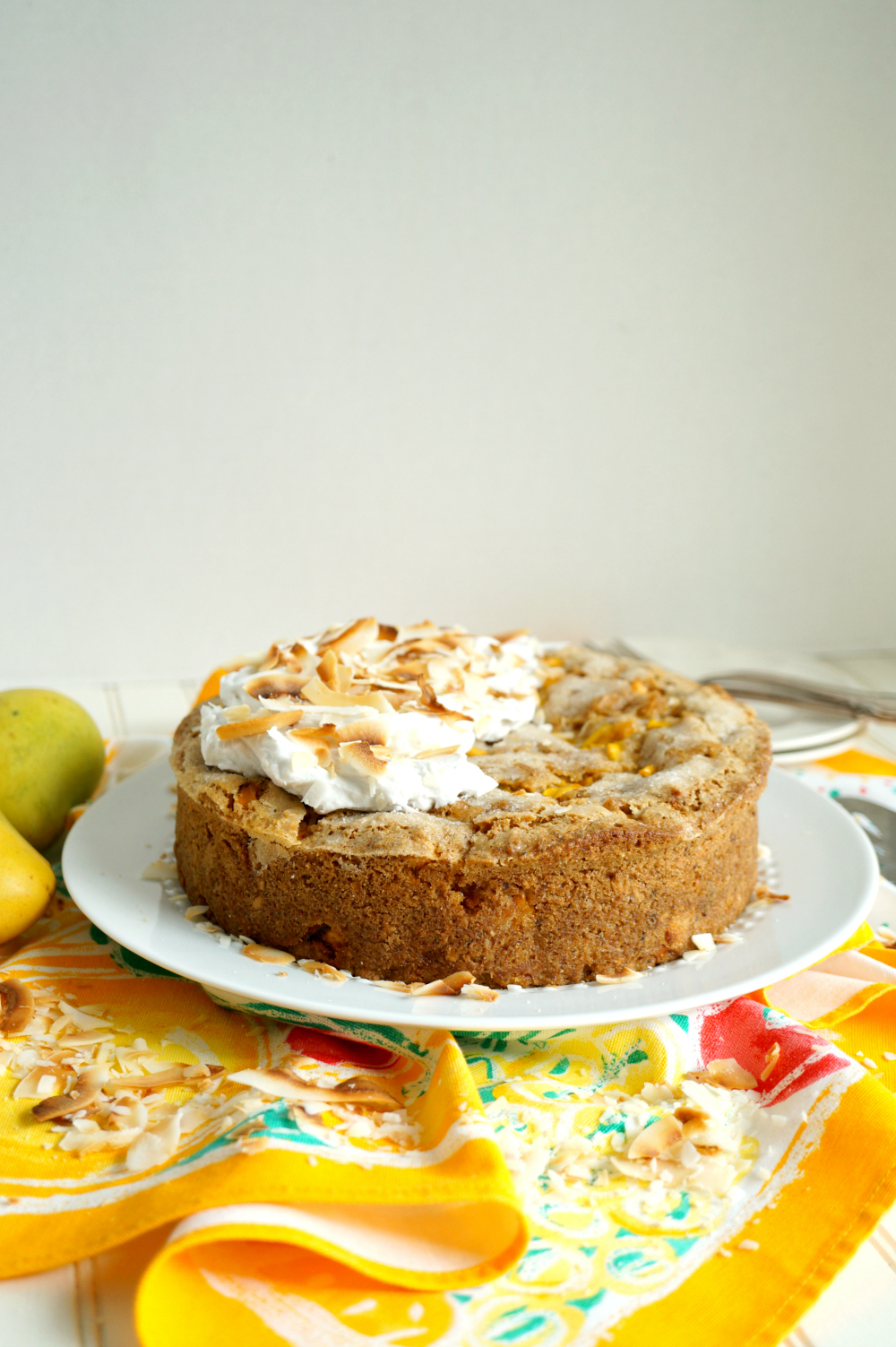 Hi friends, and happy Wednesday! Welcome back for another day of #StoneFruitWeek recipes! I decided to do something a little different today, and feature the humble mango as the stone fruit of the day. I didn't realize mangos were "stone fruit" until recently but... well, it makes sense. There is definitely a huge pit involved LOL. They may not be as traditional as the usual peach or cherry, but they sure are delicious! For your eating pleasure, today I have this Vegan Mango Coconut Snack Cake for you. Soft, fluffy, studded with chunks of fresh mango and topped with fluffy coconut whip. It is so good and tastes like pure summer!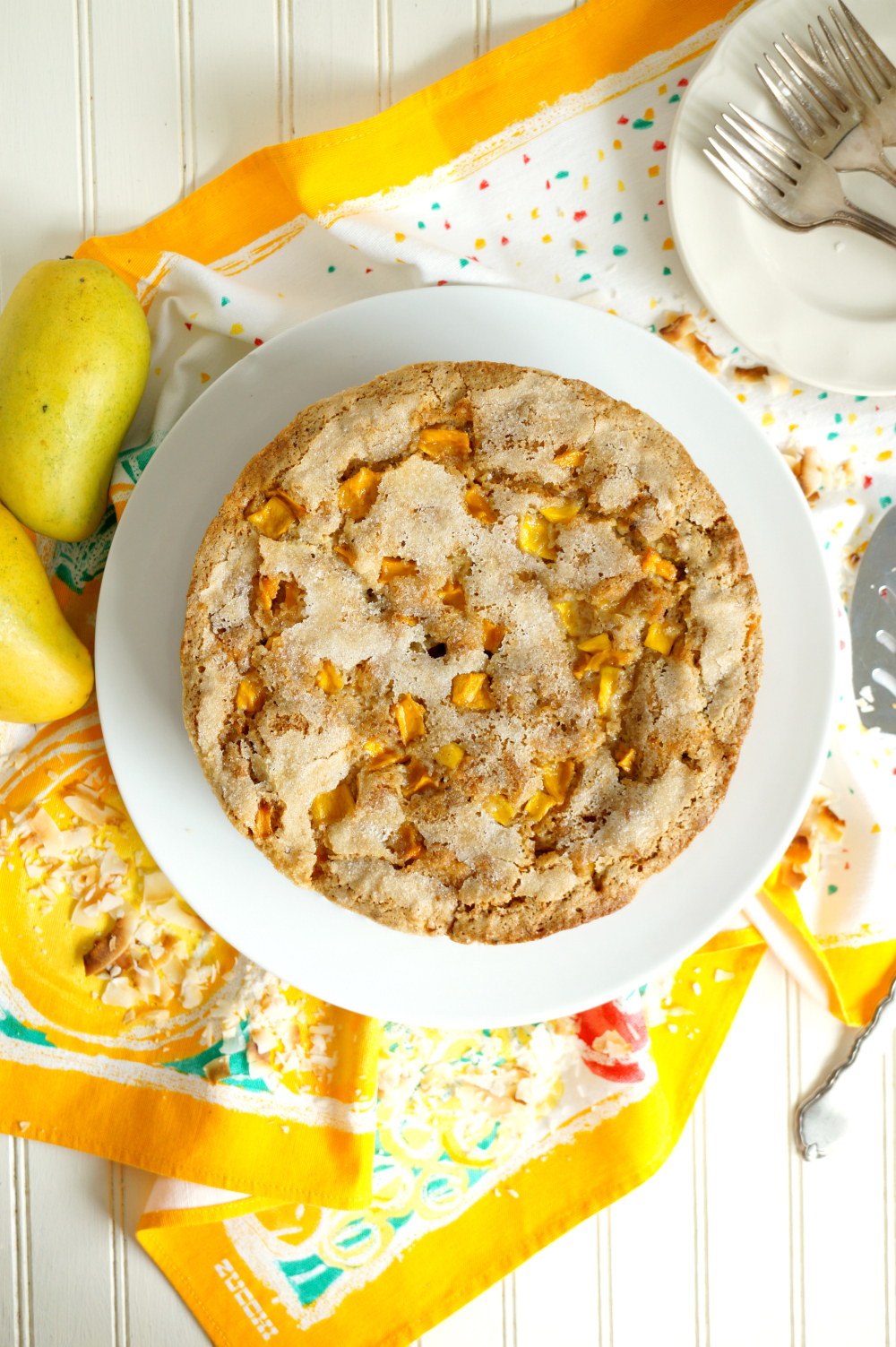 I love eating fresh mangos, but I didn't start using them as a baking ingredient until recently! I just didn't think about the fact that they could be cooked, you know? Don't ask me how my brain works. Now that this delicious tropical fruit is on my radar, I will definitely be featuring it more often in my recipes! Though I won't lie... my favorite way to enjoy it is still plain and simple 🙂 For this snack cake, I decided to pair it with coconut to really amp up the tropical component and it worked really well.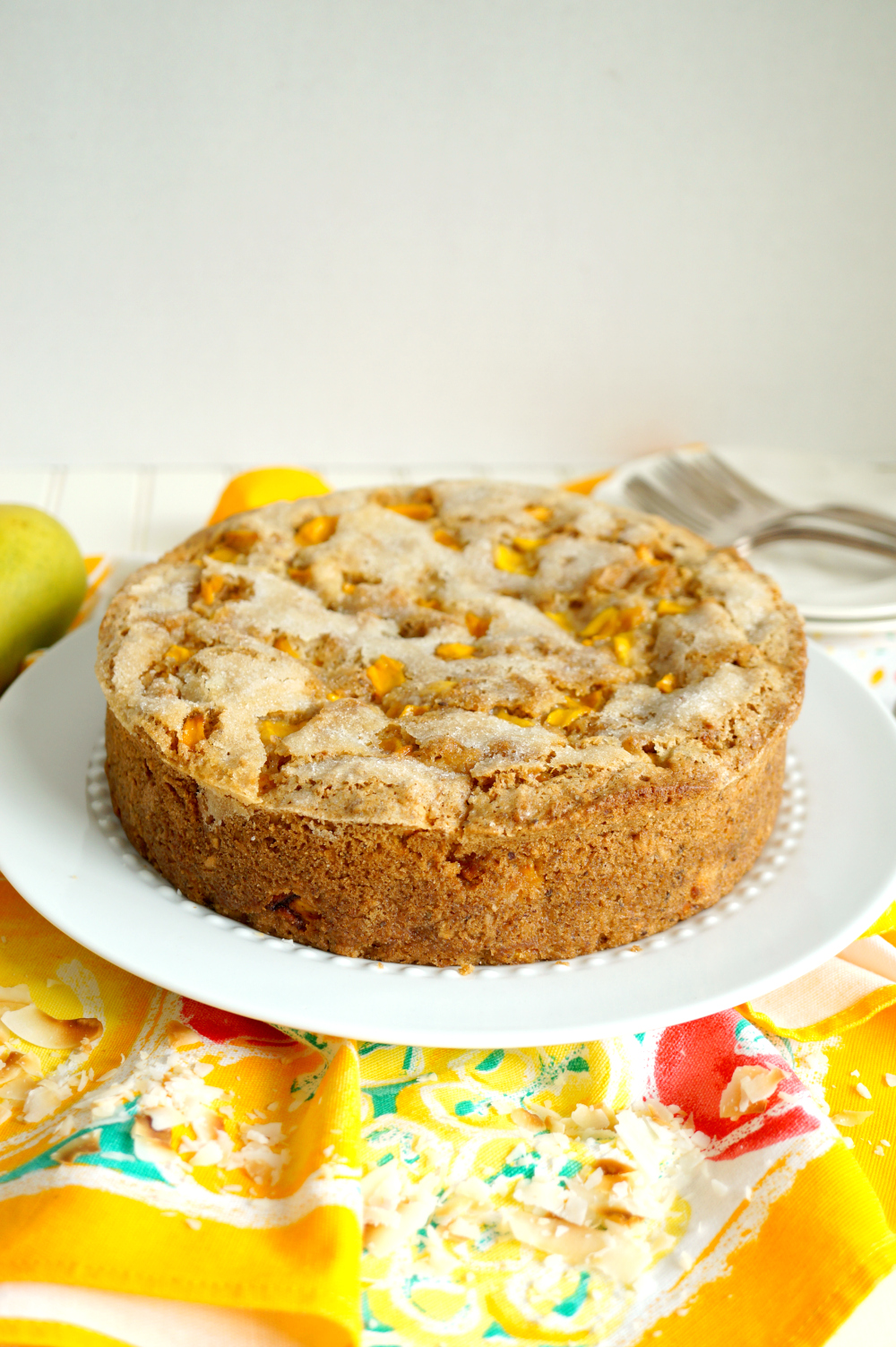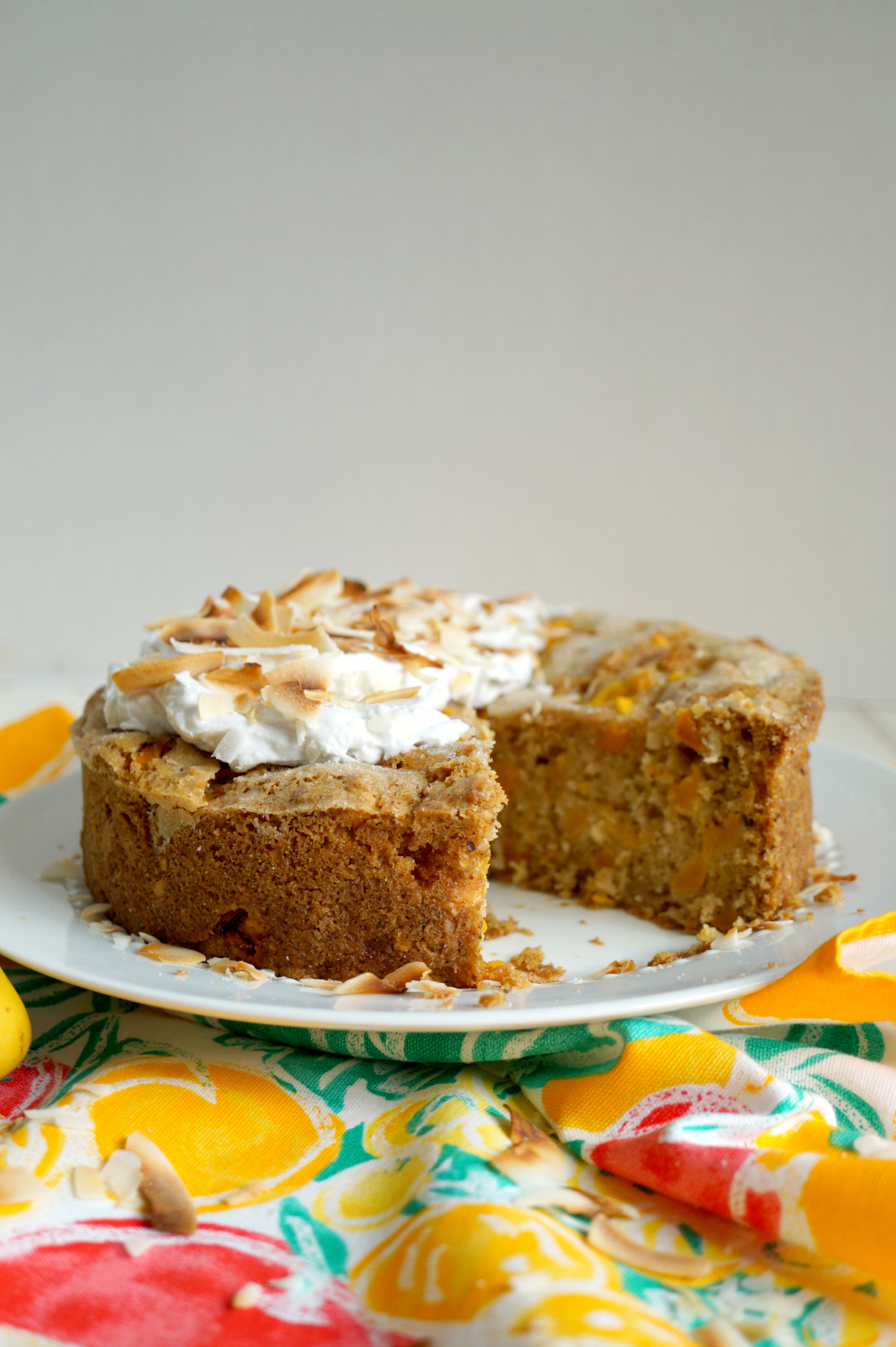 Remember to check out everyone else's delicious recipes for today!
#StoneFruit Week continues with these great recipes: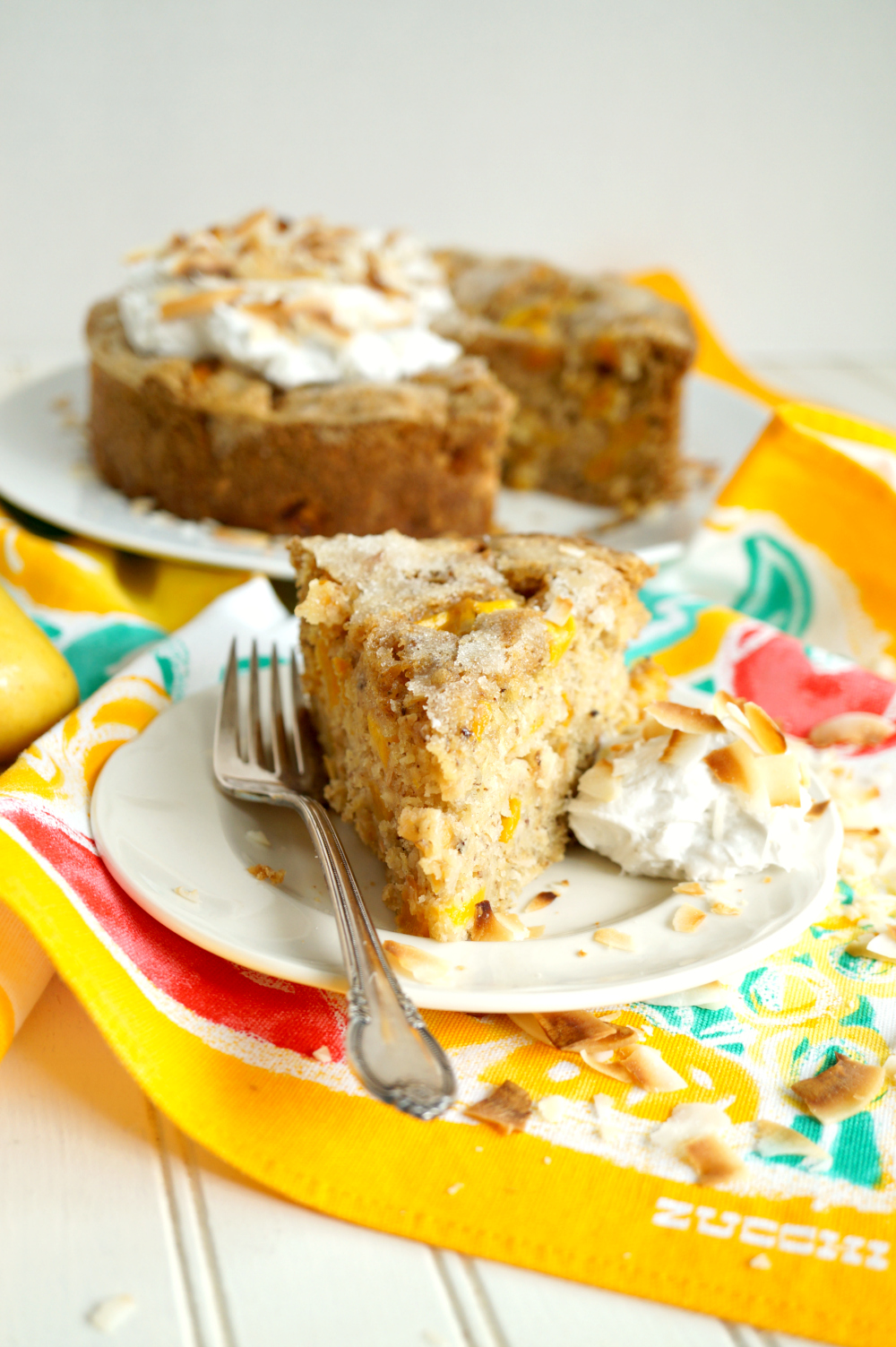 I hope you guys enjoyed today's recipe for this mango coconut snack cake! Remember to come back FRIDAY for my last #StoneFruitWeek recipe! 🙂
Check out more of my mango recipes!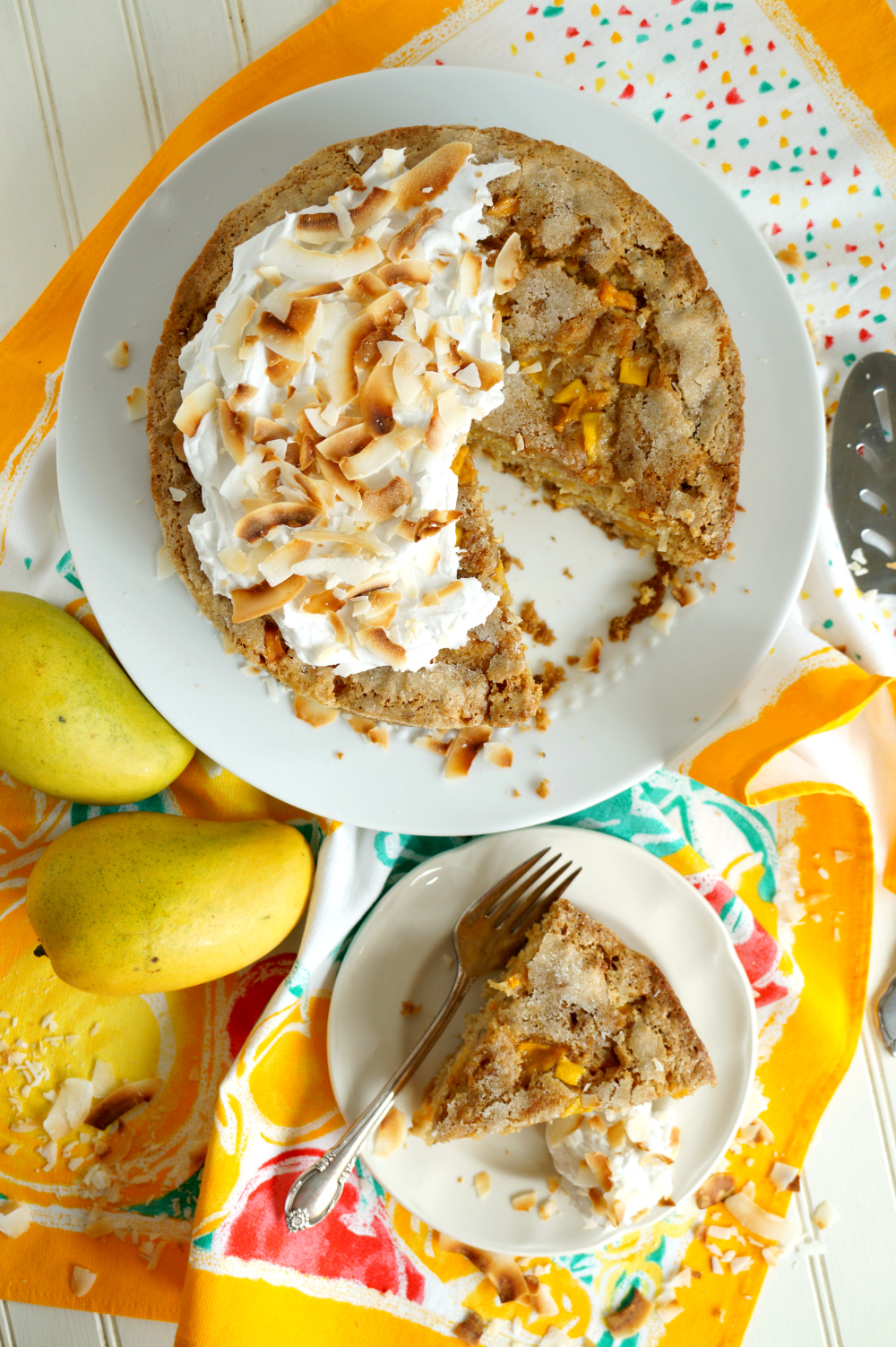 vegan mango coconut snack cake
This Vegan Mango Coconut Snack Cake is super simple to make, and packed with inviting tropical flavors. Fresh, seasonal mangos really shine in this dessert!
Author:
Valentina | The Baking Fairy
Ingredients
*for the cake*
2 tablespoon ground flaxseed + 6 tablespoon water
1 cup granulated sugar + 2-3 tablespoon for topping
1¾ cup all-purpose flour
1½ teaspoon baking powder
1 teaspoon baking soda
½ teaspoon salt
¼ cup coconut oil, solid
⅓ cup coconutmilk yogurt
¼ cup vegetable oil
1 tablespoon vanilla extract
1 teaspoon coconut extract
⅔ cup canned coconut milk
1 cup fresh mango chunks (about 2 small honey mangos)
1 cup toasted coconut flakes
*for the topping*
1 can of coconut cream, chilled
2-3 tablespoon powdered sugar
toasted coconut chips
Instructions
First, prepare the coconut cream. Place the can in the fridge, undisturbed, and allow to chill at least overnight. You want it to be totally solid so that it will whip up well!
Next, make the cake. Preheat oven to 350F and spray one 8" round cake pan with nonstick baking spray. In a small bowl, whisk together the ground flaxseed with the water and set aside to thicken.
In the bowl of a stand mixer, combine the flour, baking powder, baking soda, salt, and sugar.
Add in the coconut oil, and beat on low until it's incorporated and has a sandy texture.
In a small bowl, whisk together the vegetable oil, flaxseed mixture, coconut yogurt, and vanilla & coconut extracts, and add them to the dry ingredients. Mix until combined.
Pour in the coconut milk, and beat on medium-low until smooth and creamy. Finally, gently stir in the mango pieces and shredded coconut.
Pour the batter into the prepared cake pan, and sprinkle the reserved sugar over the top of the cake.
Bake for 30-40 minutes, until a toothpick inserted in the center comes out with just a few crumbs.
Let the cake cool completely before topping with the coconut cream, or it will melt!
To make the coconut whip, carefully open your chilled can of coconut cream. Using a spoon, remove all of the coconut solids off the top of the can, and place in a medium bowl. Be sure to leave the liquid behind.
Beat the coconut cream with a hand or stand mixer until light and fluffy, then add in the powdered sugar for some sweetness.
Either serve the mango coconut snack cake with coconut whipped cream spread on top, or on the side! I recommend topping with some toasted coconut chips for a pretty presentation. Enjoy!