This sweet & simple Vegan Summer Berry Galette combines homemade berry jam filling with a golden brown pie crust for a delicious dessert.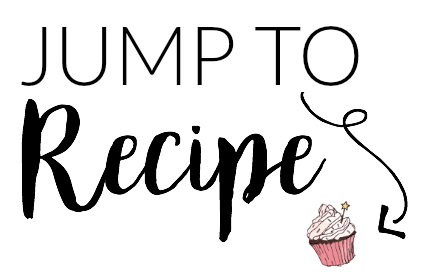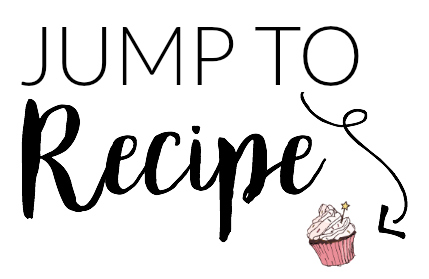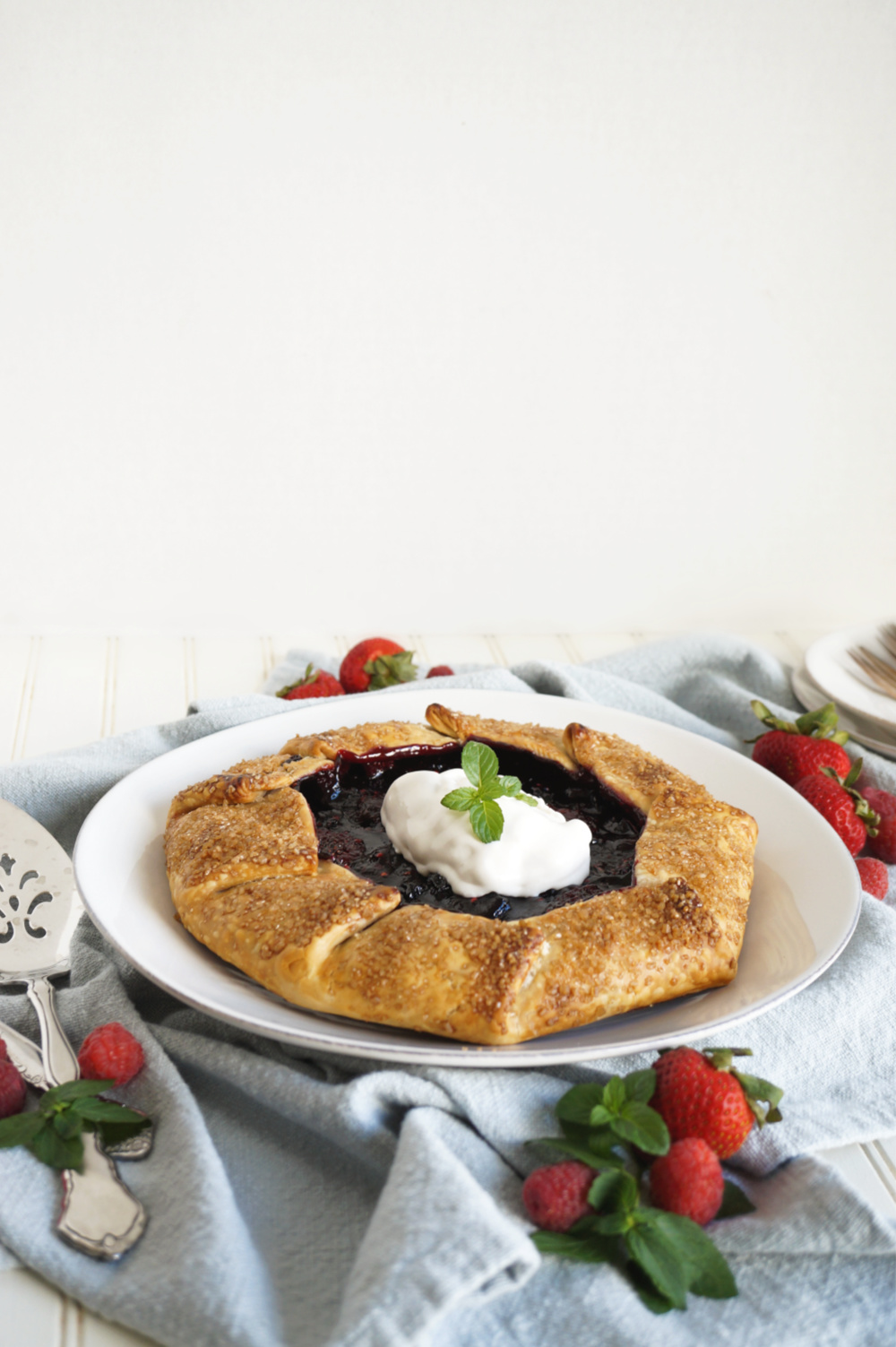 Happy Friday, friends! Today is the last day of #BerryWeek, and I have yet another delicious treat for you. I have loved whipping up these berry-themed recipes this week! Last, but certainly not least, is this scrumptious Vegan Summer Berry Galette! This baby is incredibly simple to make - you start with frozen mixed berries and cook them with some lemon juice, sugar, and cornstarch to make a homemade jam. Then you just fold this filling into some store-bought pie crust, sprinkle on some Turbinado sugar, and it's time to bake! Easy peasy, lemon squeezy. Y'all know I love the simple recipes!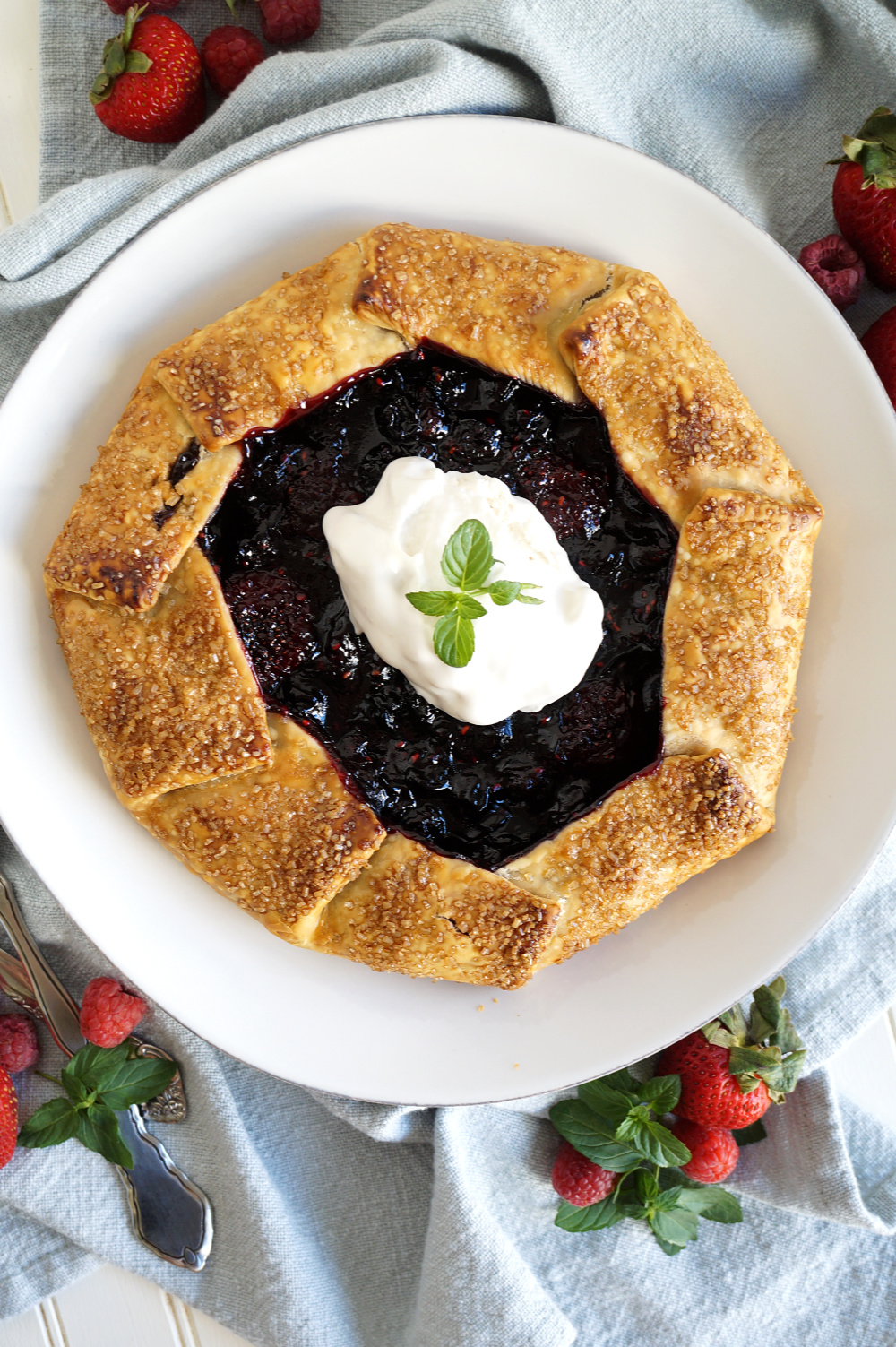 What is a galette?
A galette is a super simple, freeform tart made with pie crust! This is great for beginners because it doesn't require any special equipment (just a regular flat cookie sheet will do), and it's super forgiving. The galette is supposed to be a bit rustic, so no worries if the crust is a bit uneven!
I have made berry galettes before (see this delicious blueberry version, or this chocolate & cherry one!), but my issue is that there is always SO much juice that pours out no matter what! My first test round of this summer berry galette was a disaster. The entire pan was covered in burn berry juice, even though the berries were thawed and drained beforehand. Of course with so much liquid, the crust was also too soft and wet to cook properly. I decided to take a different approach and pre-cook the berry filling - it worked perfectly! I didn't have a single drop of berry juice pour out, and the crust was perfectly golden brown and crispy. No soggy bottoms here! 😉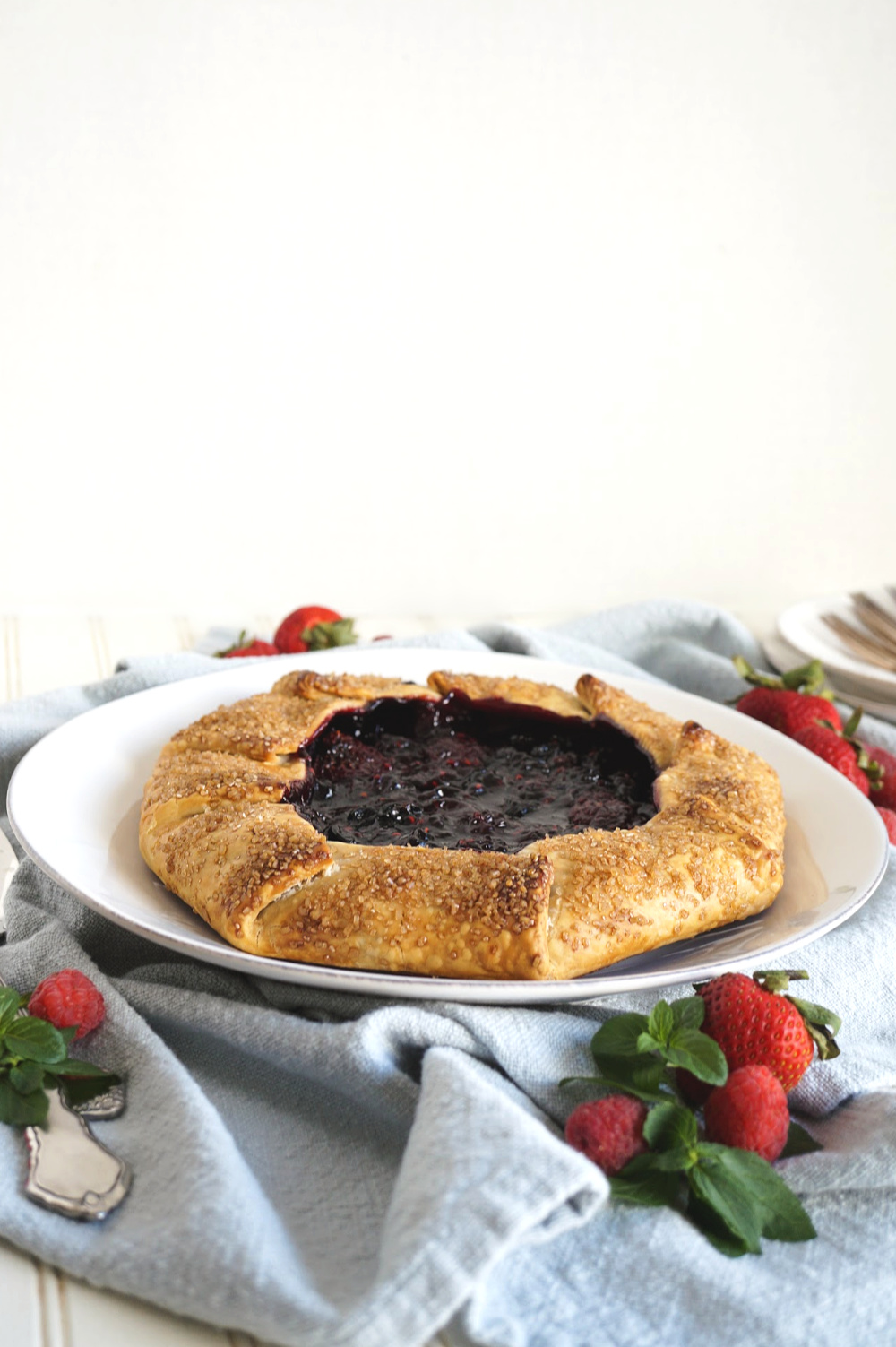 How do I make this summer berry galette?
This recipe basically has two steps - one is making the jammy berry filling, and the other is assembling and baking!
Make the filling - combine thawed frozen berries with sugar, lemon juice, and cornstarch in a small pot. Be sure to drain as much excess liquid from the thawed berries as possible, cause they make a TON! Bring the mixture to a boil, then lower to a simmer and cook until berries are soft and mushy, and the mixture is thickened and jammy. Keep in mind it will also thicken more as it cools!
Assemble the galette - place a refrigerated store-bought pie crust on a baking sheet, and spoon the (cooled) berry filling in the center. Fold the edges over the filling to create the galette's crust. Brush the crust with some nondairy milk and sprinkle turbinado sugar on top for some crunch.
Chill it! This may be the most important step of all. To make sure the galette holds its shape, it's important that it goes into the oven COLD. This helps solidify the shortening in the crust and ensures that everything stays nice and pretty! Let the galette chill for a good 20-30 minutes in the fridge, then stick it straight into a pre-heated oven.
Bake & enjoy! Once the galette is baked... slice and eat! I recommend serving with some vanilla ice cream or vegan whip 🙂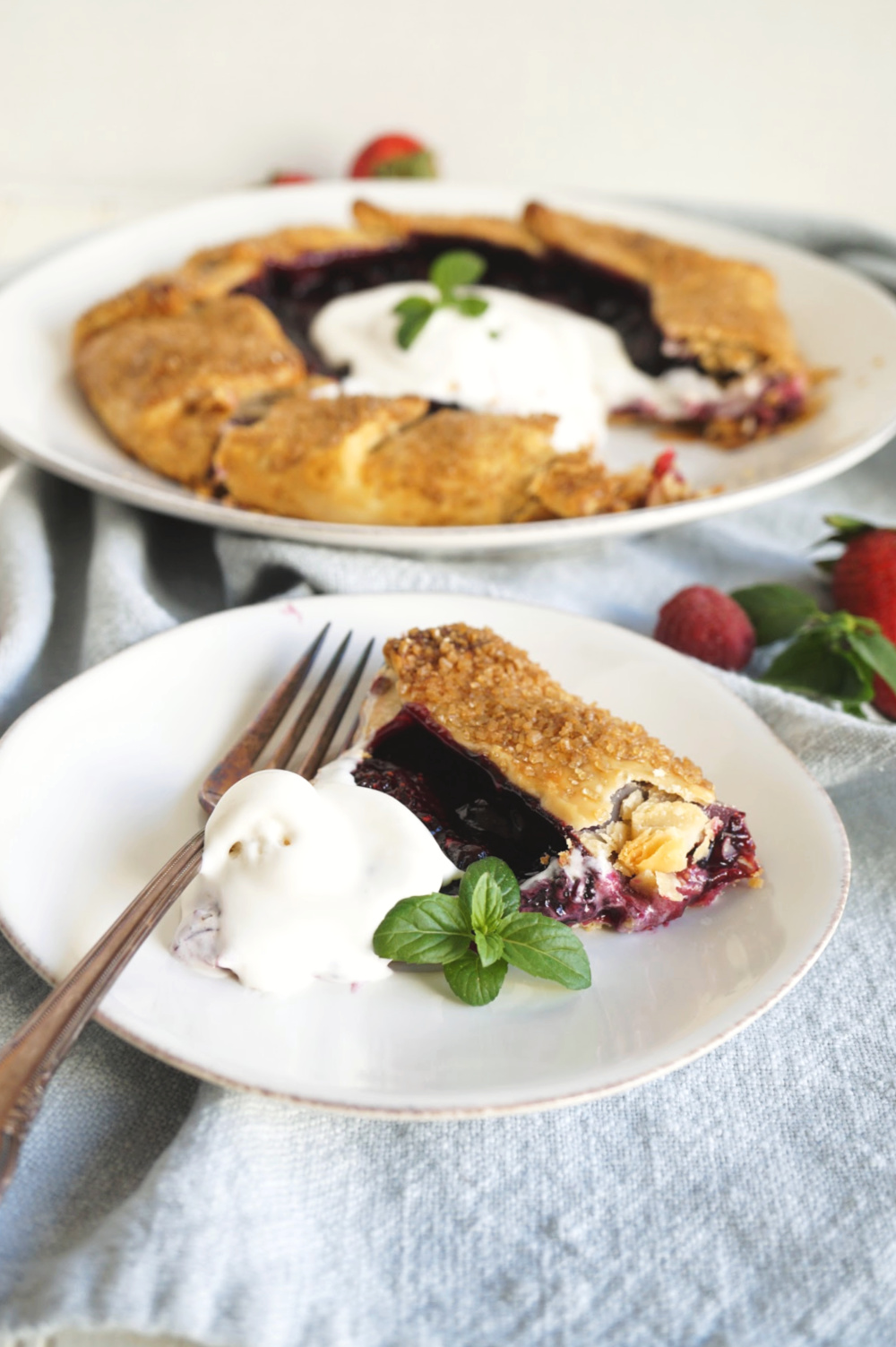 Friday Berry Week Recipes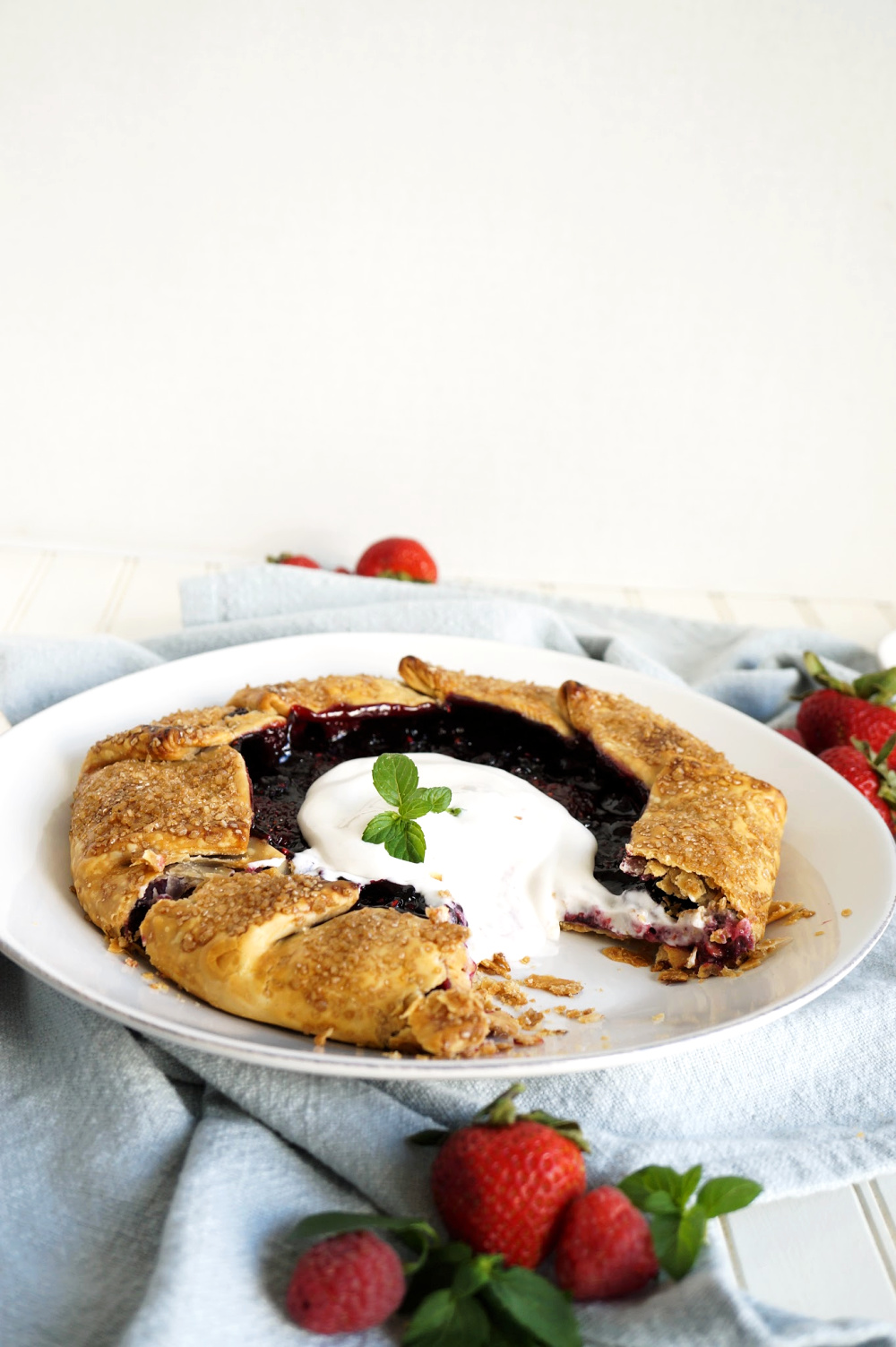 I hope you guys will give this summer berry galette a try! It is absolutely delicious and I love the all-berry flavor profile. Why pick one when you can have them all! 🙂
Don't miss my recipes posted earlier this #BerryWeek!
vegan summer berry galette
This sweet & simple Vegan Summer Berry Galette combines homemade berry jam filling with a golden brown pie crust for a delicious dessert.
Author:
Valentina | The Baking Fairy
Recipe type:
Pies & Tarts
Ingredients
*for the filling*
2 cups frozen mixed berries, thawed and drained of excess liquid
juice of 1 lemon (about 2 tbsp)
½ white granulated sugar
1 tablespoon cornstarch
*to assemble*
1 storebought refrigerated pie crust
1-2 tablespoon nondairy milk
1-2 tablespoon turbinado sugar
Instructions
First, prepare the berry filling. Be sure your frozen berries are thawed out, and drain all excess juice.
Add the thawed berries to a medium saucepan, and mix in the lemon juice, sugar, and cornstarch. Heat over medium-high, stirring often, until mixture comes to a boil. Reduce heat to a simmer, and continue to cook, stirring often, until mixture is thick and jammy. Set aside to cool before using.
To assemble the galette, line a baking sheet with parchment or a silicone liner.
Unroll your refrigerated pie crust onto the lined sheet, and spoon the cooled berry filling in the center, leaving about 2 inches all around for the crust. Gently fold over the pie dough over the filling to create your crust, overlapping slightly as you go.
Brush the crust with some nondairy milk, and sprinkle on turbinado sugar if desired.
Place galette in the fridge or freezer for 20-30 minutes to chill.
Meanwhile, preheat oven to 400F.
When the galette is chilled and solid, transfer directly to the oven. Bake for 35-40 minutes, until crust is golden brown and crisp, and filling is bubbly.
Let cool slightly, then enjoy with ice cream or vegan whip!