This Simple Zucchini Pasta with Lemon and Basil is the perfect weeknight meal! Quick, easy, and comes together with just a handful of simple ingredients.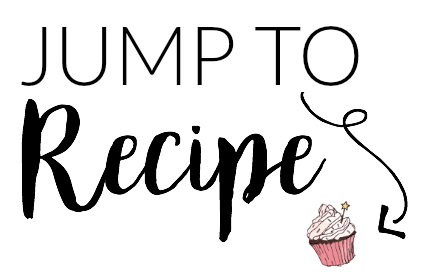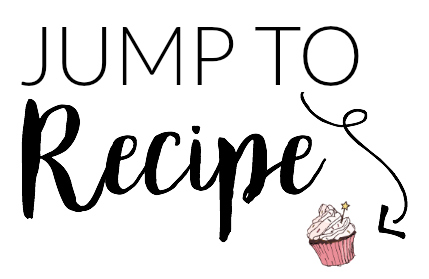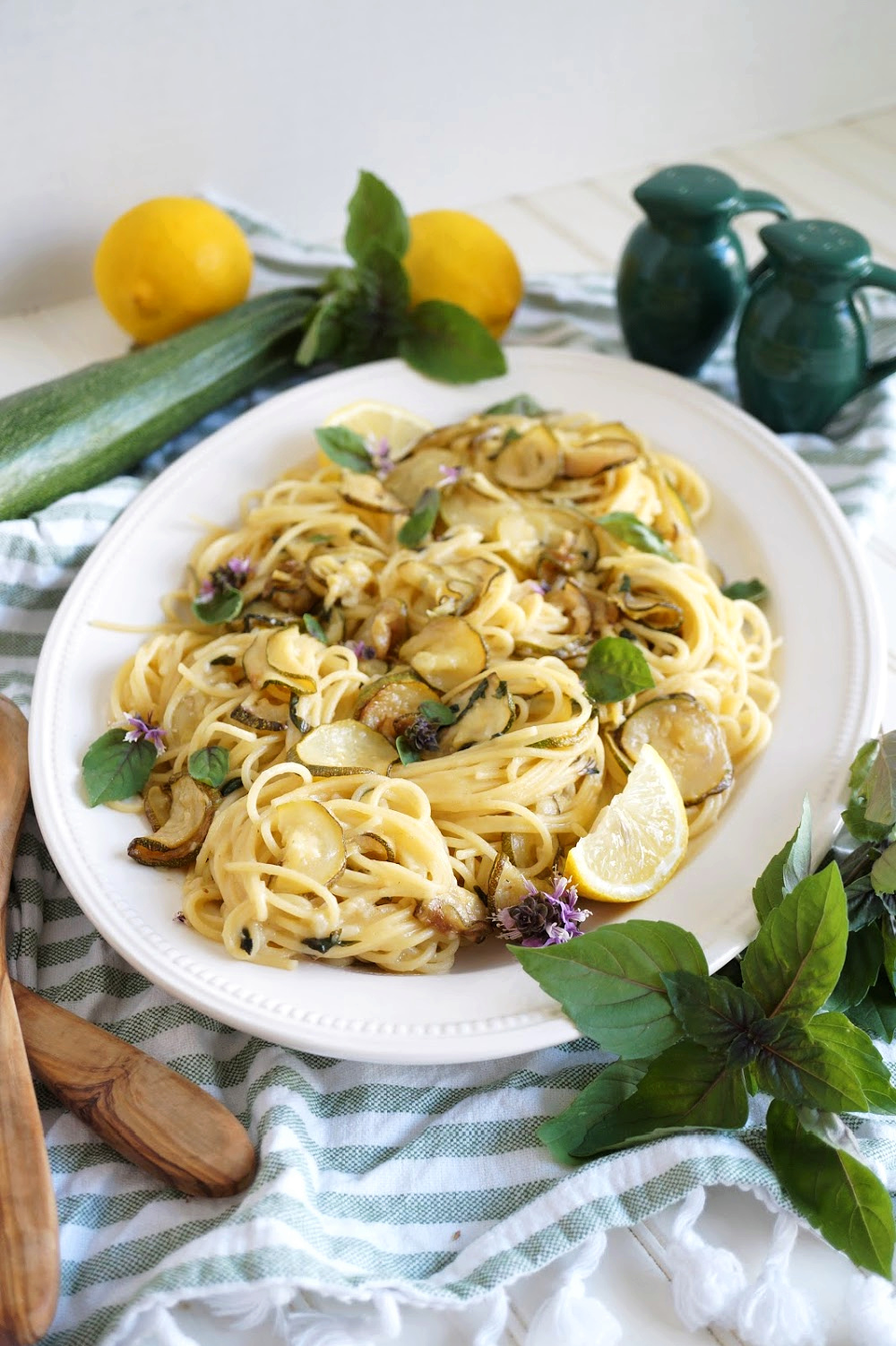 Hello friends and happy Thursday! Look who's back! 😉 I am excited to be back in the swing of things and I have some absolutely delicious recipes in store for y'all, starting with this scrumptious Simple Zucchini Pasta with Lemon and Basil! Whether we like it or not, summer is winding down and fall will be here soon... which means my herb garden will not be around for much longer. So I've been coming up with ideas to use up all these wonderful fresh herbs while I have them available! The fresh basil in this pasta dish really takes it to the next level. And the tiny purple flowers are from my purple basil and oh-so-cute!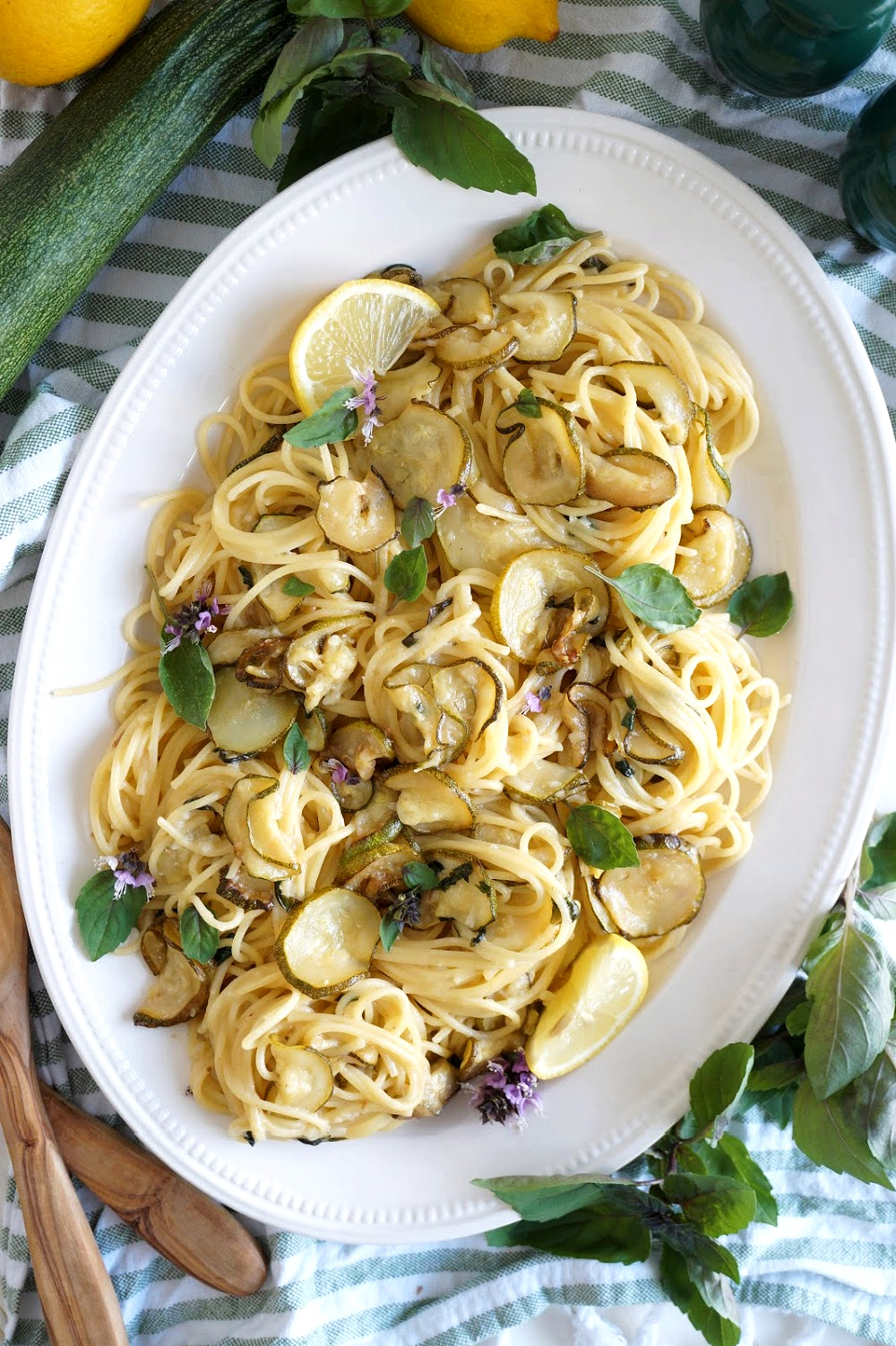 I won't lie to you guys - I've gone through a massive creative slump in the past few weeks. Blogging is hard. I know it seems like all fun and rainbows and butterflies, you get to make food and take pretty photos of it! What's not to love? But there is so much behind the scenes work that goes on, and sometimes with my real full-time job, it just becomes a lot to handle. Especially so if I'm going through a writer's block and can't conjure up a recipe idea to save my life!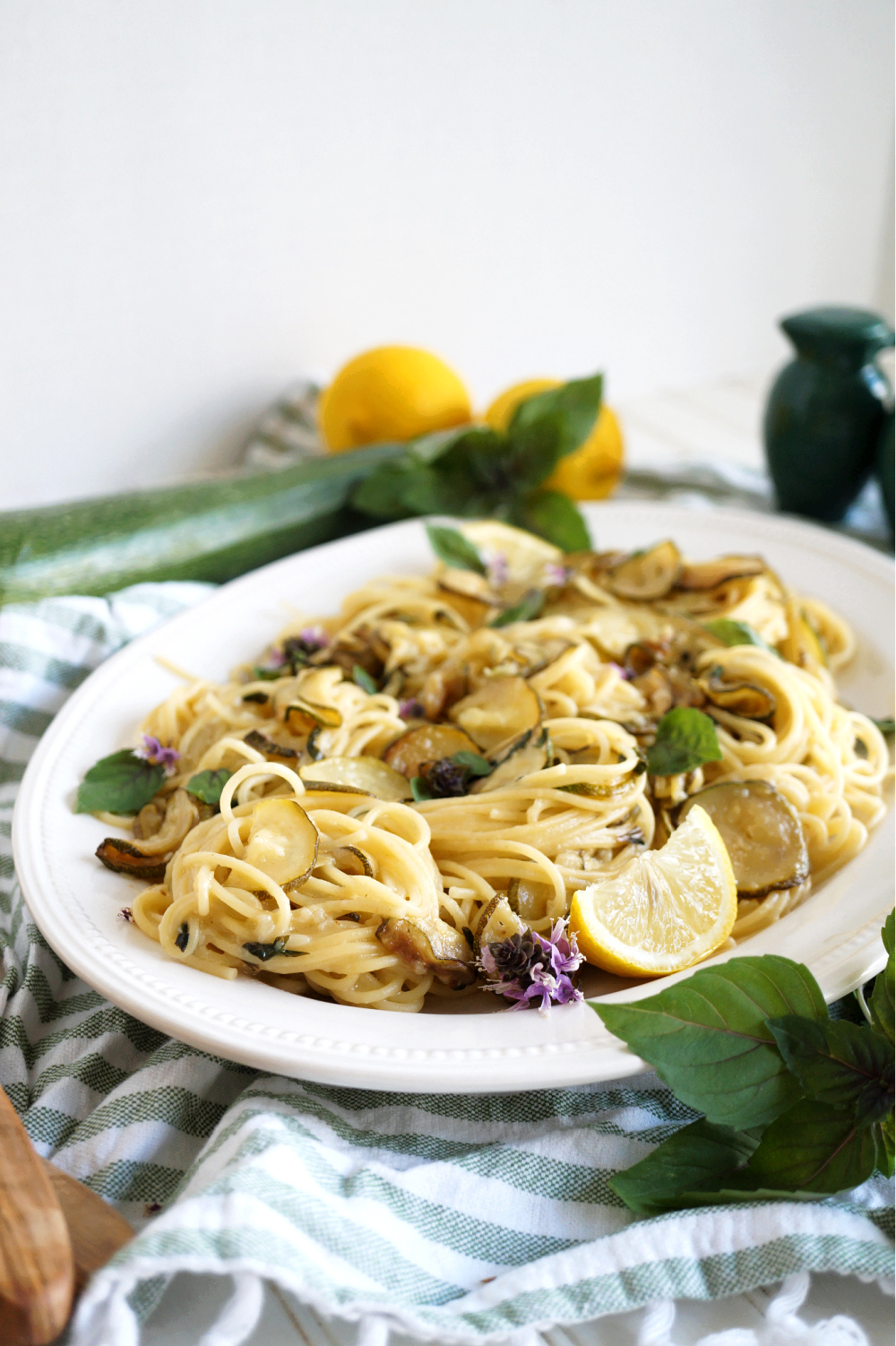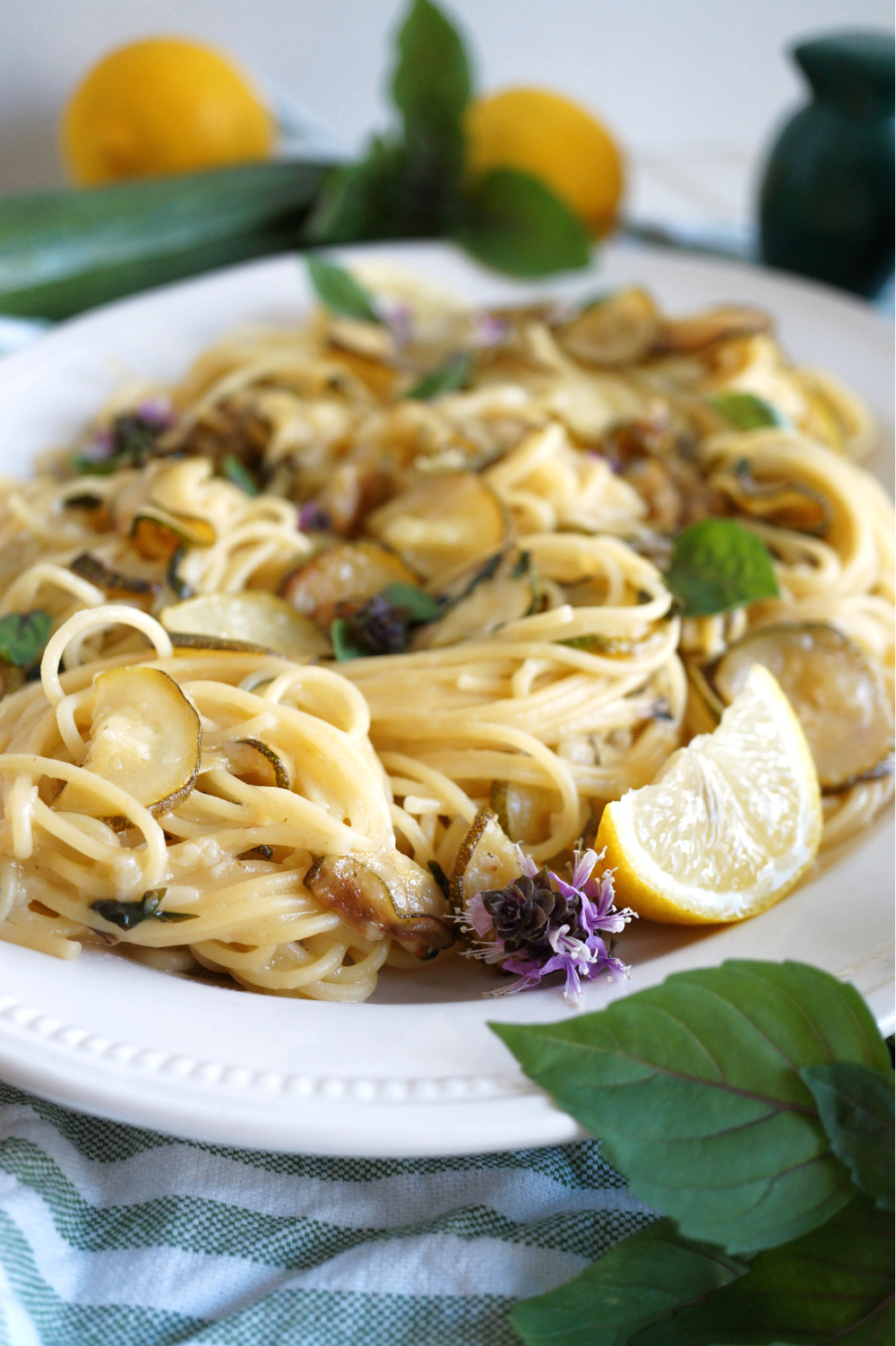 This simple zucchini pasta was born just out of random odds and ends in my fridge, and I have to admit I'm really happy with how it turned out! I started with olive oil and some garlic, added in a thinly sliced zucchini, and sautéed it until it was soft and starting to turn golden brown. I deglazed the pan with some lemon juice and added in basil from my balcony and some vegan parmesan cheese. And then - I just tossed the spaghetti directly into the pan, with a bit of extra pasta water, and that is it! Simple. Delicious. Fast. Summery. Perfect for a weeknight!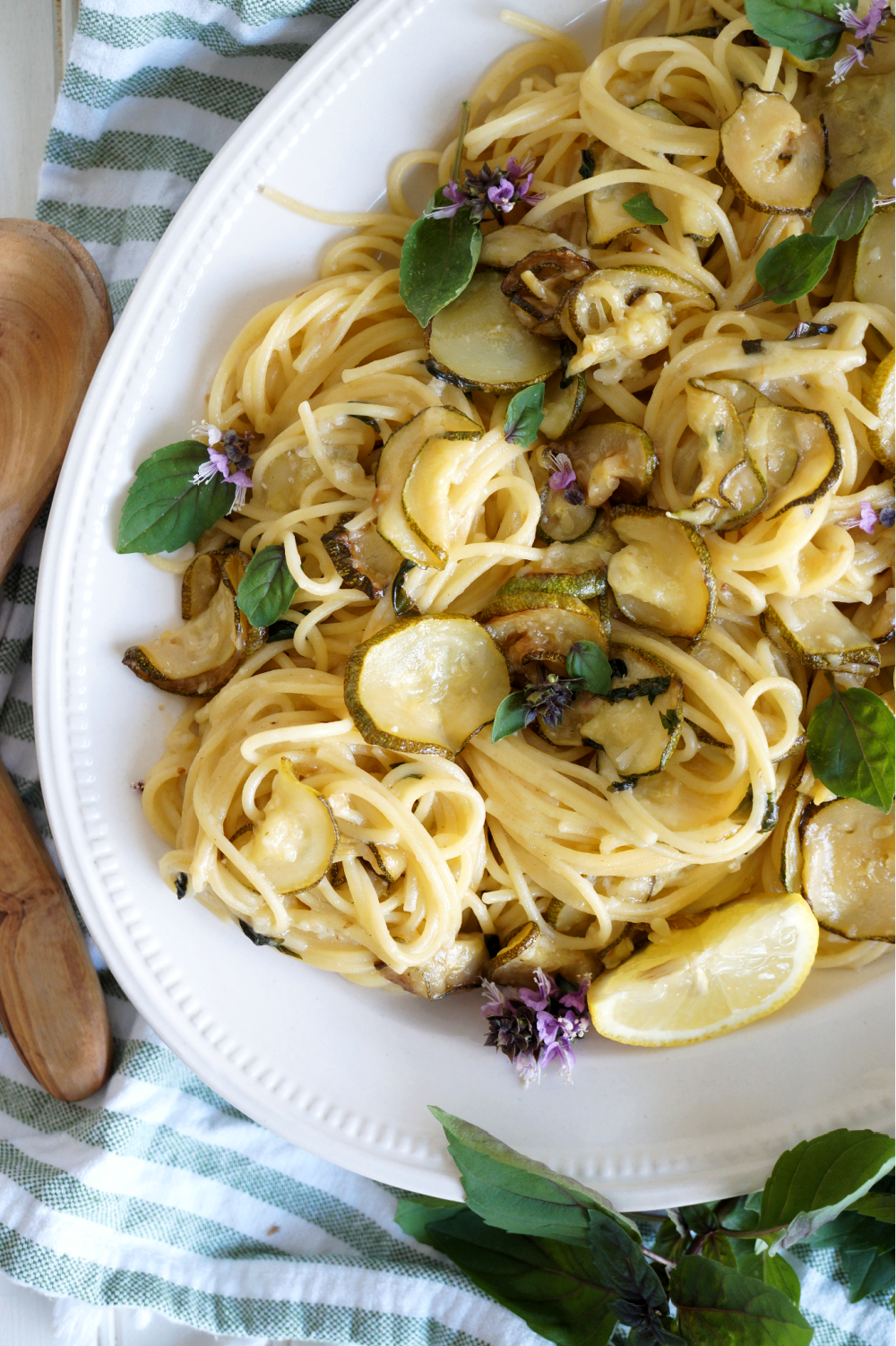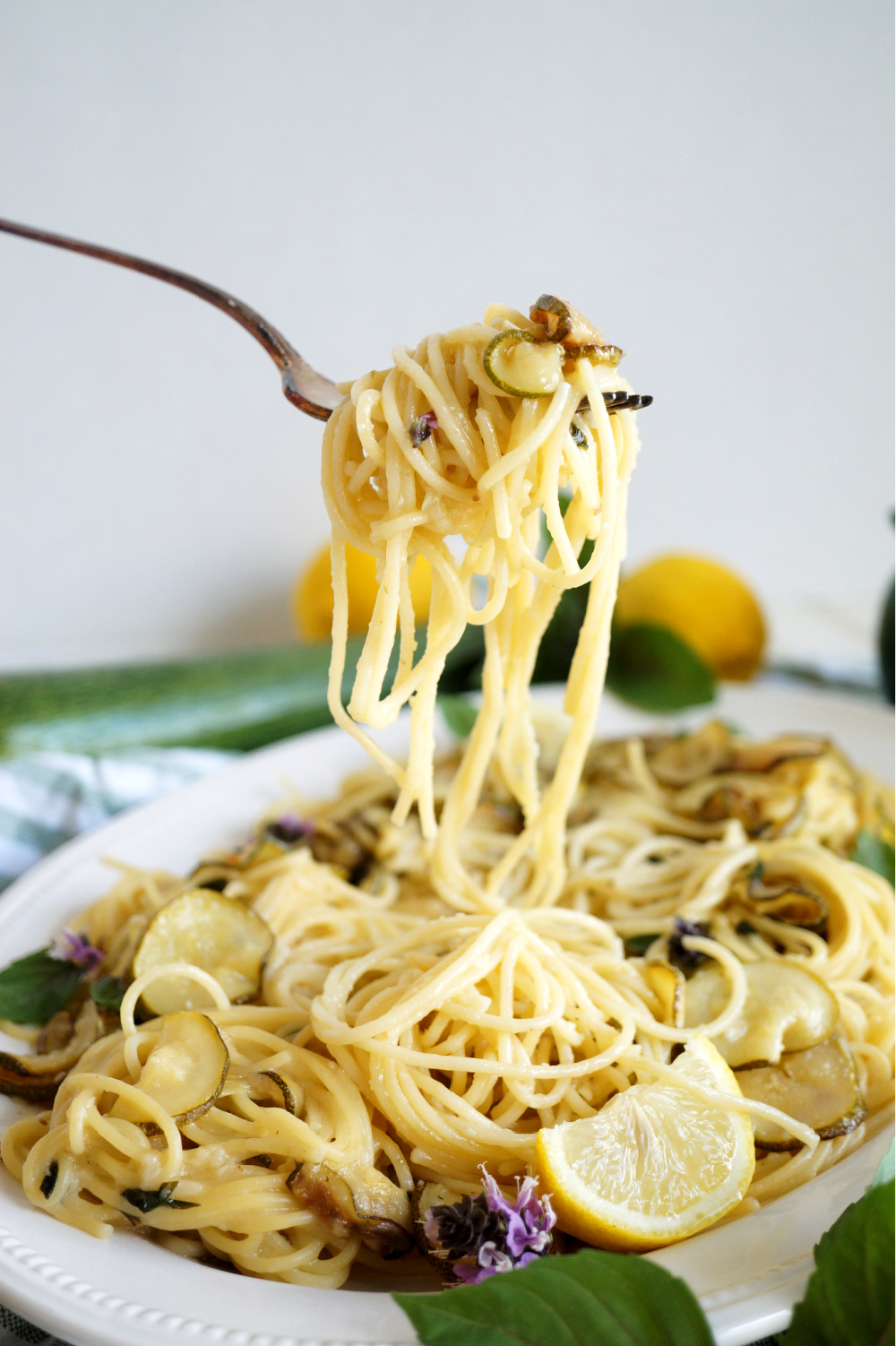 I hope you guys will give this simple zucchini pasta a try soon! The lemon and basil really add something special and make it fresh and perfectly summery 🙂 I'm not usually a huge zucchini person, but I love it when paired with citrus!
Looking for more easy pasta recipes?
simple zucchini pasta with lemon and basil
This Simple Zucchini Pasta with Lemon and Basil is the perfect weeknight meal! Quick, easy, and comes together with just a handful of simple ingredients.
Author:
Valentina | The Baking Fairy
Ingredients
2 tablespoon olive oil
4 garlic cloves, crushed in garlic press
2 zucchini, very thinly sliced (about 2 cups)
4 tablespoon fresh basil, chopped
juice of 1 lemon (about 2-3 tbsp)
1 teaspoon garlic salt, more or less to taste
¼ cup vegan parmesan cheese (can substitute nutritional yeast)
1 lb spaghetti
Instructions
First, heat up a large pot of water for the pasta.
While the water heats up, heat a large nonstick pan over medium-high and add in the olive oil.
Toss in the zucchini and garlic, and season with some garlic salt. Sauté, stirring occasionally, until zucchini are softened and starting to turn golden brown and caramelized.
Add in the chopped fresh basil, along with the lemon juice and vegan parmesan. Stir to combine.
When the water boils, add salt and the spaghetti. Cook it 1-2 minutes less than directed on the package.
Once spaghetti is cooked, save the pasta water and transfer the noodles directly to the pan with the zucchini. Add in pasta water as needed until sauce comes together and becomes creamy and silky.
Add in more garlic salt and crushed red pepper to taste, then serve immediately! Enjoy!