This Super Simple Green Smoothie is an easy and delicious way to eat more veggies! The flavor of spinach and baby kale are disguised by banana, berries, and pineapple.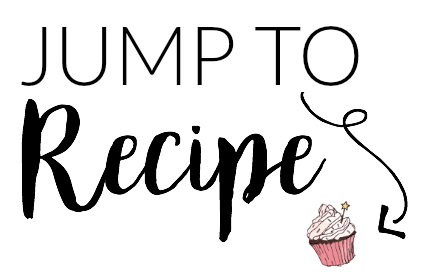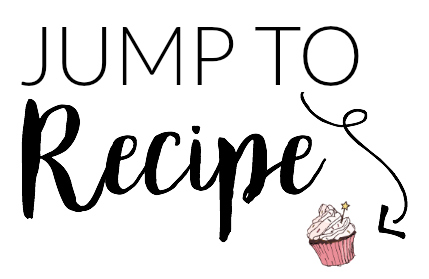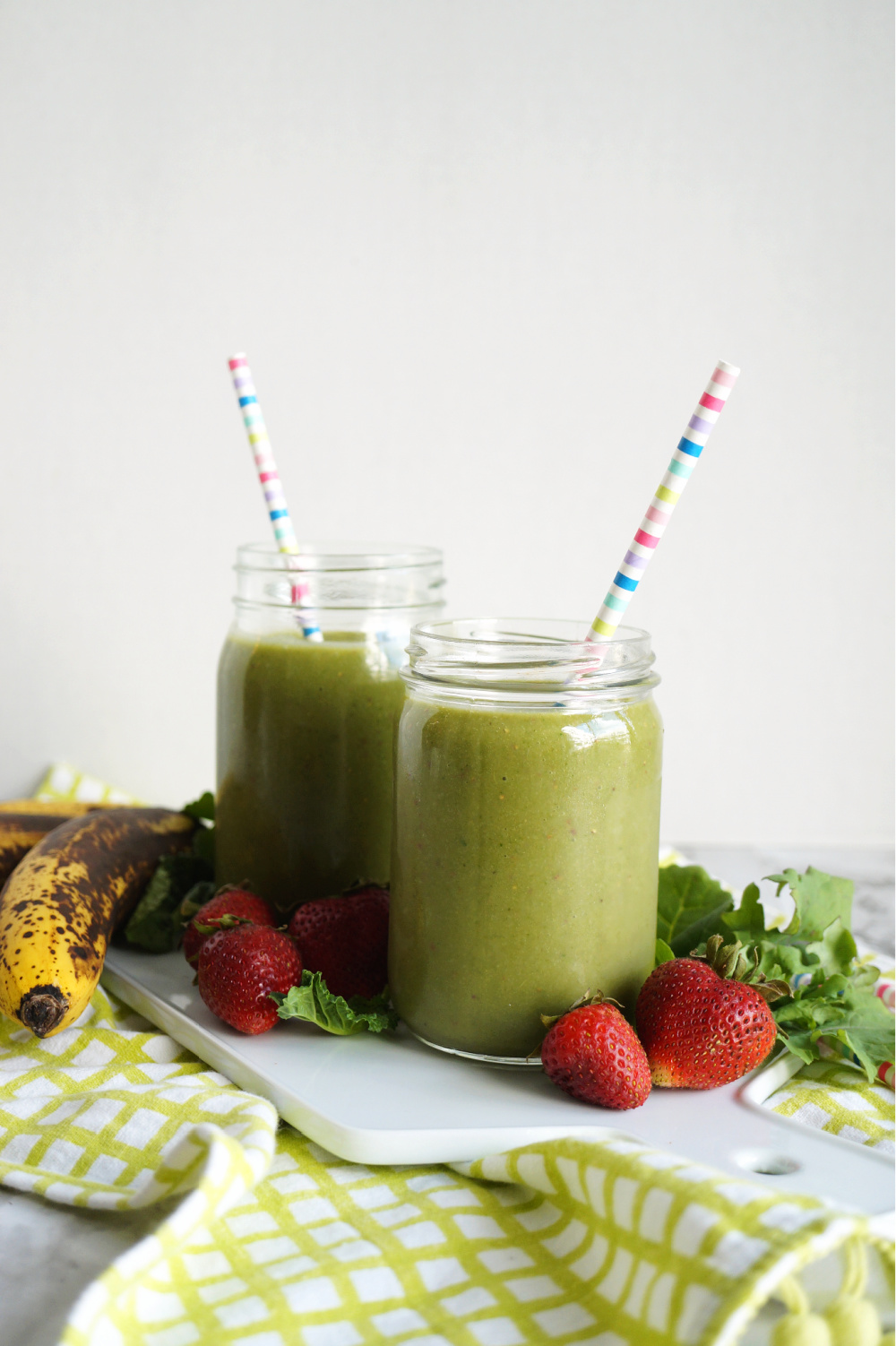 Hi friends and happy Thursday! I am excited to be sharing this new post with y'all today, as it's something I make on a regular basis... usually multiple times a week, if not daily! This Super Simple Green Smoothie is my go-to for a quick breakfast, mid-morning snack, or to calm those pre-dinner munchies. It calls for some basic ingredients that you most likely have in the house - and if not, it's easy to substitute! I felt like this recipe was too easy to share, but one of my friends posted recently that she was looking for easy smoothie ideas so here we are. Watch this become my next viral sensation 😂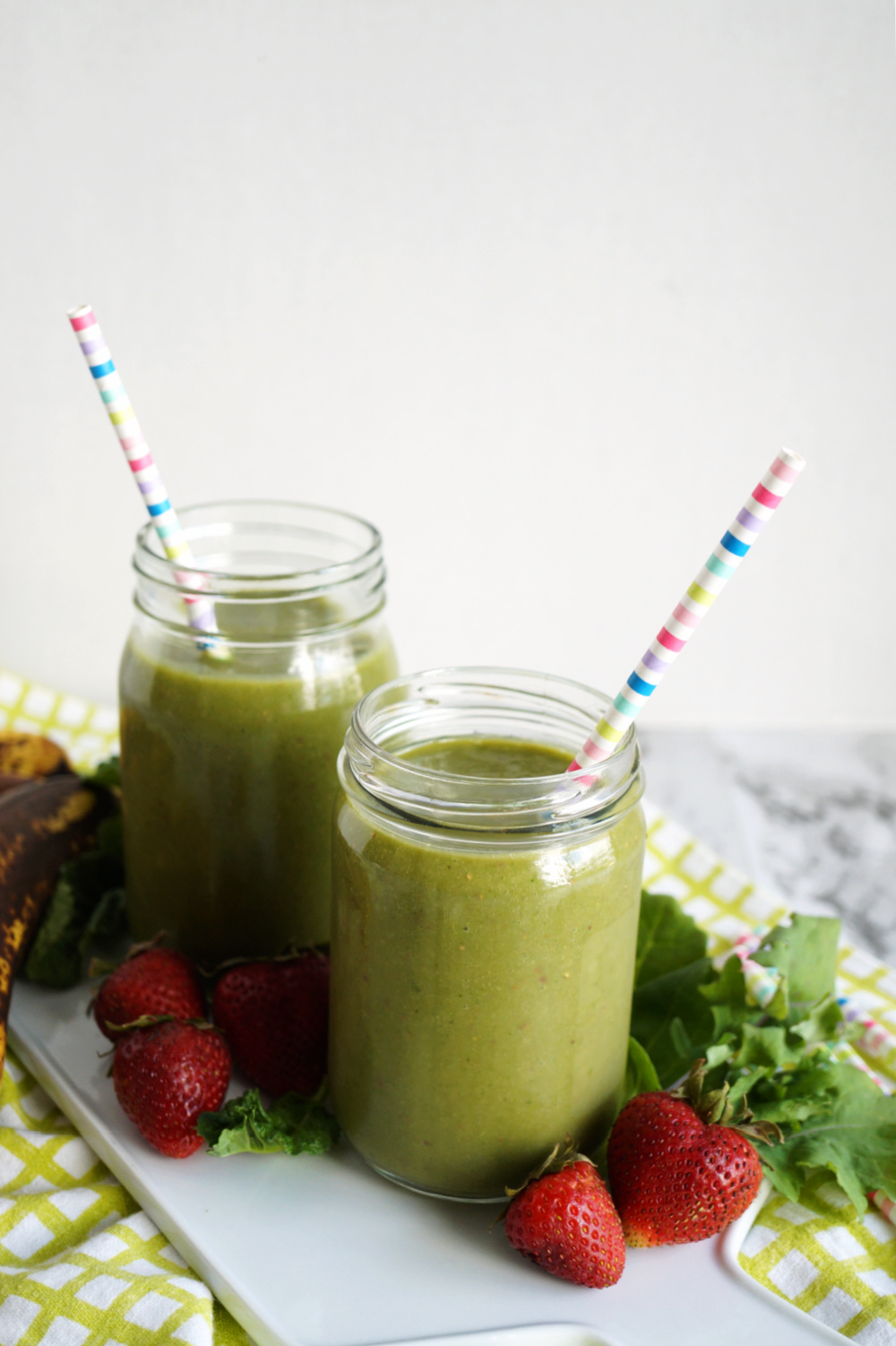 What do I need to make a green smoothie?
Greens! You can use whatever you like, but my favorite is spinach as it tastes super neutral and it's easily blended into a smoothie even if you have a cheap-o blender like mine. Sometimes (like I did for this post) I will do a blend of spinach and baby kale. If you're not used to adding greens to your smoothies, I feel like these are good ones to start with!
Banana - I love the natural sweetness and creaminess that bananas add to a green smoothie, and they also work well to cover up the "green" flavor. I always have a few in the house so I can add them in. I prefer to use them fresh in this case, but frozen definitely works too!
Berries - I usually buy bags of frozen mixed berries at the store to use in my smoothies! They help make the smoothie thicker and colder without adding ice, which can water everything down. Today, I had some overripe fresh strawberries so I used those instead. But generally, frozen is my go-to.
Pineapple - I don't always add this, but I love using it when I have it available! Pineapple adds a lot of delicious sweetness and extra flavor to the smoothie.
Protein powder - this is my secret ingredient to making my smoothies extra rich and filling! I love adding vanilla protein powder to bulk them up. One of my favorite brands is Naked Nutrition - their protein is very clean and straightforward with no weird additives. I also enjoy Garden of Life vanilla protein. Feel free to use your favorite and experiment with different brands! Generally I stick to the vanilla flavor if I know I'll be using it mainly in smoothies.
Nondairy milk - I will add whatever I have in the house to be honest! I usually will do a lighter nondairy milk like cashew or almond, rather than coconut milk or soy milk. I don't like adding too many extra calories and fat from the milk alone.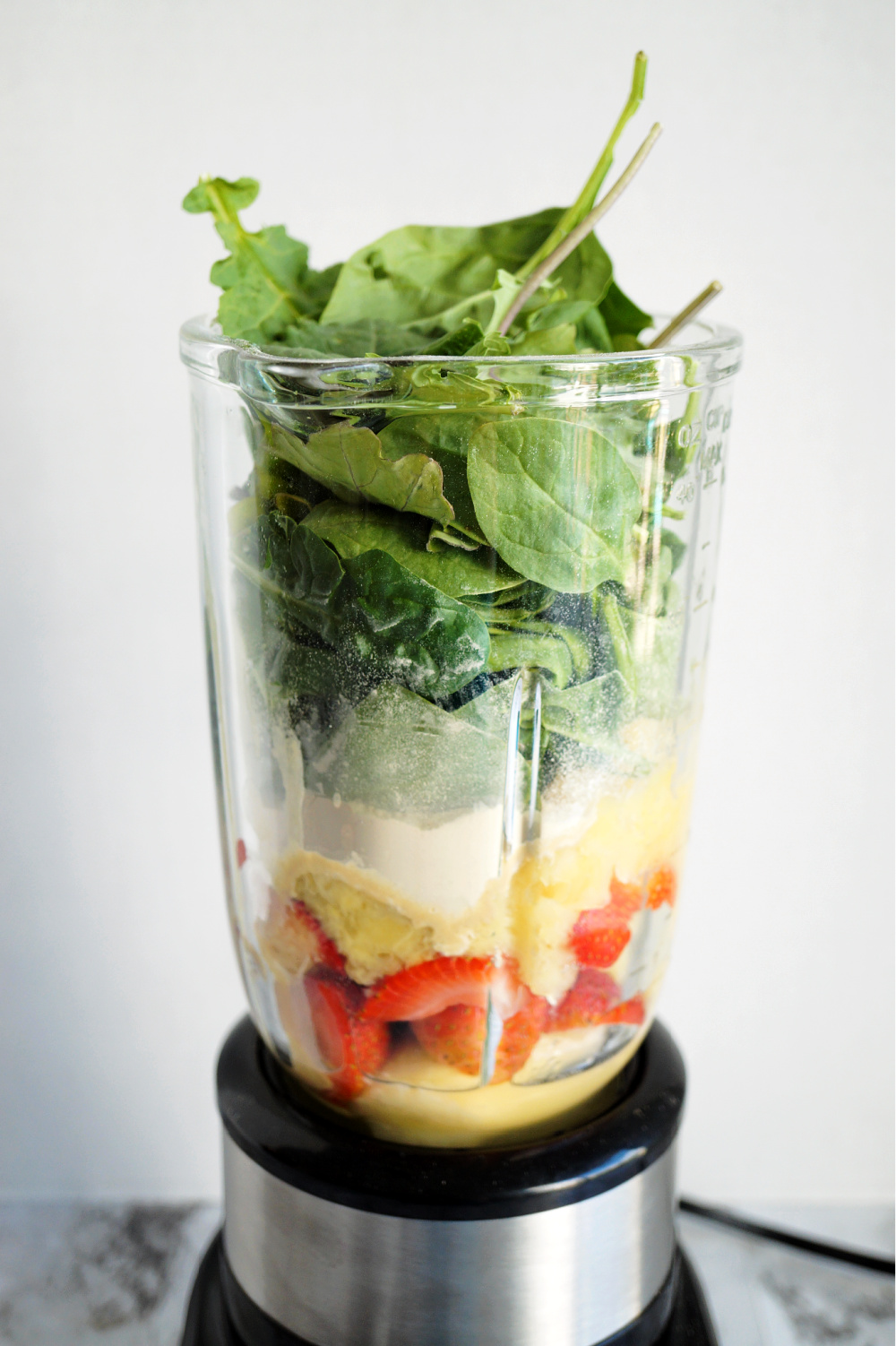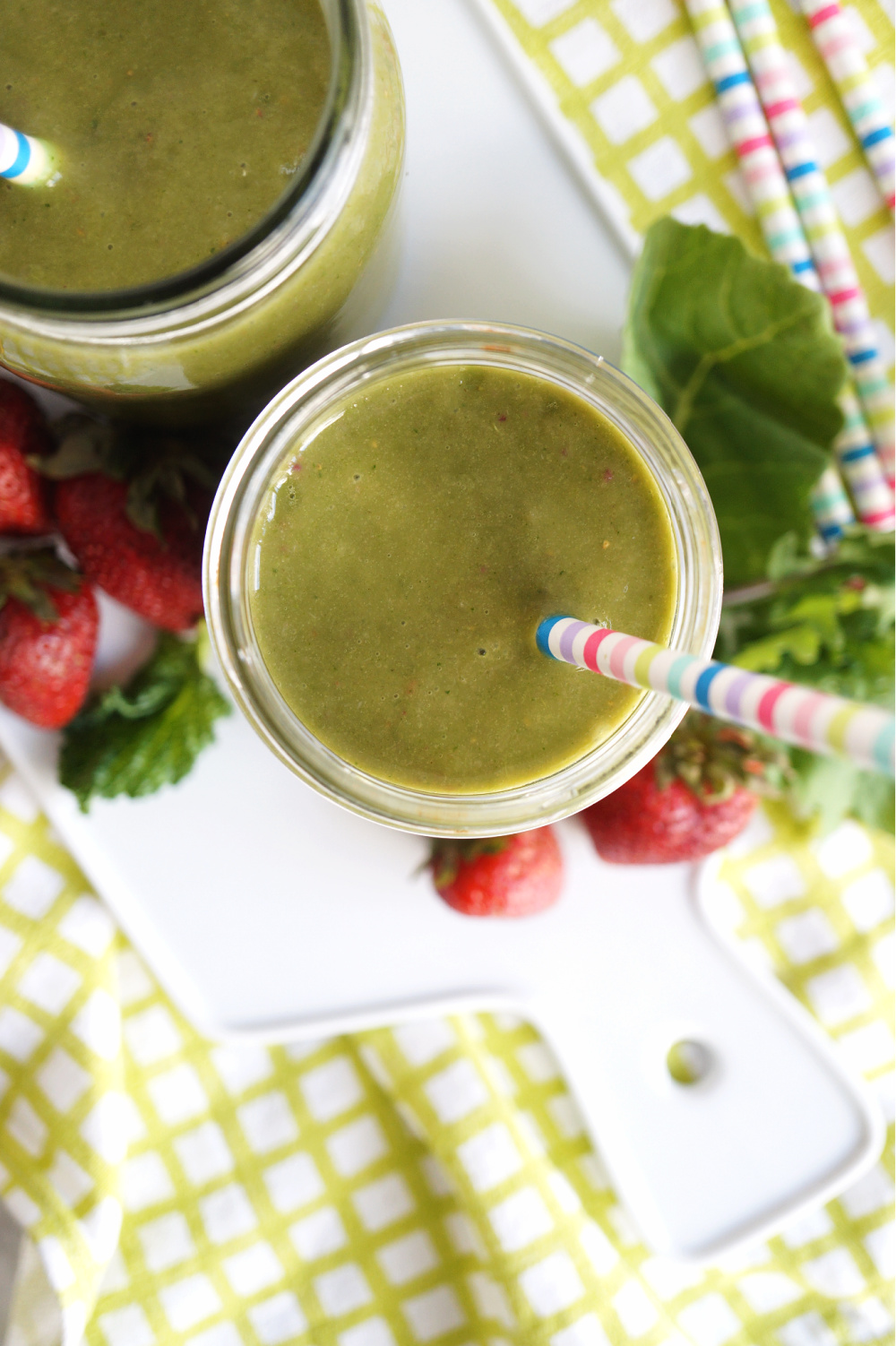 Tips for a delicious green smoothie:
Make at least one of the components frozen. Whether it's the banana, berries, or pineapple, I do recommend making at least one component of the green smoothie frozen so it can add that extra thickness and chill your smoothie without having to add extra ice. 
Blend it and drink it right away! I don't like drinking a smoothie after it's sat around because it can separate into solids and liquids. Not terribly tasty! If you can, I recommend making it right before you think you will drink it. If you want to prep ahead and take it to work or to enjoy after a workout, I recommend putting it in a blender bottle so you can mix it all back up before drinking. 
Go easy on the greens. If you're not used to drinking your greens, start slow and work your way up! The fruit does a good job of covering it up, but you may still taste it if it's not your usual thing. Like I mentioned above, I recommend starting with baby spinach as the flavor is super mild.
Add whatever fruit you like best! Use this green smoothie recipe as a starting point. None of this is set in stone, and to be honest, I usually change it up myself depending on what I have in the house! Use whatever berries you like best, add in peaches or melon instead of the pineapple, or use juice instead of nondairy milk for a different flavor. You do you, boo!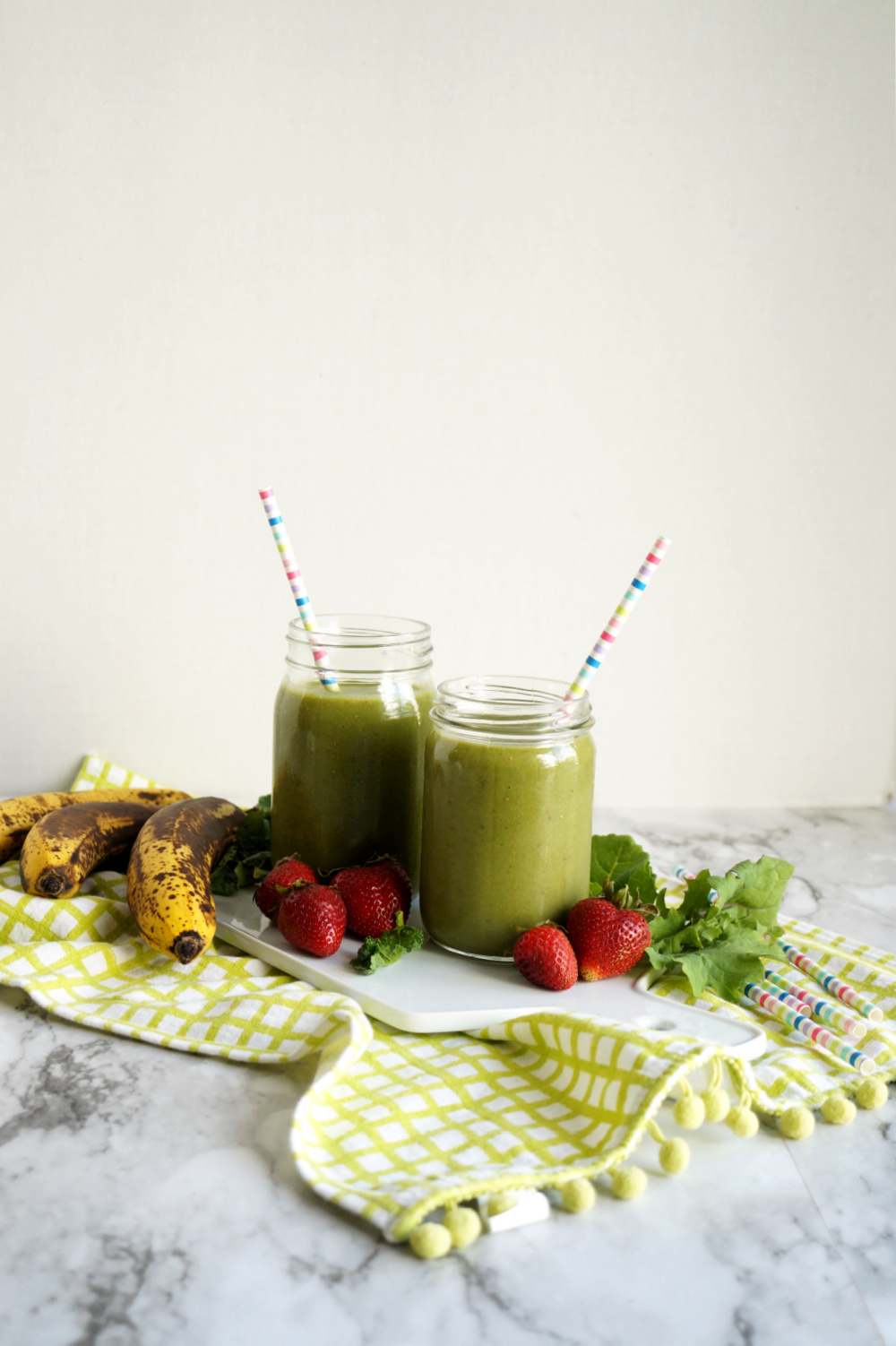 Next time you guys are craving a smoothie, I hope you'll give my Super Simple Green Smoothie a try! It comes together in minutes and it's the tastiest way to get your greens in. Enjoy!
Check out my other smoothie recipes!
super simple green smoothie
This Super Simple Green Smoothie is an easy and delicious way to eat more veggies! The flavor of spinach and baby kale are disguised by banana, berries, and pineapple.
Author:
Valentina | The Baking Fairy
Ingredients
1 ripe banana
1 cup strawberries (fresh or frozen)
1 cup crushed pineapple
2 cups baby spinach and baby kale blend
½ cup nondairy milk
2 scoops vegan vanilla protein
optional: ½ cup ice (if not using frozen fruit)
Instructions
Combine all ingredients in a blender, and blend until smooth and creamy. You can add extra milk as needed to achieve right consistency, especially if some of your fruit is frozen.
Divide mixture into two cups and enjoy immediately!
*Disclosure: I am part of the Amazon Associates Program, and there may be affiliate links on this page. If you buy anything through my website, I will receive a small percentage of the profit at no extra cost to you. Thank you for supporting my blog!*