Break out of the pantry cooking rut with 50 scrumptious Black Bean Recipes! All of these are vegetarian or vegan-friendly, and sure to please even the pickiest of eaters.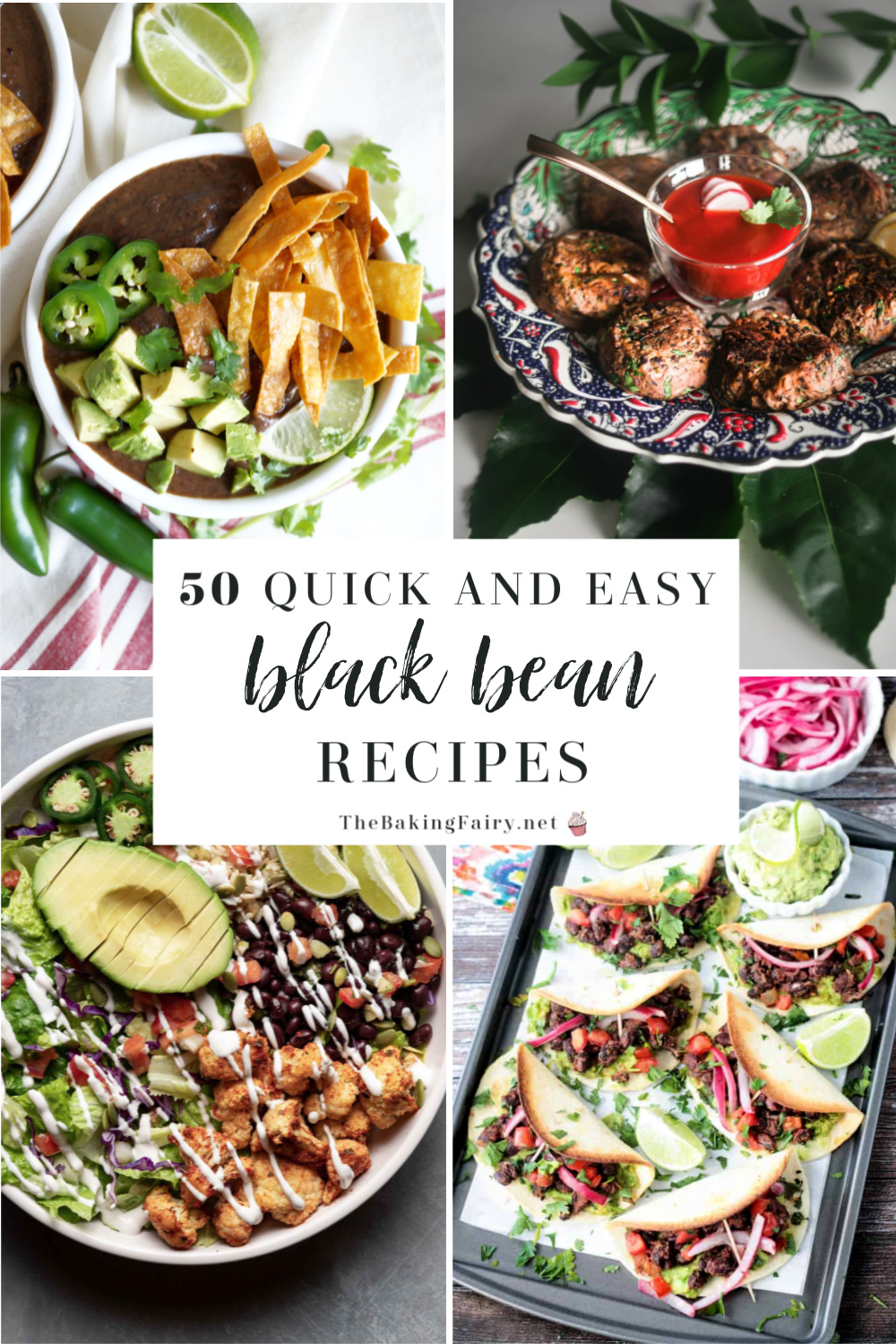 Hi friends and happy Thursday! After the chickpea roundup last week, I figured it was time to feature my other favorite bean - black beans! I always have a few cans of black beans in the pantry for quick and easy melas, and I love this versatile, protein-packed legume. Today, I am sharing 50 Vegetarian-Friendly Black Bean Recipes with you! I have gathered some of my favorite black bean recipes, as well as some creations from my blogger friends, to help bust you out of the pantry cooking rut. Let's make something delicious!
Jump to category:
Soups & Salads | Dips & Salsas | Main Dishes | Dessert
Soup & Salad Black Bean Recipes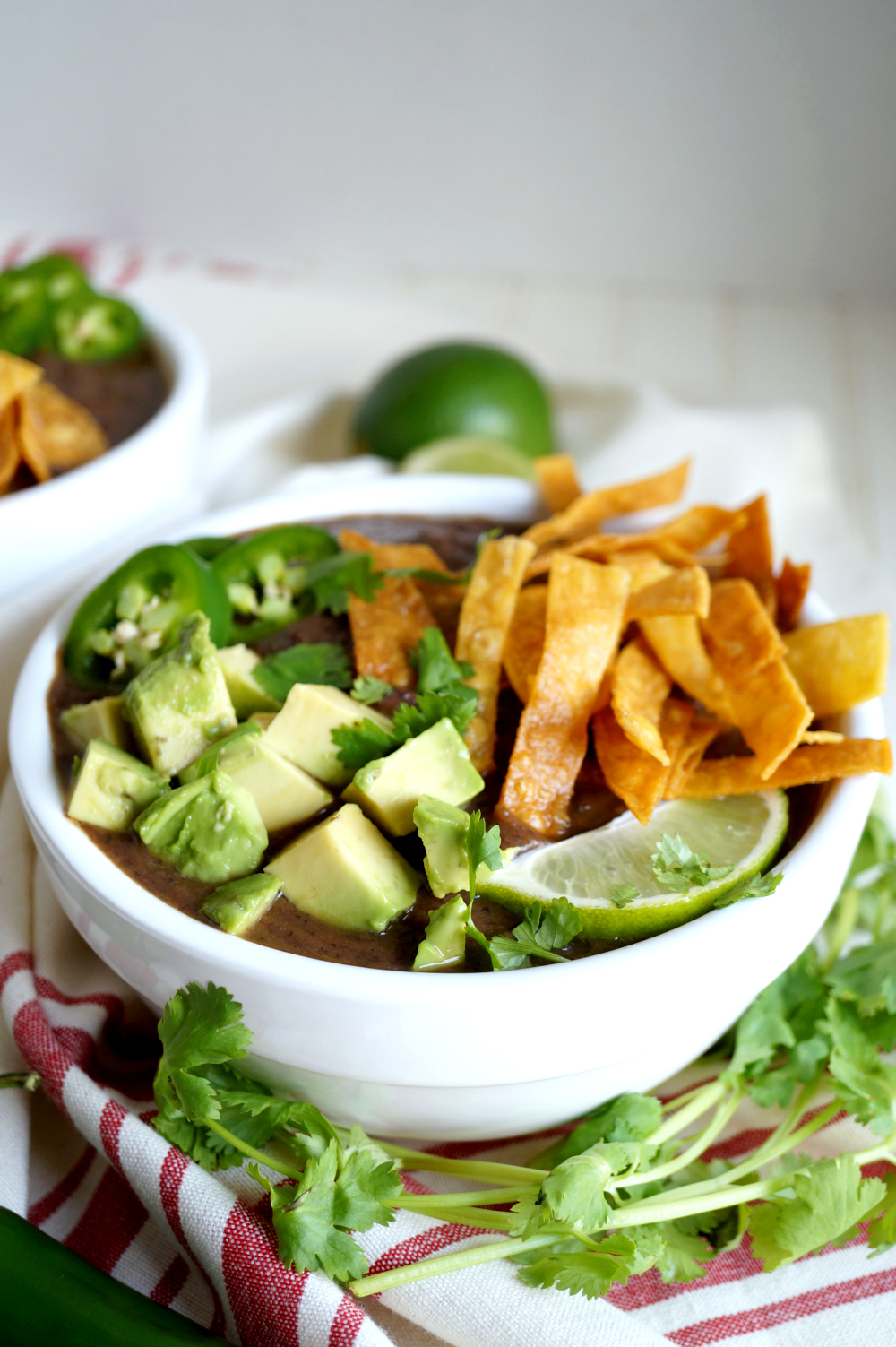 Creamy Vegan Black Bean Soup - This simple, savory Creamy Black Bean Soup is packed with healthy veggies and spices perfect to warm you up from the inside out! Top it with crispy tortilla strips, avocado, and a squeeze of fresh lime for the perfect finishing touch.
Vegan Mexican Chopped Salad with Avocado Dressing (Happy Kitchen) - Delicious vegan Mexican chopped salad with avocado dressing makes the perfect lunch salad or an easy side dish to any Mexican feast. This gluten free salad is packed with fresh veggies, dietary fiber and plant based protein.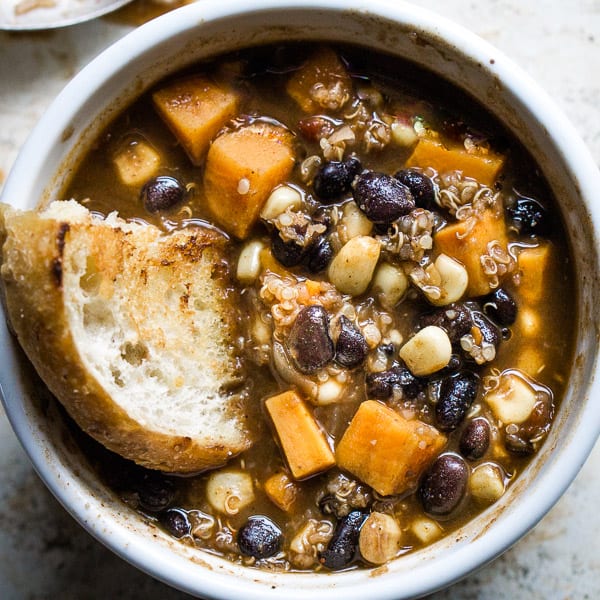 Sweet Potato Chili with Black Beans & Quinoa (The Kitchen Girl) - Sweet potato chili is mostly made with pantry ingredients like black beans, quinoa, corn, onions, and garlic. It's chipotle-seasoned for a southwest touch.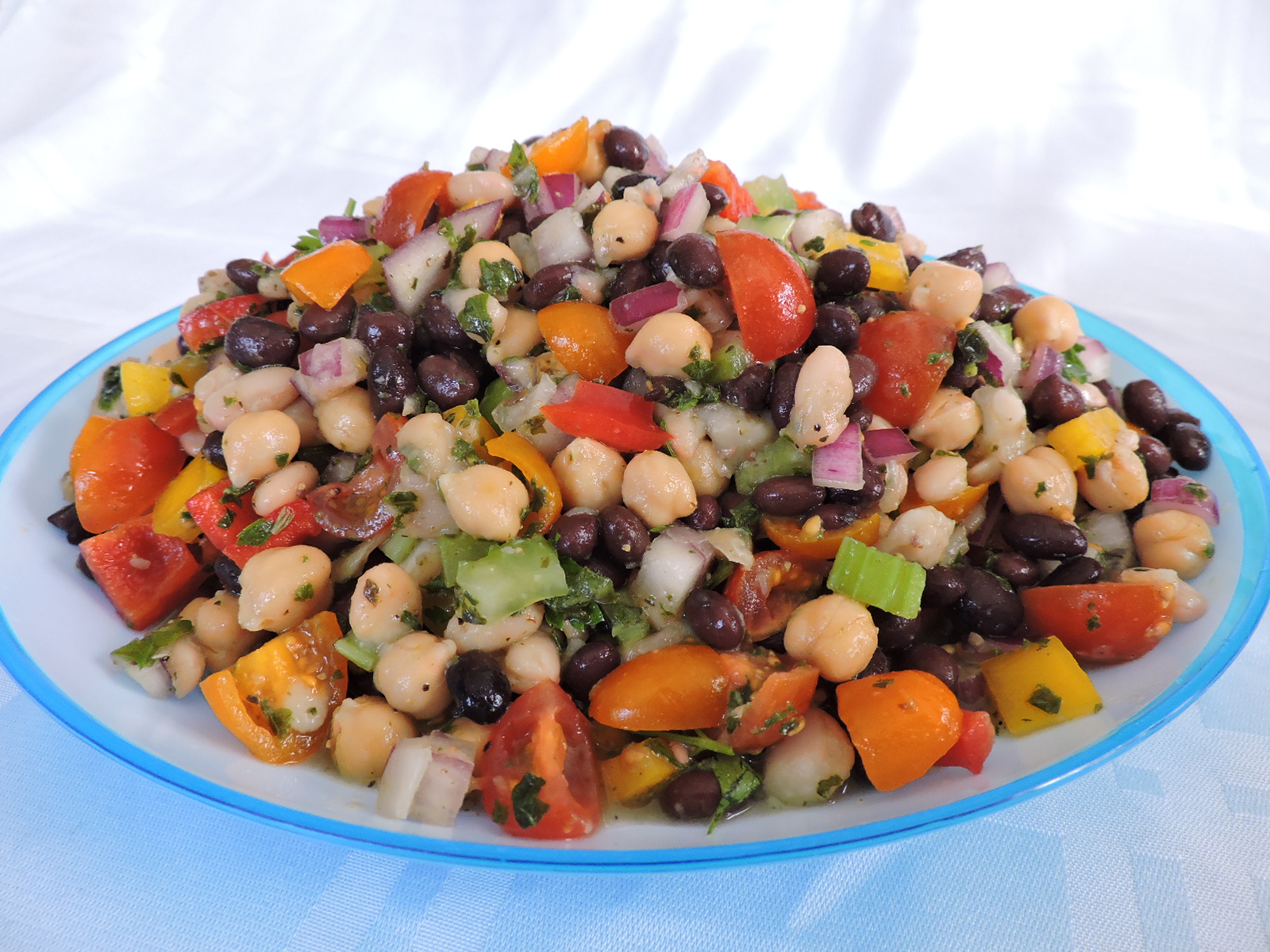 Marinated Three Bean Salad (Jolene's Recipe Journal) - This fresh and simple salad combines black beans with garbanzo beans, great northern beans, and fresh veggies for a delicious and protein-packed side dish or light main.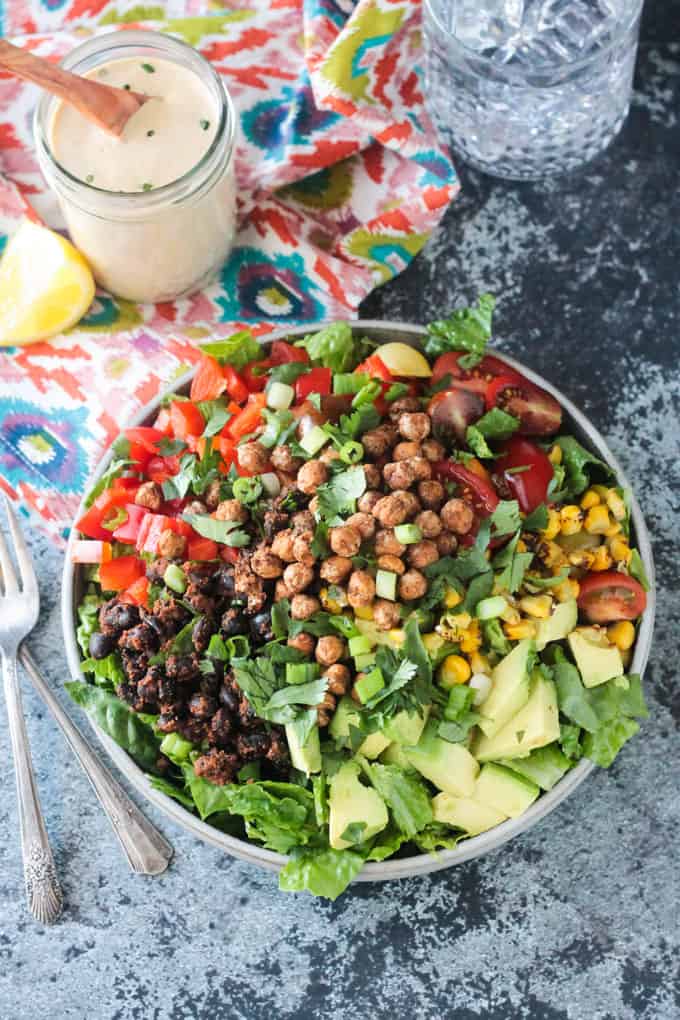 Black Bean Taco Salad with Crunchy Roasted Chickpeas (Veggie Inspired Kitchen) - This Black Bean Taco Salad is quick and easy, but full of flavor and texture! The perfect summer weeknight meal. I love that it has both black beans and chickpeas for a double dose of healthy plant-based protein.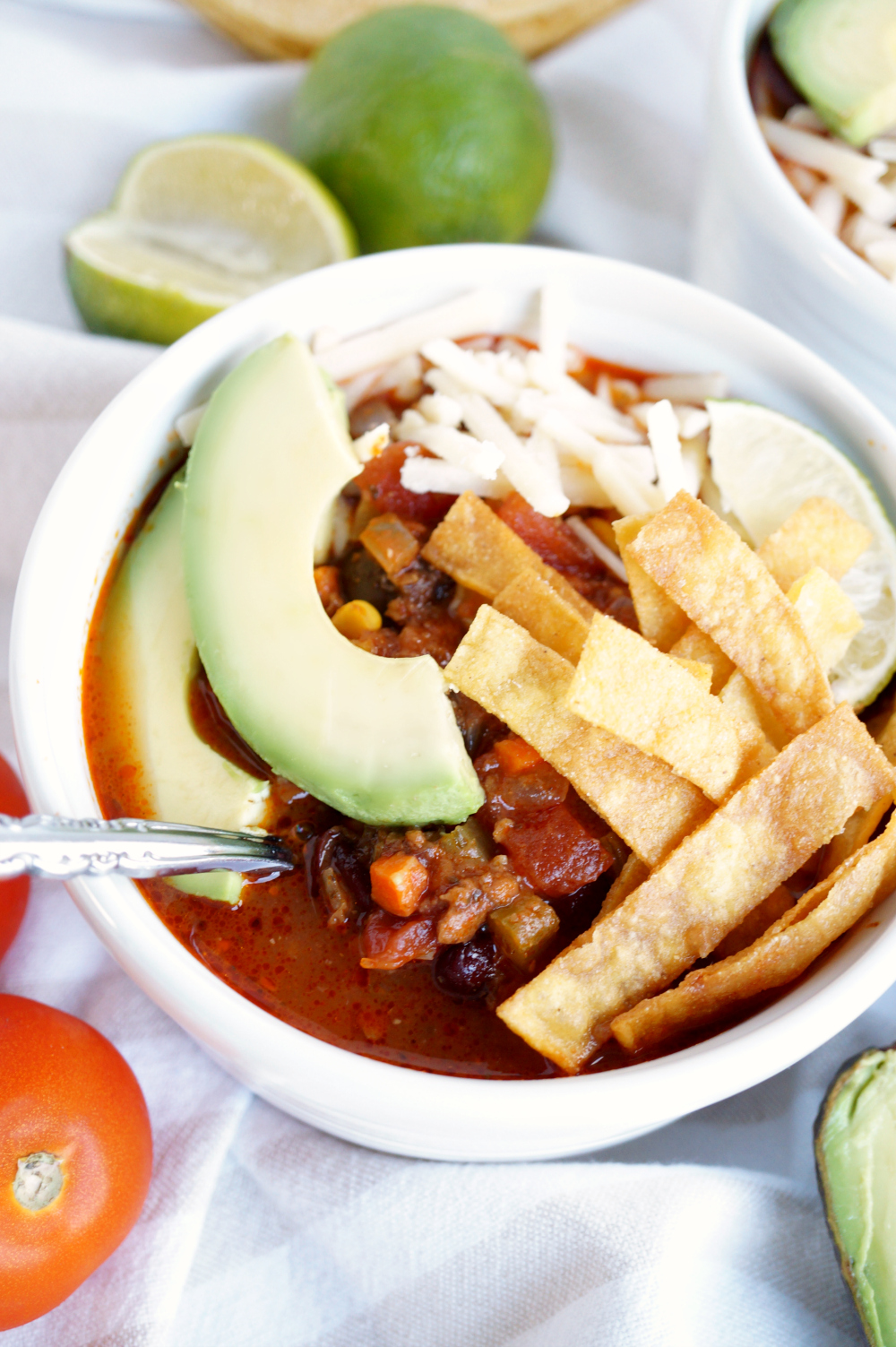 Vegan Chorizo Taco Chili - Looking for a hearty, filling vegan dinner option? This Vegan Chorizo Taco Chili is just what you need! Easy to make, delicious, and you can pack it for lunch for the week or freeze the leftovers!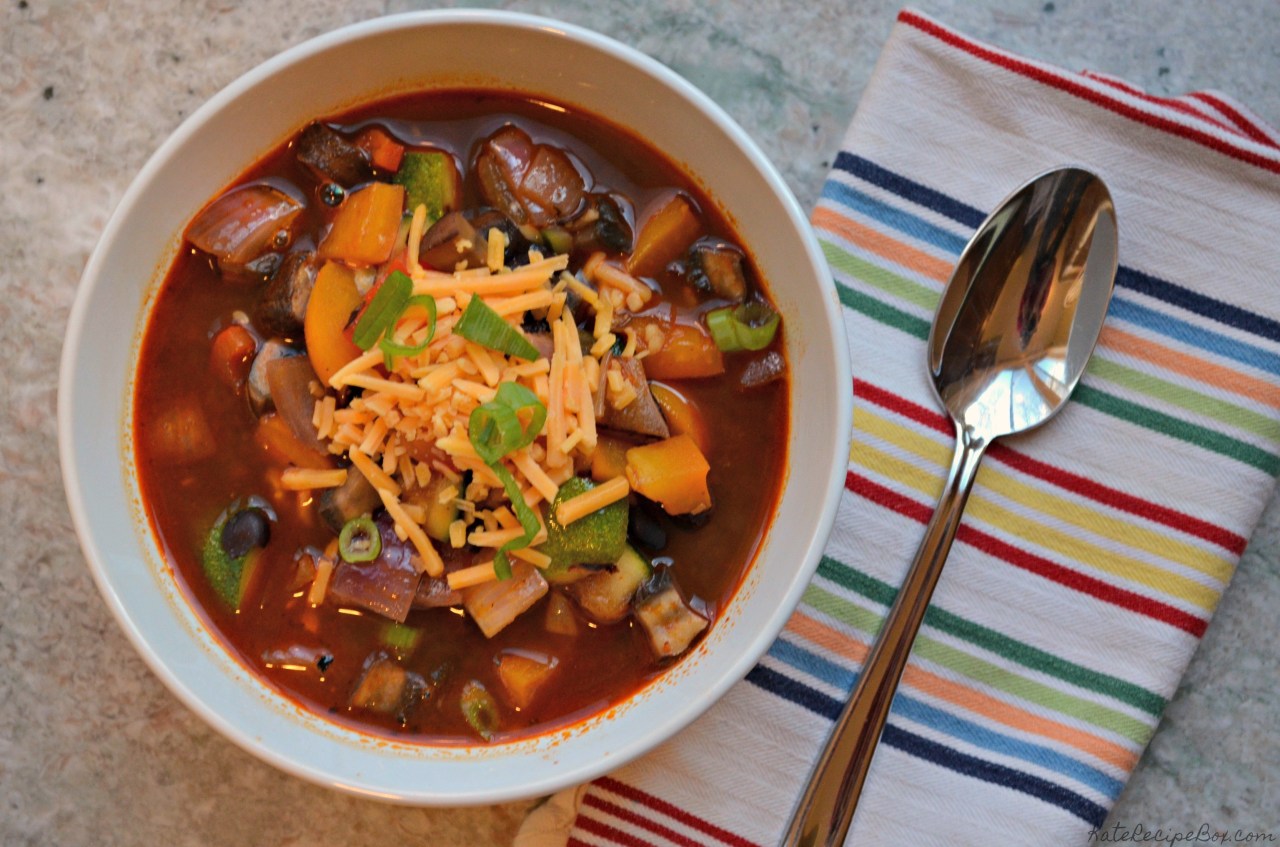 Grilled Vegetable Chili (Kate's Recipe Box) - This chili is loaded with so many of my favorite veggies – bell peppers, zucchini, red onion. Not your favorite veggies? This recipe is so flexible! Add or subtract to your liking! Grilling them all brings out an awesome, smoky flavor.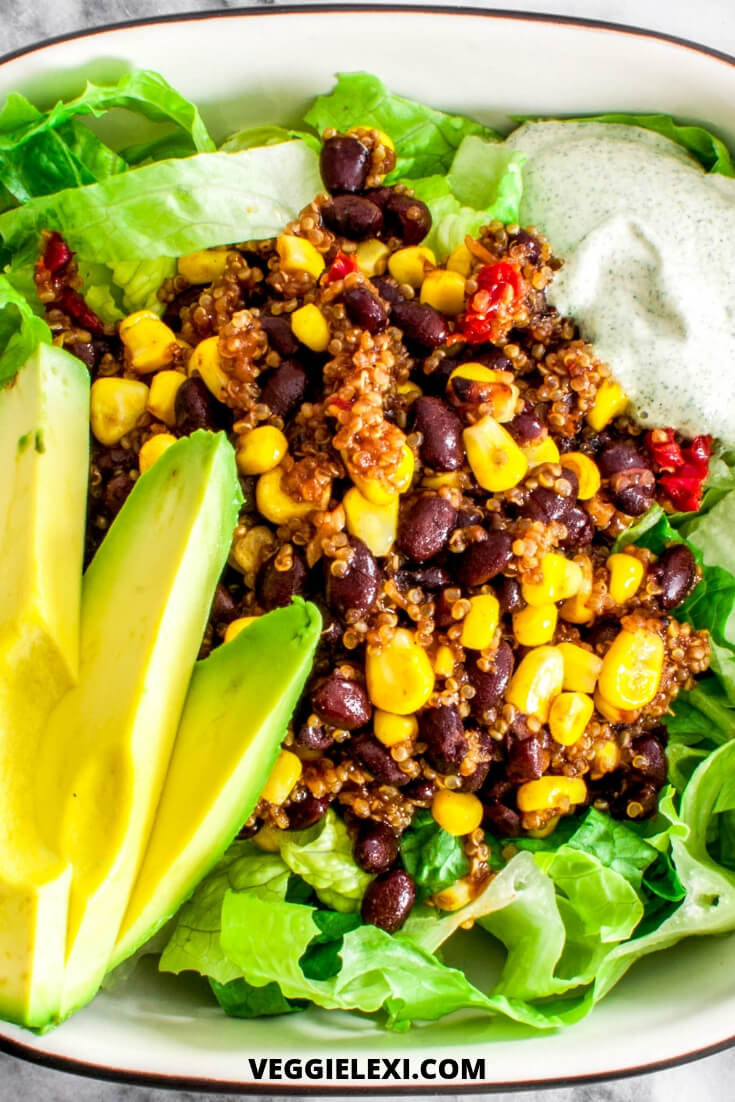 Tex-Mex Quinoa Salad (Veggie Lexi) - Blacks beans, corn, and quinoa combine to make the most awesome Tex-Mex salad.  This quinoa salad is absolutely perfect served with potatoes in the winter or on top of lettuce in the summer.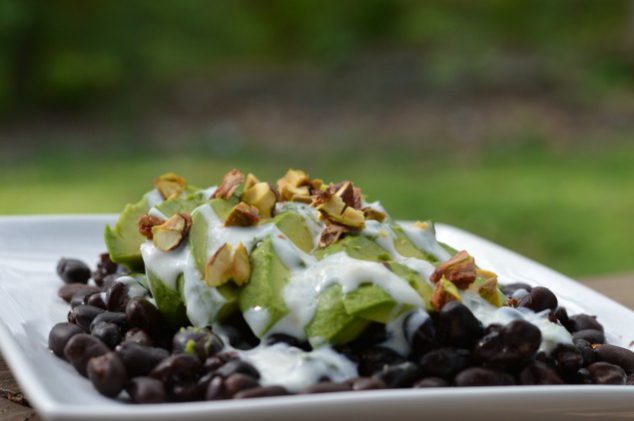 Belly Fat Burning Black Bean Avocado Salad (Family Focus Blog) - This simple fat burning salad involves a bed of black beans covered with slices of avocado, drizzled with a a homemade yogurt dressing, and topped with chopped pistachios. It is so nourishing and delicious.
Black Bean and Corn Salad (Palatable Pastime) - Simple  and colorful fresh corn salad with  a splash of black beans celebrates the height of summer with  local foods from the Farmer's market.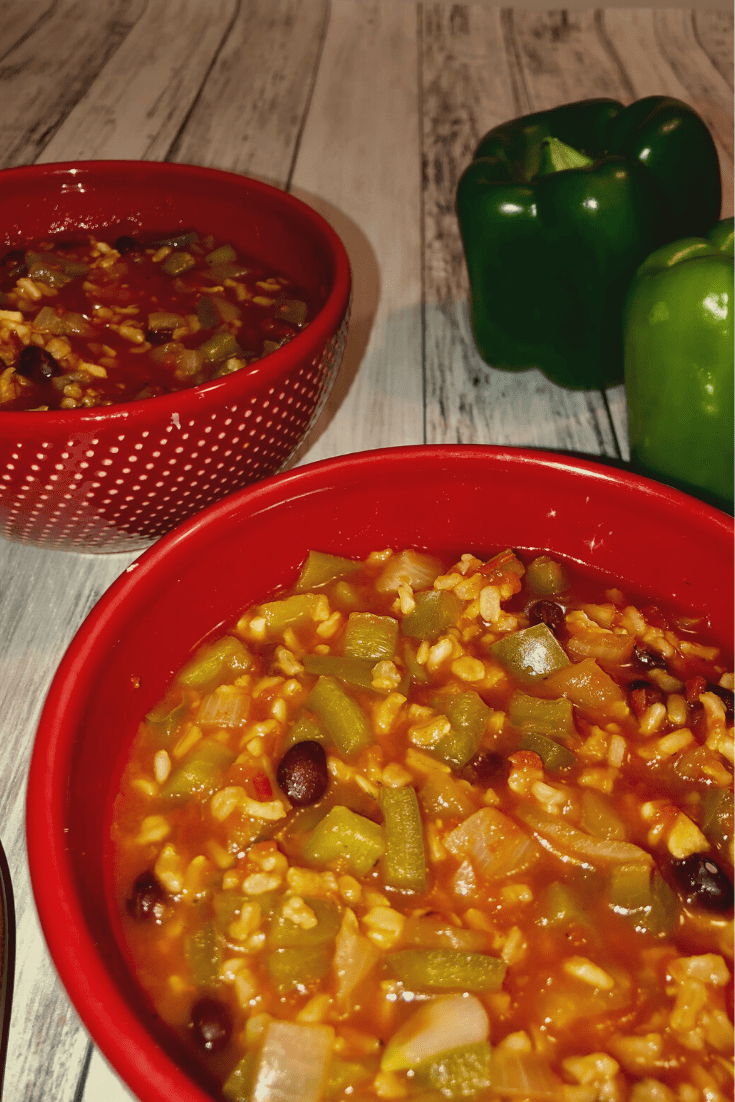 Stuffed Pepper Soup (HOORAH To Health) - Packed full of peppers, onion, garlic, and tomatoes, this soup will provide you with enough nutrition to keep your immune system fully charged, and help keep you healthy during the winter months.
Dips & Salsas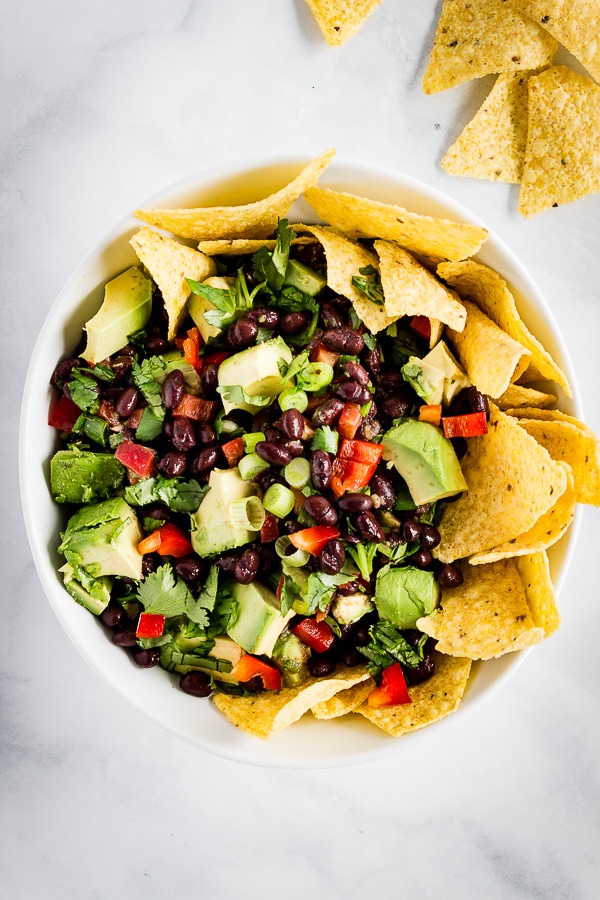 Avocado Black Bean Salsa (Pass Me Some Tasty) - This Avocado Black Bean Salsa comes together quickly and is perfect for a party, potluck, bbq or any time you need something to justify eating more tortilla chips!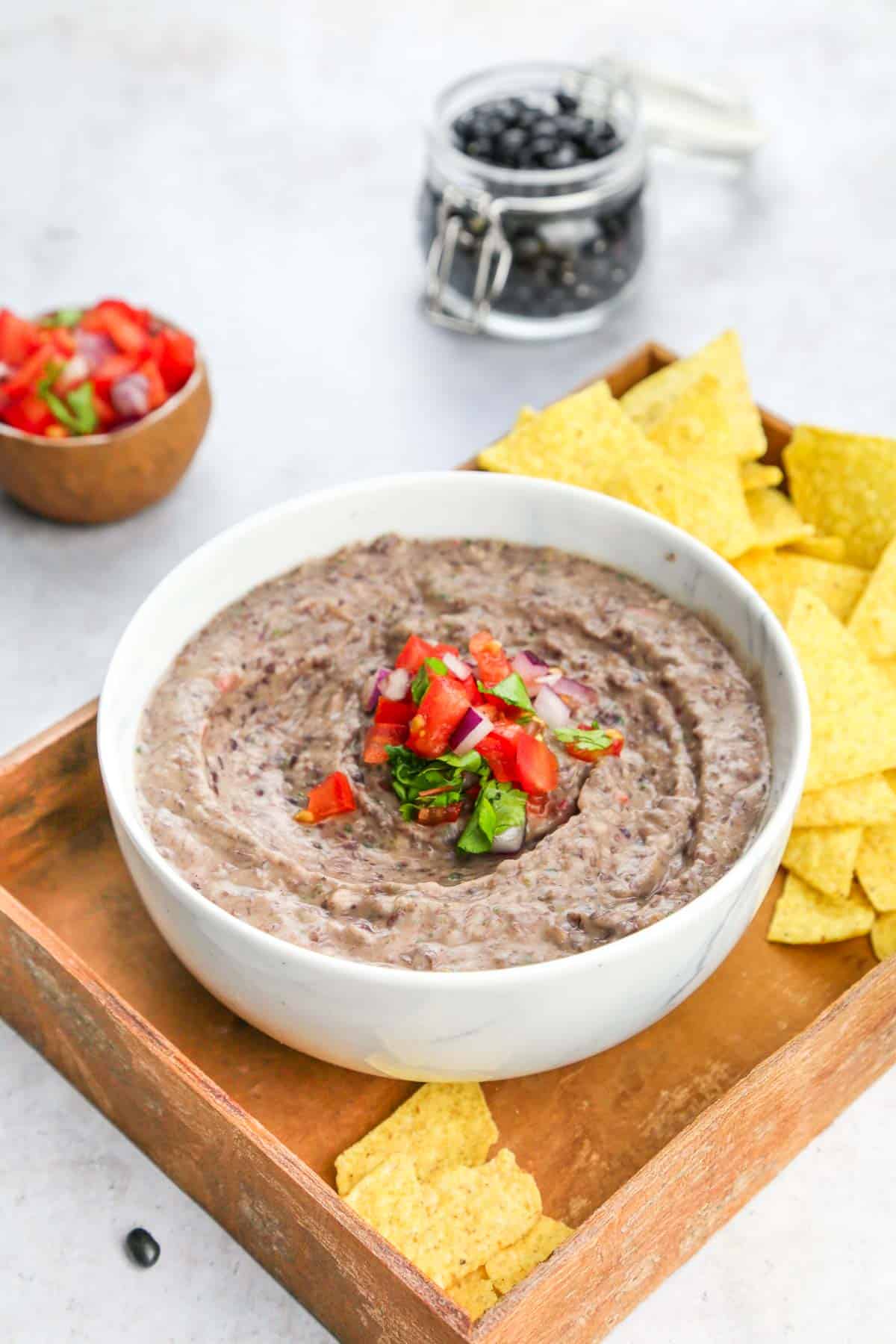 Easy Black Bean Dip (Little Sunny Kitchen) - Easy black bean dip is so quick to make and it's also good for you! Just throw all of the ingredients in a food processor or a blender, blitz and that's your black bean dip ready for you!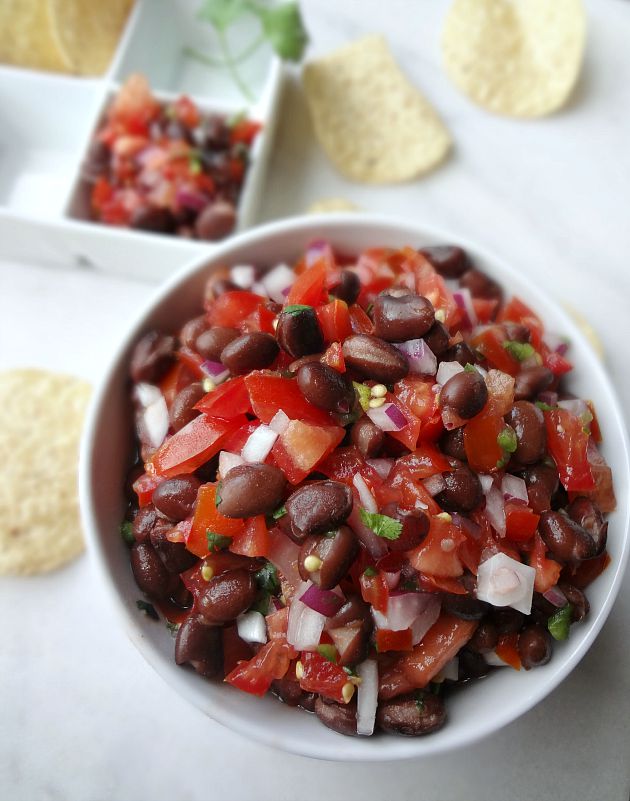 Black Bean Pico de Gallo (The Cooking Actress) - Add some fiber and protein to your chips & dip session with this quick and easy black bean pico de gallo!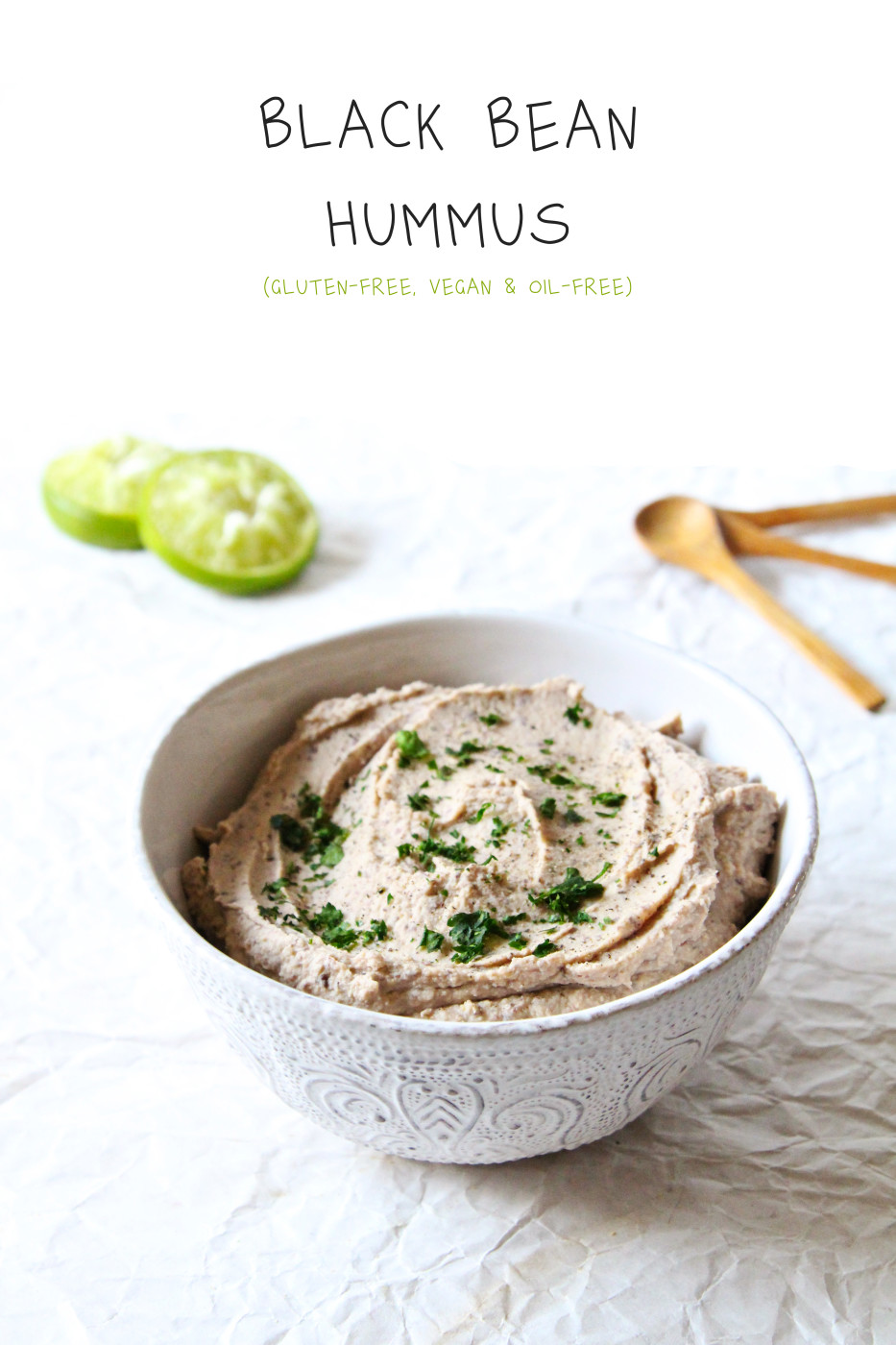 Oil-Free Black Bean Hummus (The Plant Philosophy) - This creamy Black Bean Hummus is delicious, addicting, and made with affordable ingredients. It not only adds amazing flavor but packs a punch of plant-based protein! About 5g per serving.
Main Dish Black Bean Recipes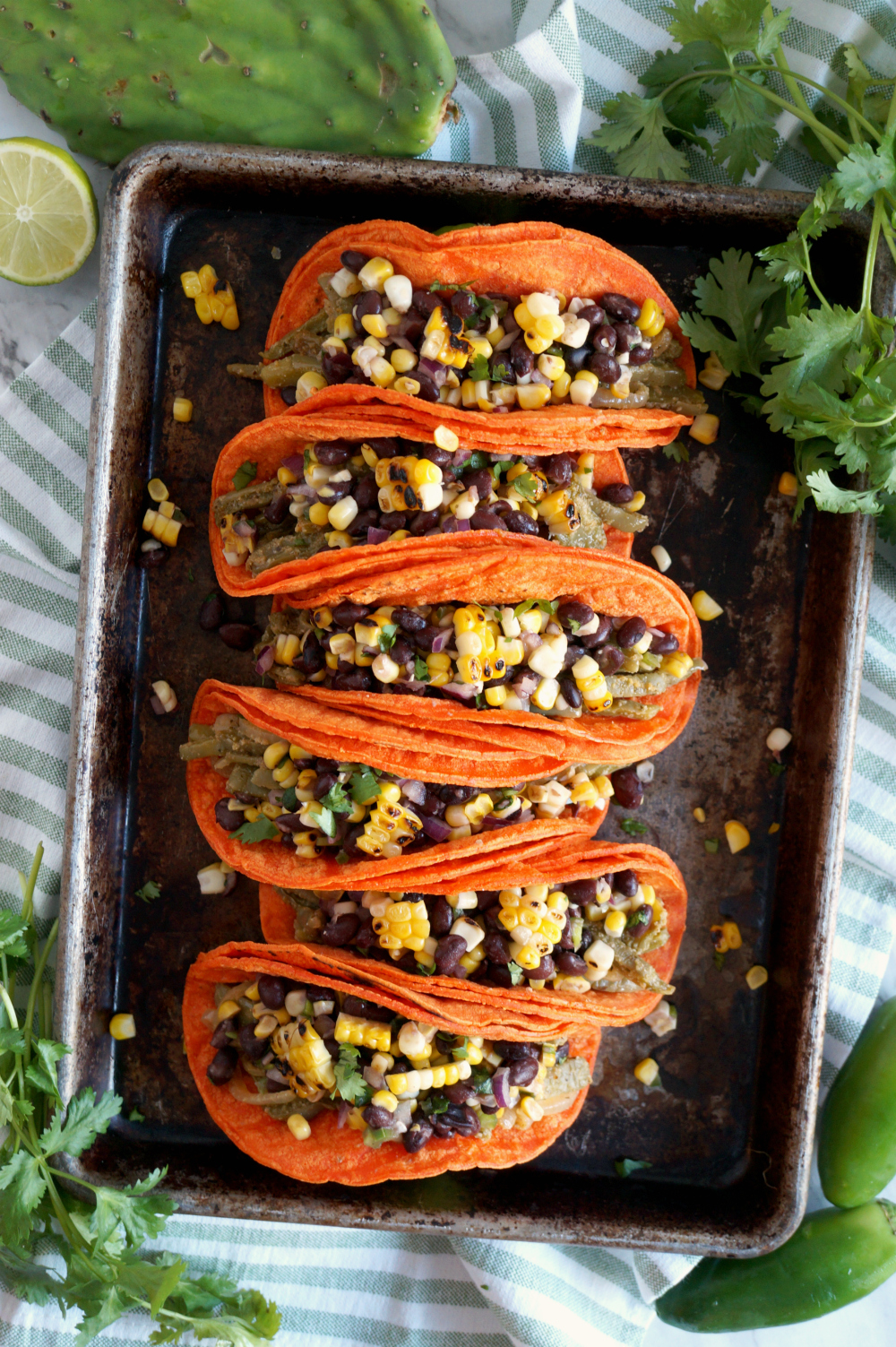 Vegan Nopales Tacos with Charred Corn and Black Bean Salsa - Looking for something different this Taco Tuesday? These Vegan Nopales Tacos are made of cactus, and topped with a fresh charred corn and black bean salsa.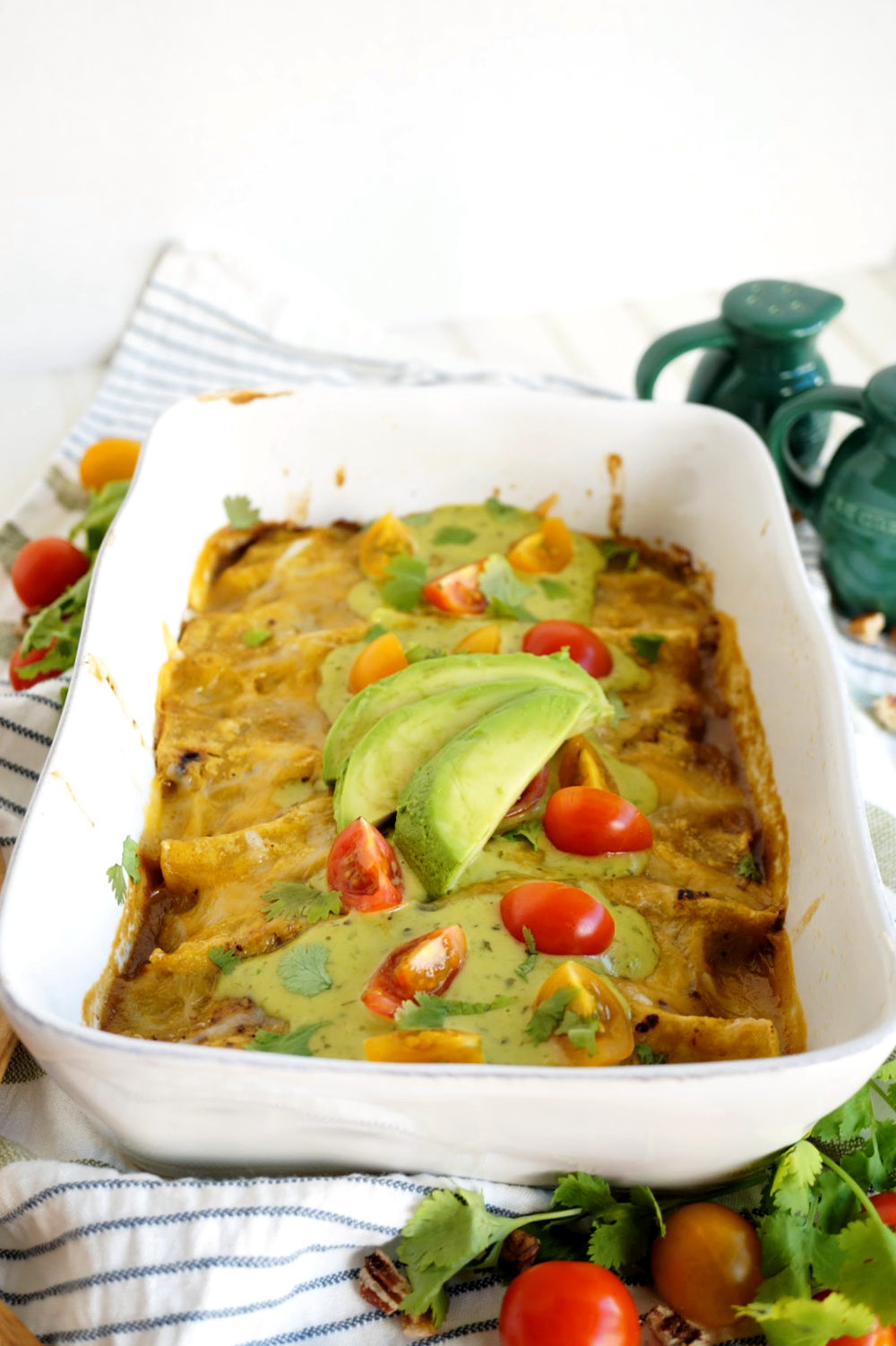 Vegan Salsa Verde Enchiladas with Pecan Meat - These Vegan Salsa Verde Enchiladas with Pecan Meat are delicious and simple to make with pantry staples! Change up your usual Tex-Mex night with this tasty plant-based dish.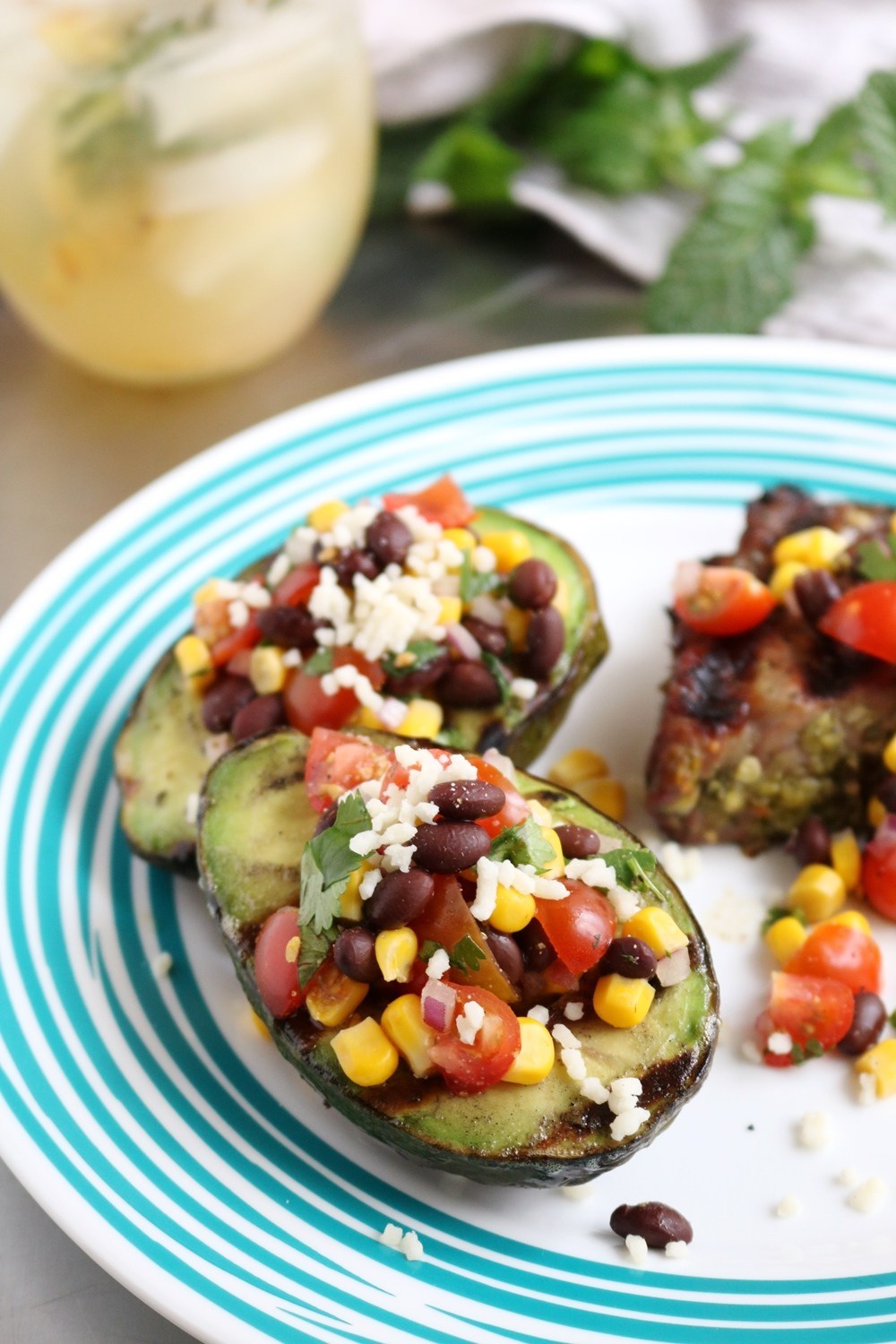 Grilled Stuffed Avocados (The Spiffy Cookie) - Step up your side grilling game with these easy grilled avocados stuffed with black bean and corn salsa.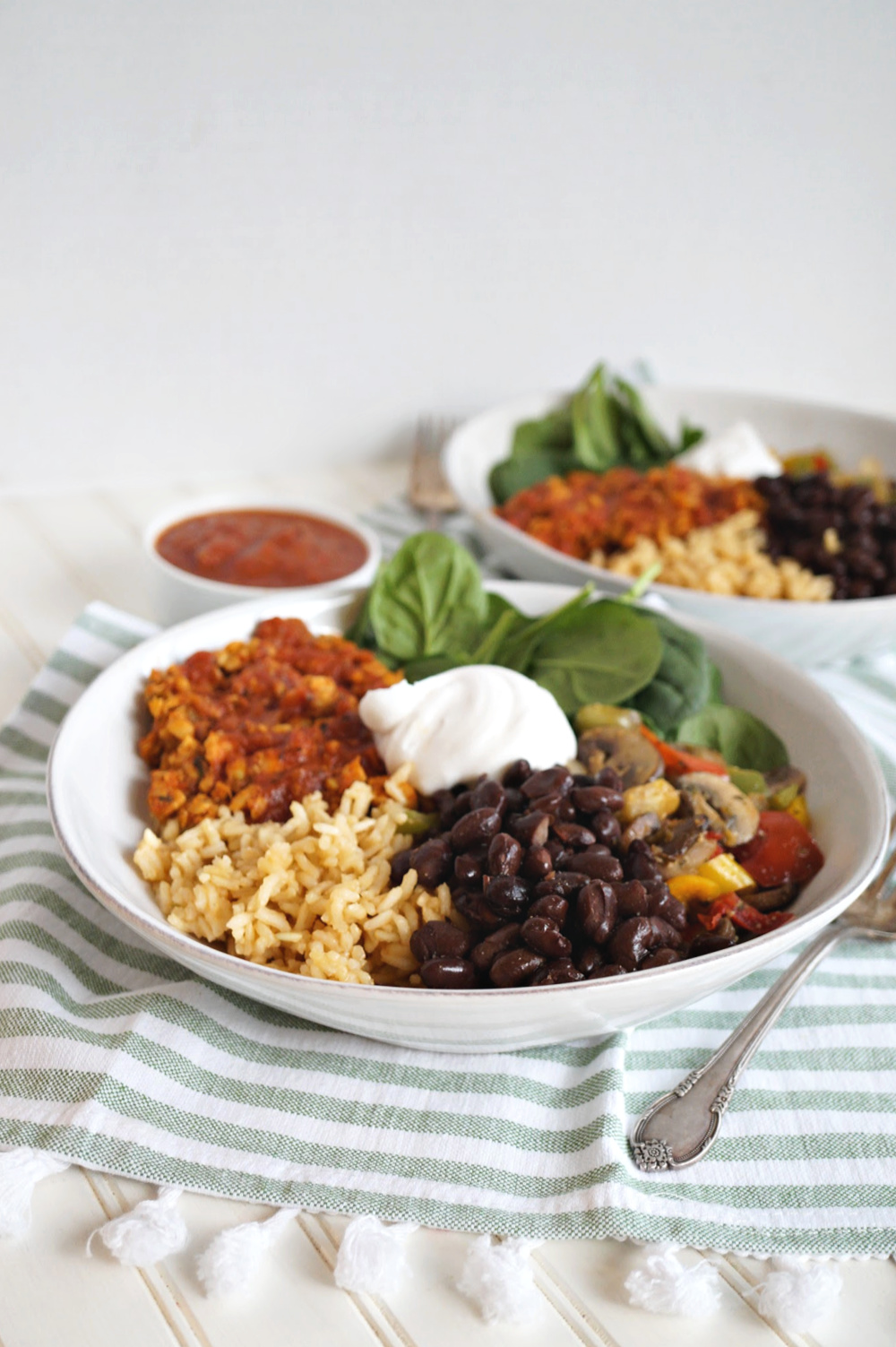 Easy Vegan Taco Bowls with Tempeh - These Easy Vegan Taco Bowls are stuffed with tempeh "taco meat," black beans, sautéed vegetables, and hearty brown rice for a filling and delicious meal.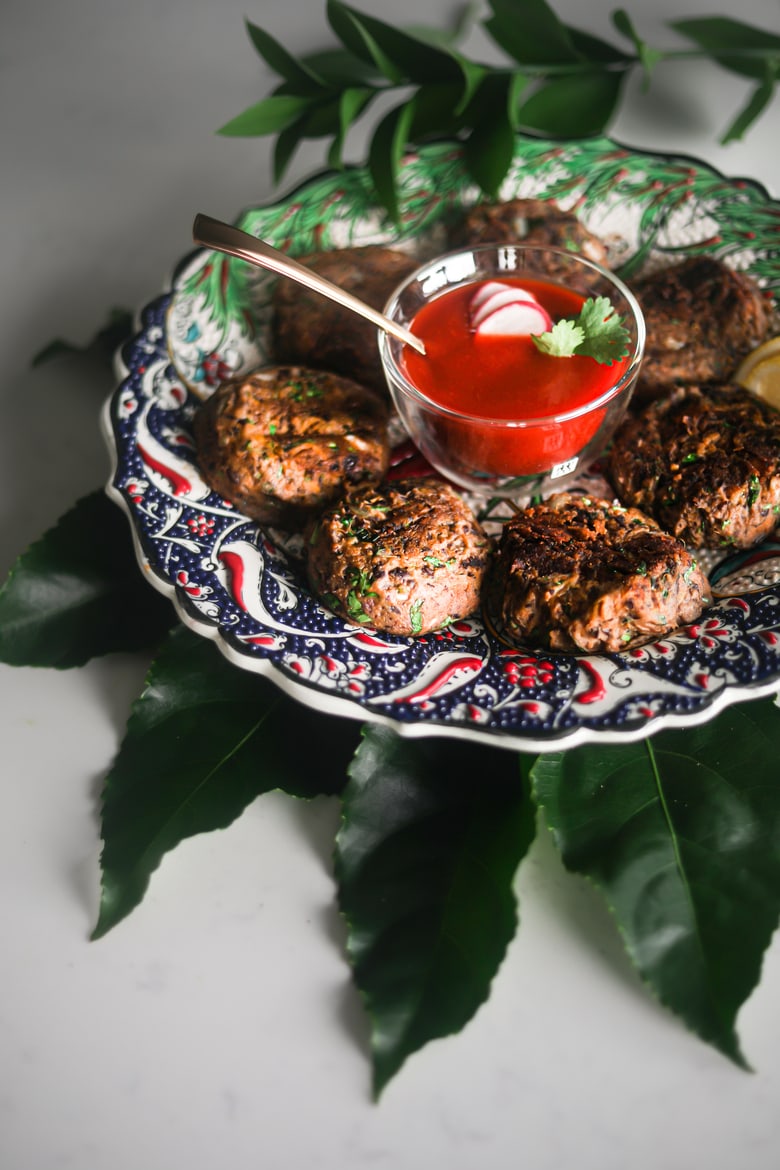 Black Bean & Sweet Potato Vegetarian Kebabs (Desi-licious RD) - This kebab recipe creates succulent and soft vegetarian kebabs (Shammi kebab-style) that are packed with nourishing ingredients and rich in flavour! Made with black beans and sweet potato, and infused with traditional South Asian spices, to create a healthy ethnic food recipe – that the entire family will love.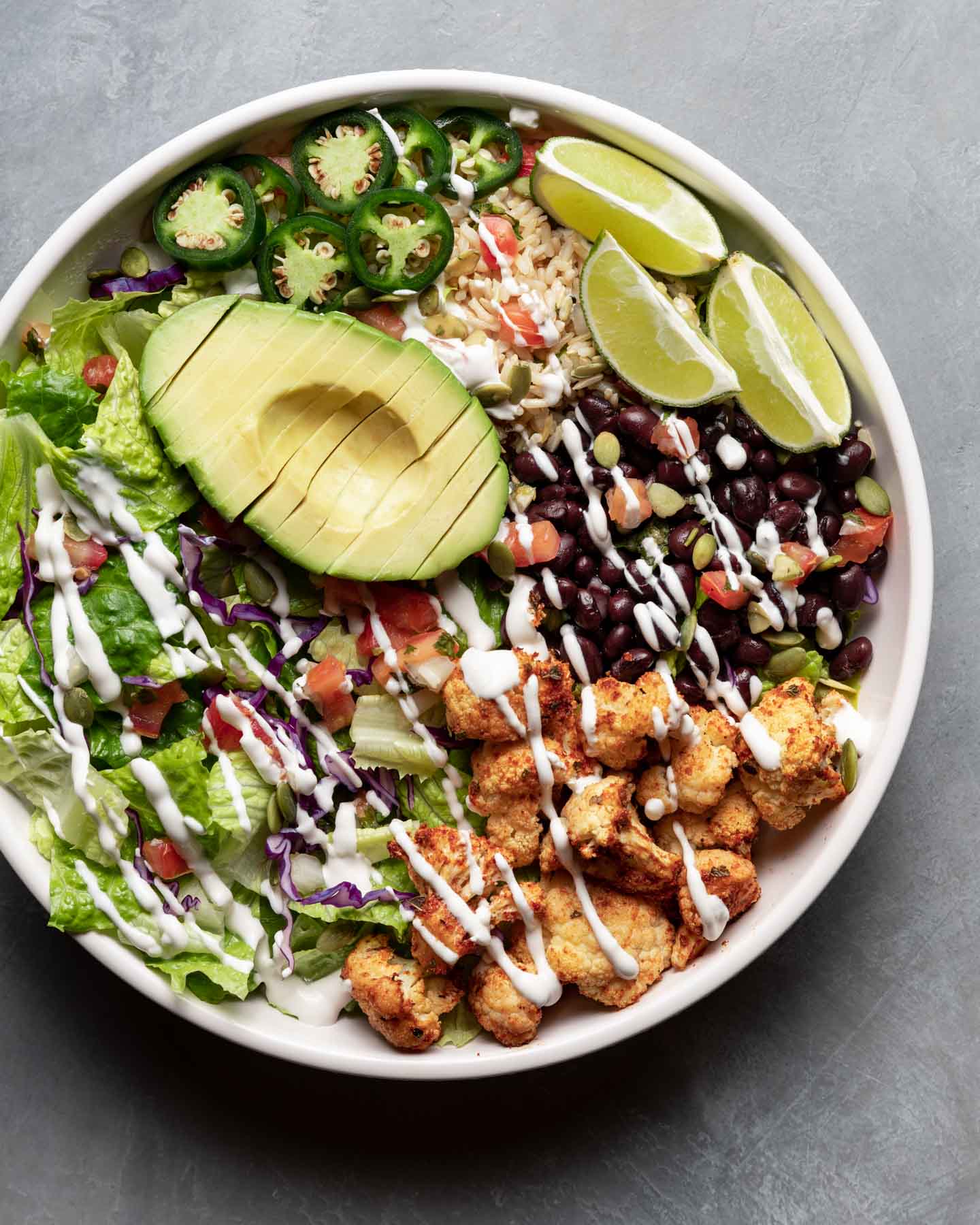 Vegan Mexican Bowl with Spicy Roasted Cauliflower (Sprouts + Krauts) - This delicious Mexican-inspired meal features a bed of crisp romaine lettuce topped with brown rice, black beans, and salsa. Cauliflower florets roasted in a fragrant blend of spices adds some heat to the dish.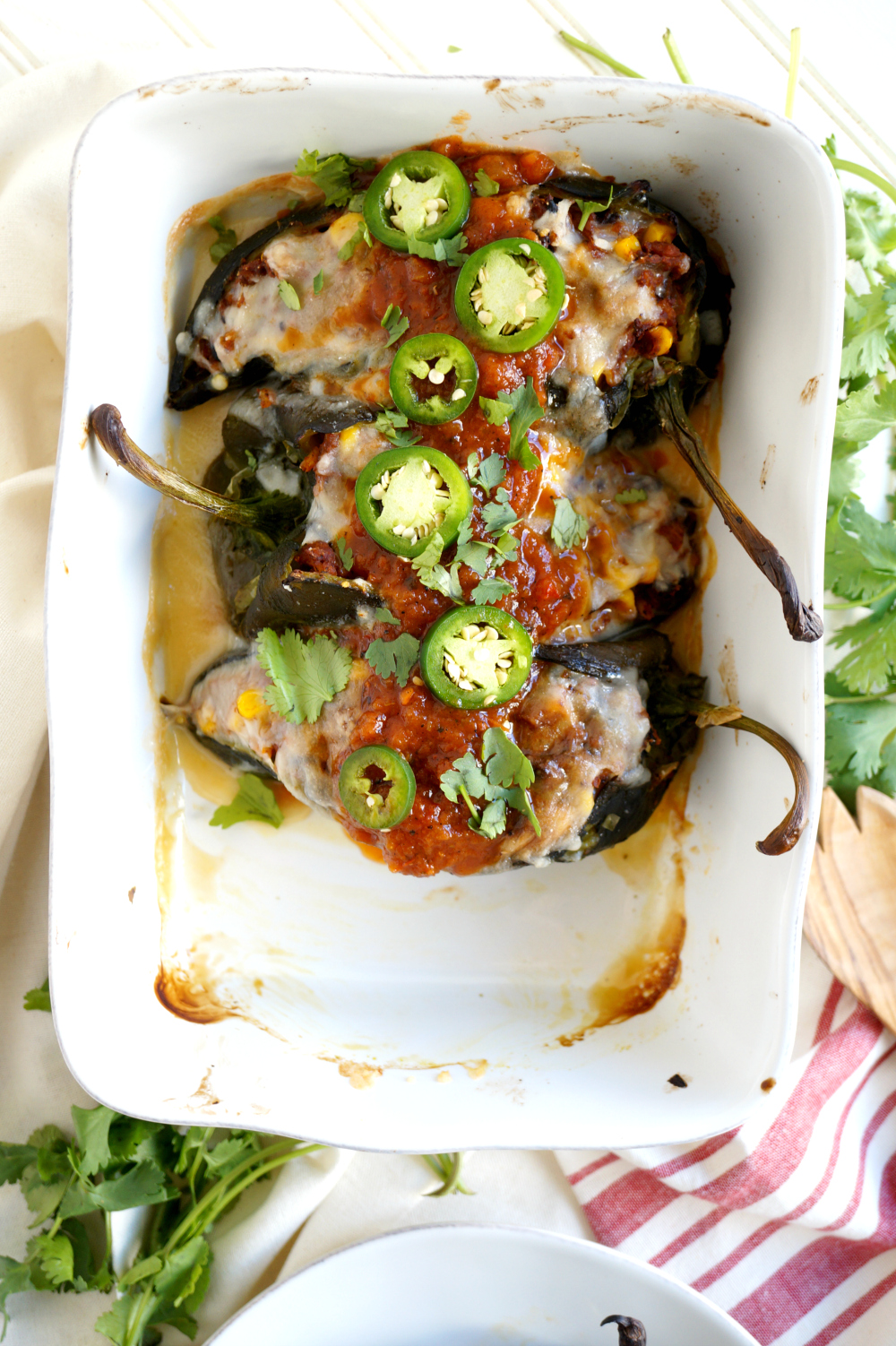 Vegan Stuffed Poblano Peppers - These Vegan Stuffed Poblano Peppers are filled with corn, black beans, and vegan chorizo for a spicy & savory plant-based meal.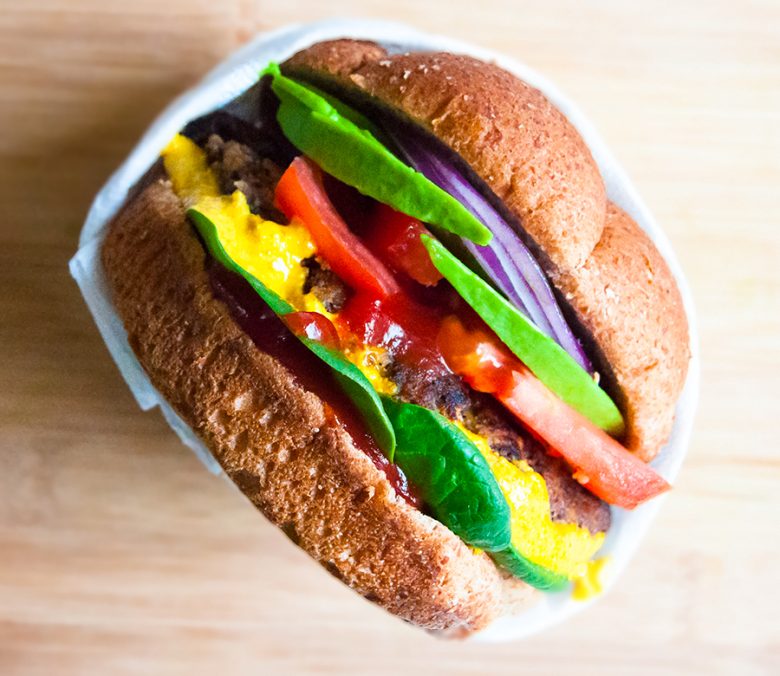 Anderson Cooper's Favorite Veggie Burger (Plantcrush) - According to People Magazine, Anderson Cooper is very much a McDonald's fan, but he also frequents NYC's Bareburger to satisfy his favorite veggie burger craving–a black bean vegan burger served with cilantro lime dressing. Yum!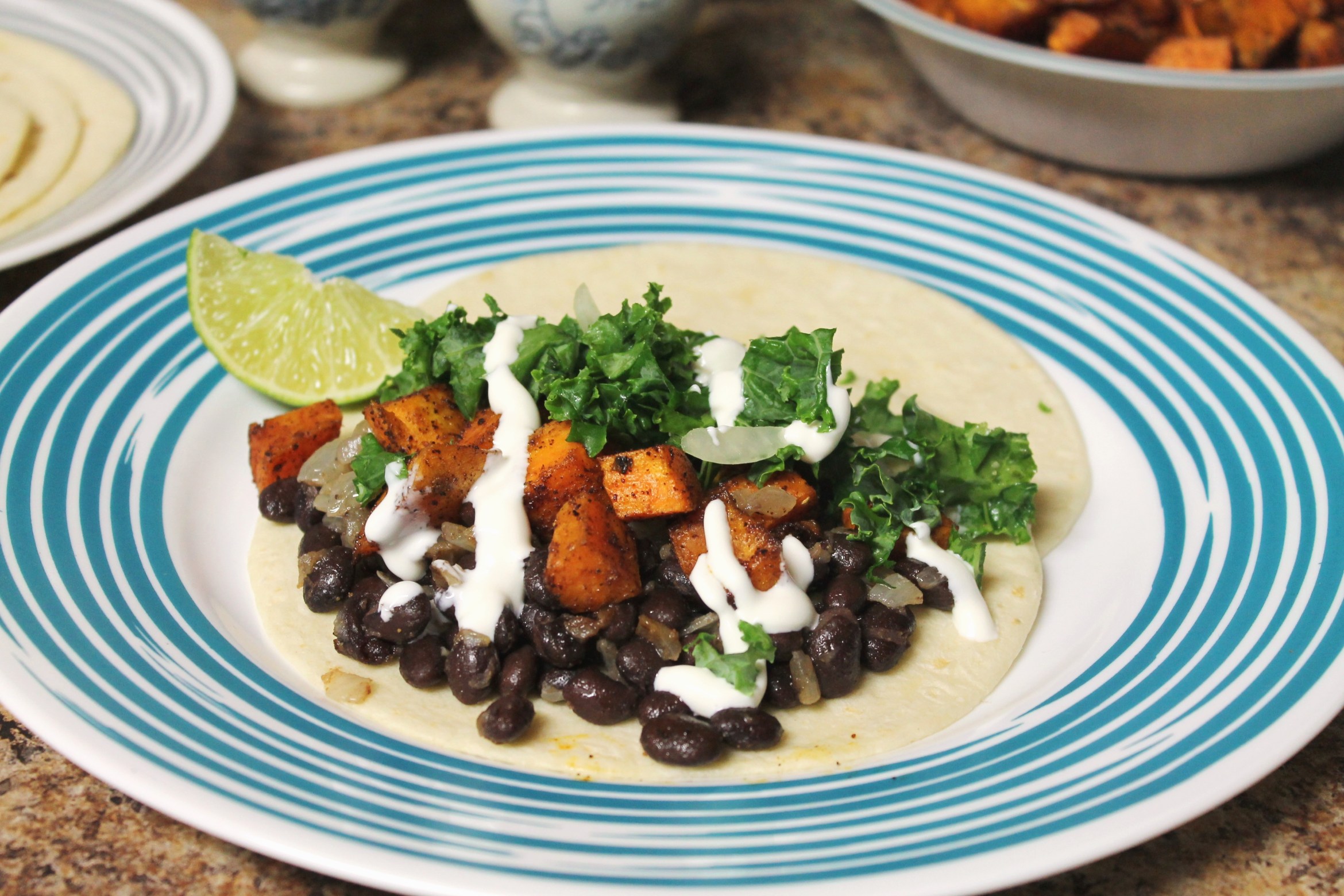 Roasted Sweet Potato Tacos with Black Beans and Kale Ceviche (The Spiffy Cookie) - A little bit a prep goes a long way with these veggie tacos featuring roasted sweet potatoes, black beans, and a kale ceviche.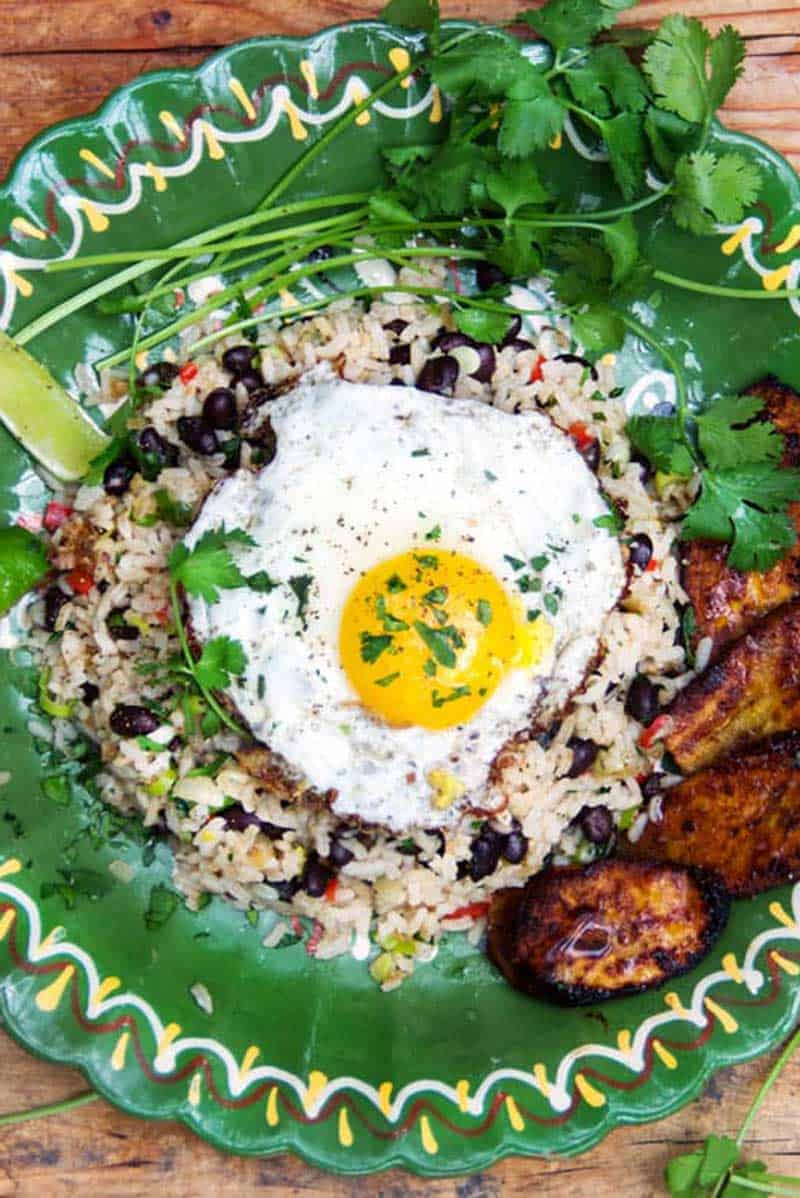 Gallo Pinto (Panning The Globe)- This is a popular breakfast in Costa Rica, a flavor-packed dish of black beans, rice, peppers, onions and herbs. If you want to follow tradition, serve it with a fried egg on top and caramelized plantains on the side.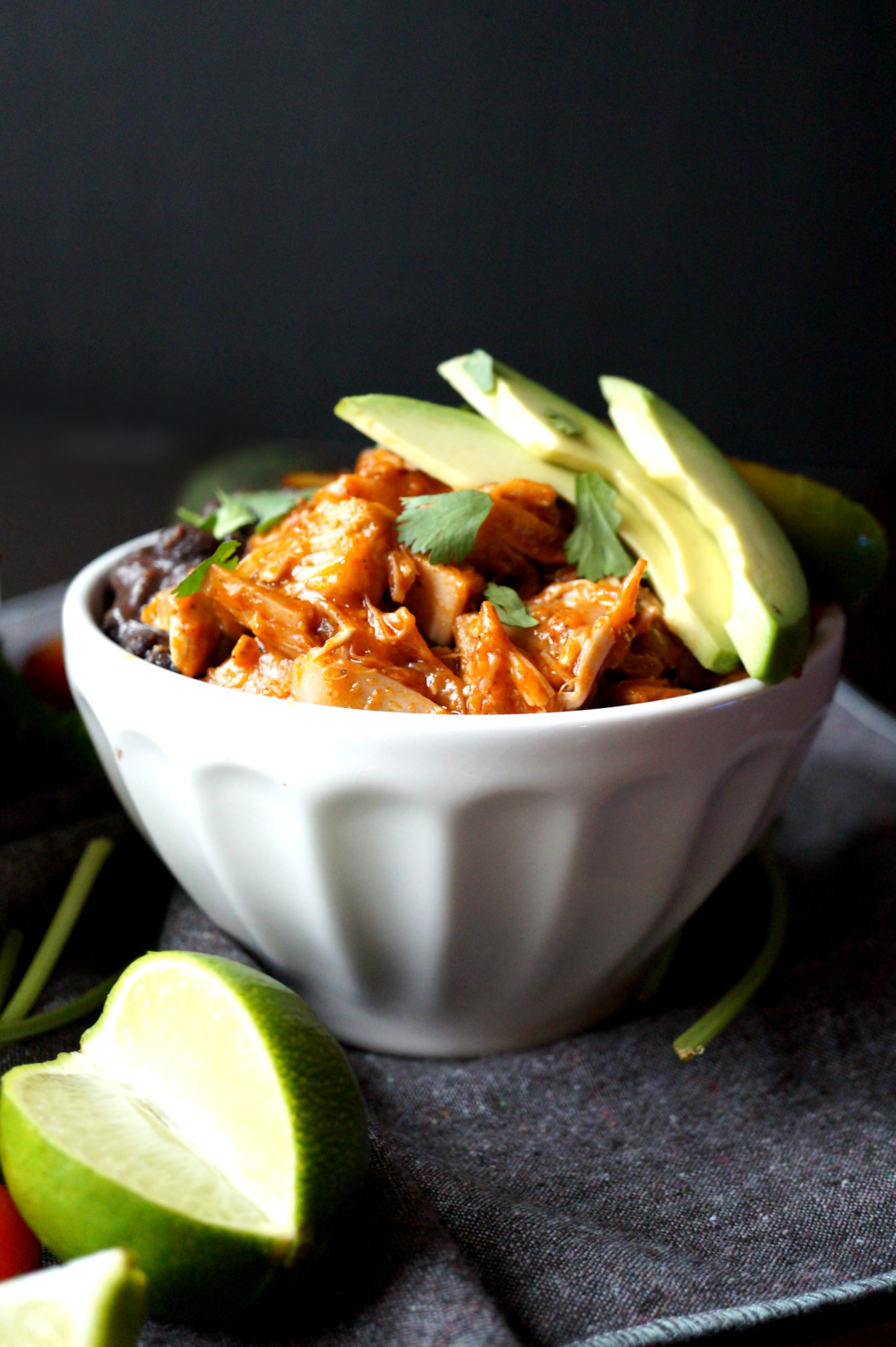 Vegan Burrito Bowls with Jackfruit Carnitas - Whip up a tasty Tex-Mex meal to rival any restaurant with these delicious Vegan Burrito Bowls, packed with tasty jackfruit carnitas, black beans, fajita vegetables, and quinoa.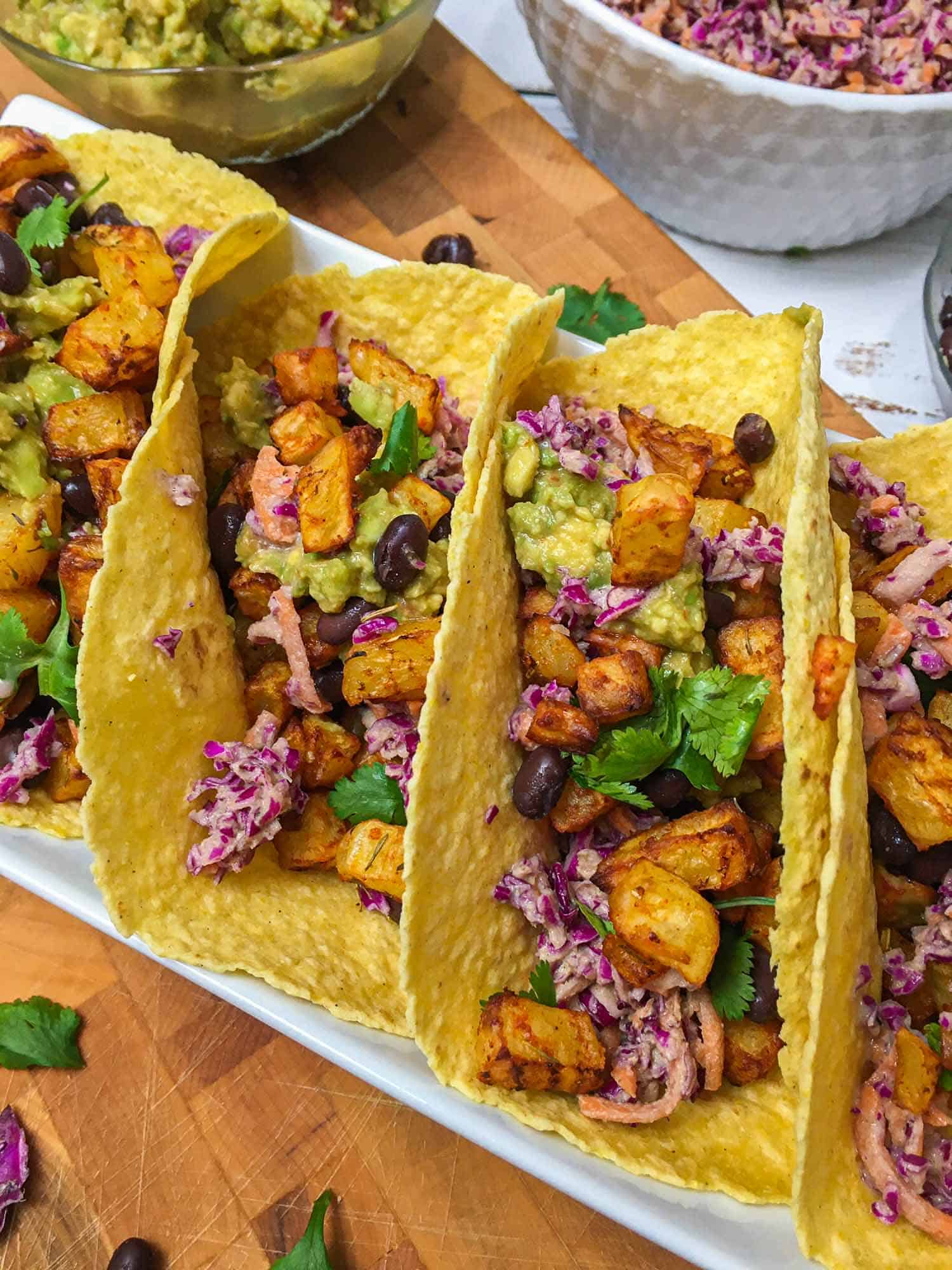 Crispy Potato Tacos with Black Beans and Slaw (This Healthy Kitchen) - Feast your eyes on these gorgeous, flavourful, seriously mouthwatering potato tacos! Crispy, delicious potatoes, combined with hearty black beans and a fresh, creamy slaw equals taco perfection!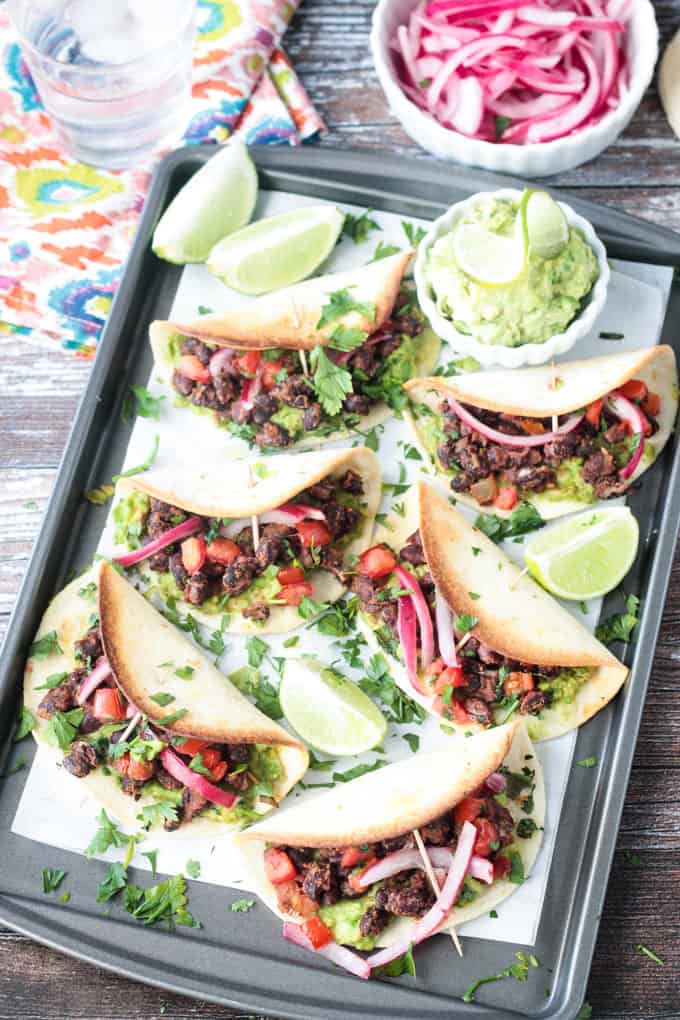 Crunchy Baked Black Bean Mini Tacos (Veggie Inspired) - These Crunchy Baked Black Bean Mini Tacos are topped with creamy avocado, tangy pickled red onions, juicy diced tomatoes, and a sprinkle of fresh cilantro. Perfect for appetizers, party snacks, or dinner!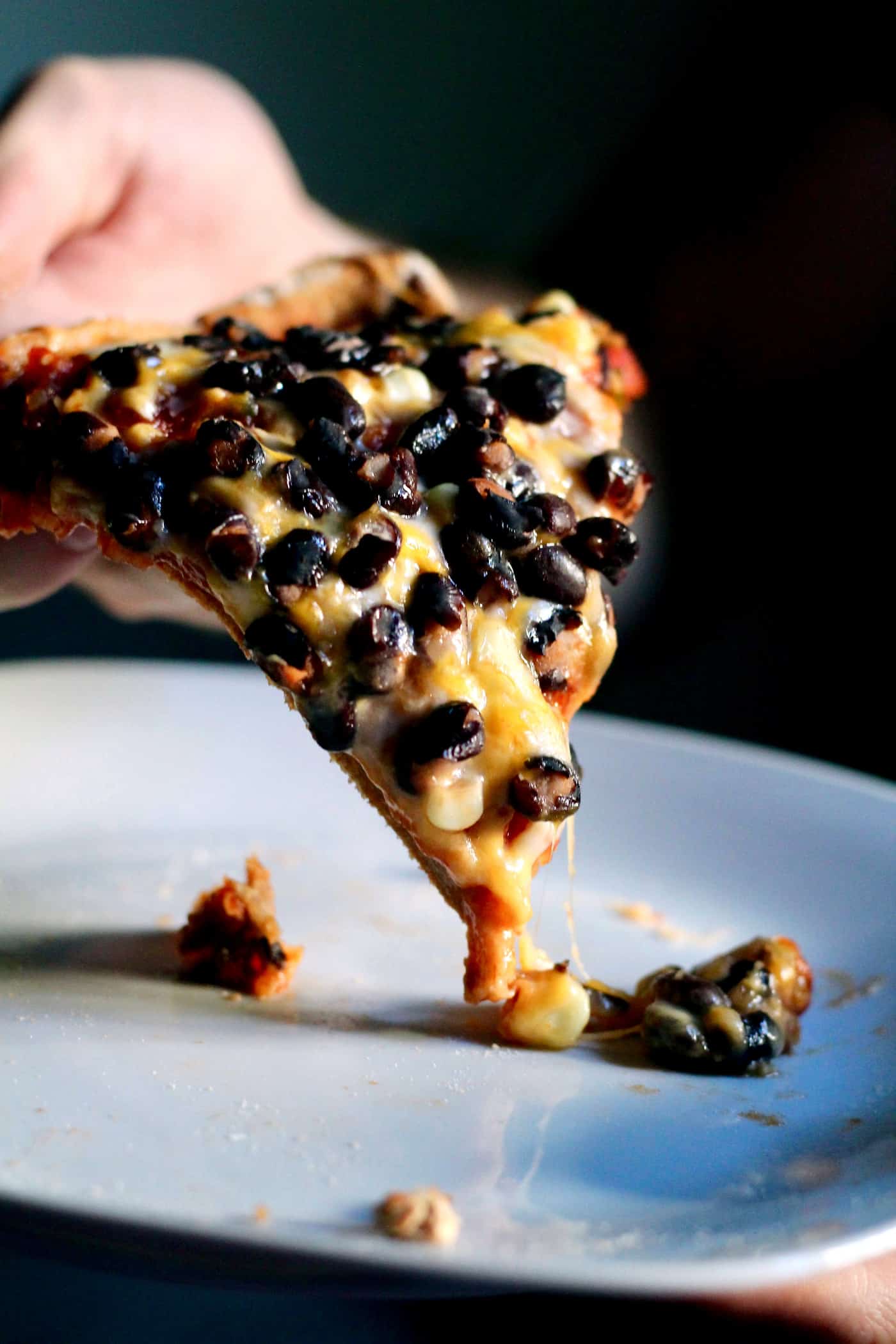 Whole Wheat Mexican Pizza (The Healthy Toast) - This veggie and bean-filled pizza proves that you can eat healthy while still enjoying a slice or two of cheesy pizza!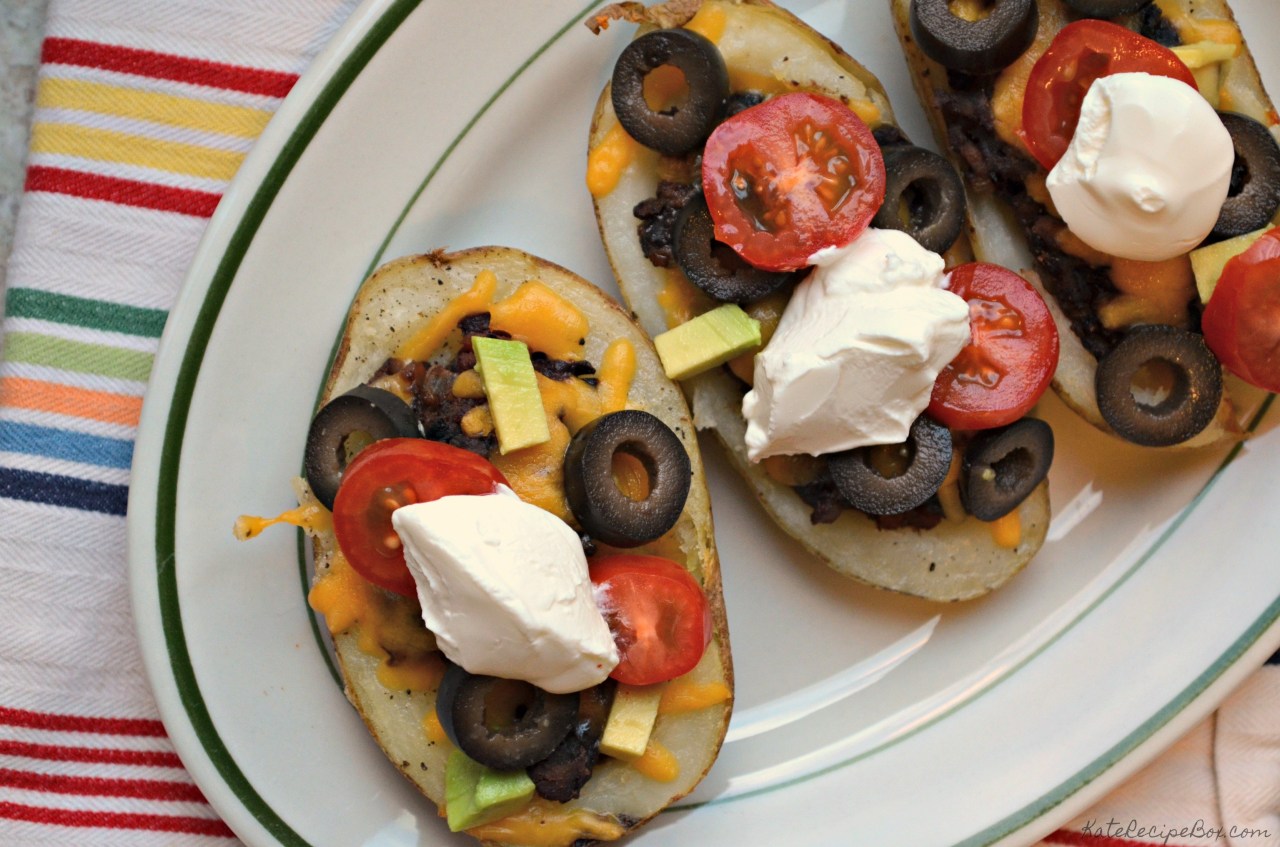 Mexican Potato Skins (Kate's Recipe Box) - These savory potato skins are topped with black beans, cheese, olives, avocado, tomatoes, and sour cream for a delicious Tex-Mex inspired snack.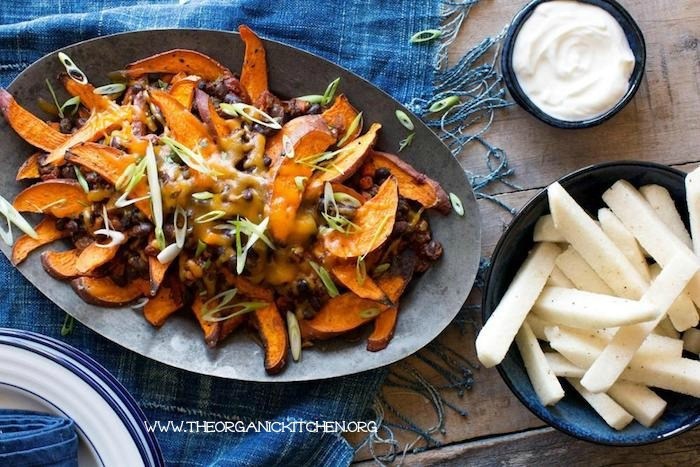 Sweet Potato Black Bean Chili Cheese Fries (The Organic Kitchen) - These sweet potatoes are roasted instead of fried, and topped  with a homemade vegetarian chili and cheddar cheese! Crunchy jicama sticks and yogurt dipping sauce are served on the side.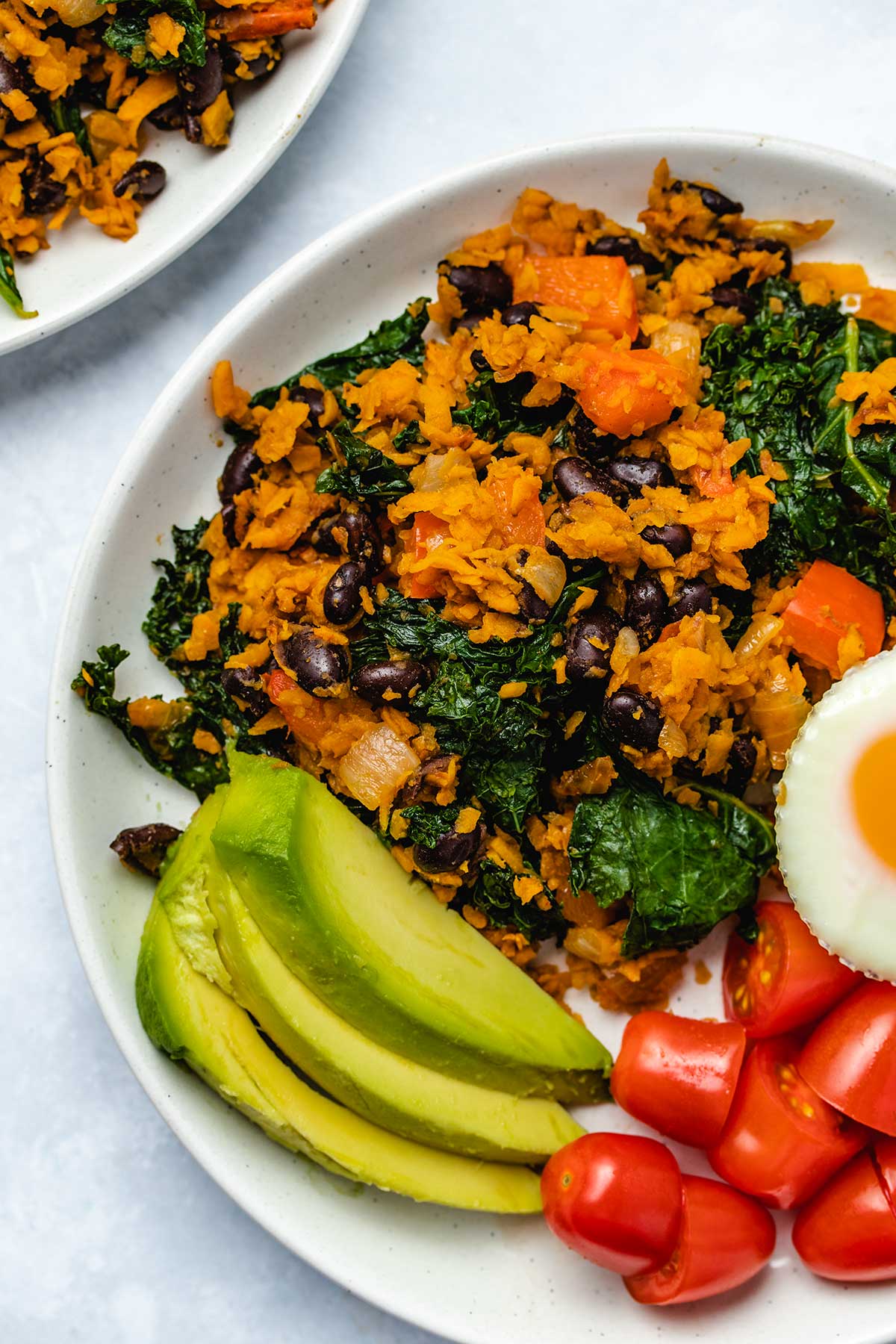 Southwest Sweet Potato, Kale, and Black Bean Skillet (The Recipe Well) - This Southwest Sweet Potato, Kale and Black Bean Skillet is a delicious addition to your breakfast plate! Eat it on its own to keep it vegan, or build a plate with eggs, avocado and tomato. Perfect for meal prep!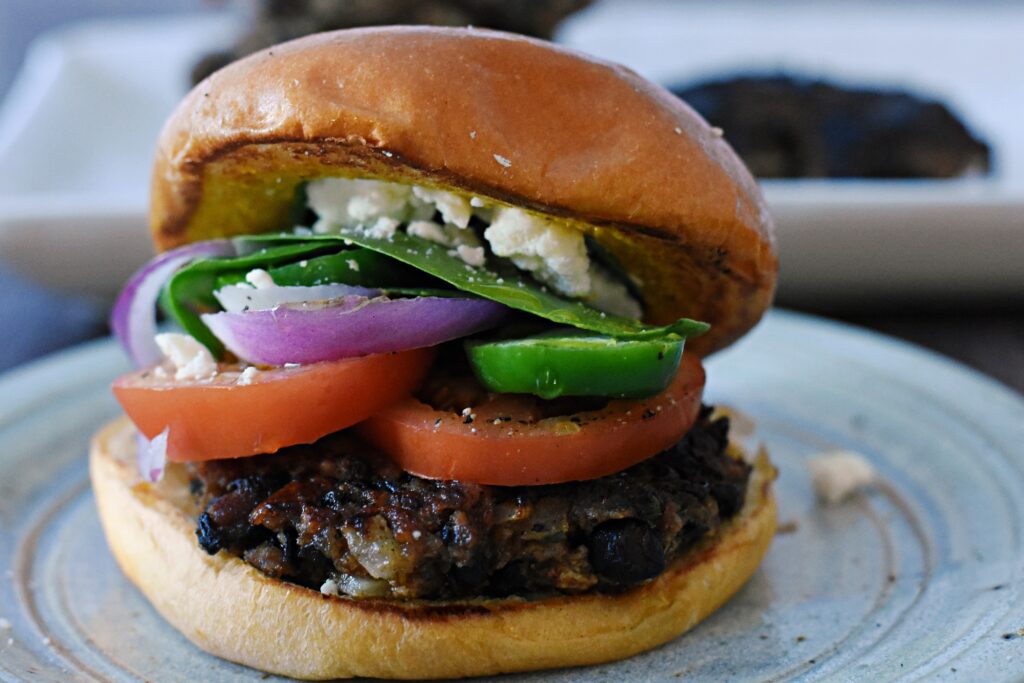 Best Black Bean Burgers (Elke Living) - Making meatless burgers from scratch is easy and healthy. These black bean burgers are perfect for vegetarians, or even for your meat lovers when you forget to thaw meat. The recipe calls for 1 egg, which can easily be replaced by a chia or flax egg to make this vegan!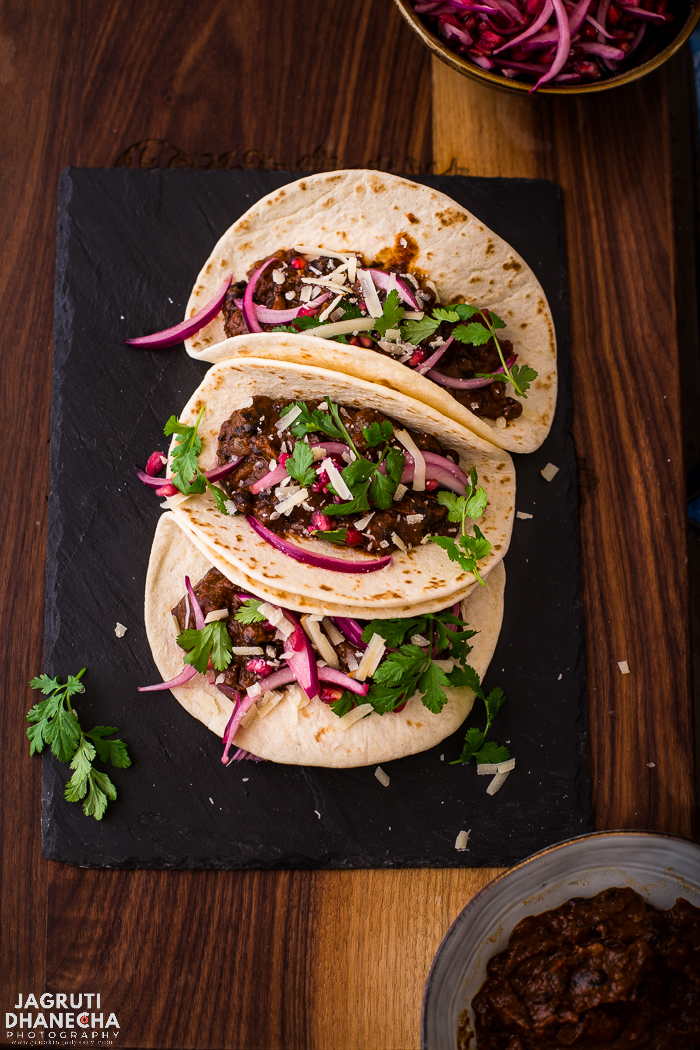 Espresso Black Bean Tacos (Jagruti's Cooking Odyssey) - these vegetarian tacos are packed with smoky rich flavors, and seasoned with a homemade taco seasoning and a hint of coffee. The coffee lends an earthy flavor to the taco sauce taking your feast to new flavorful heights.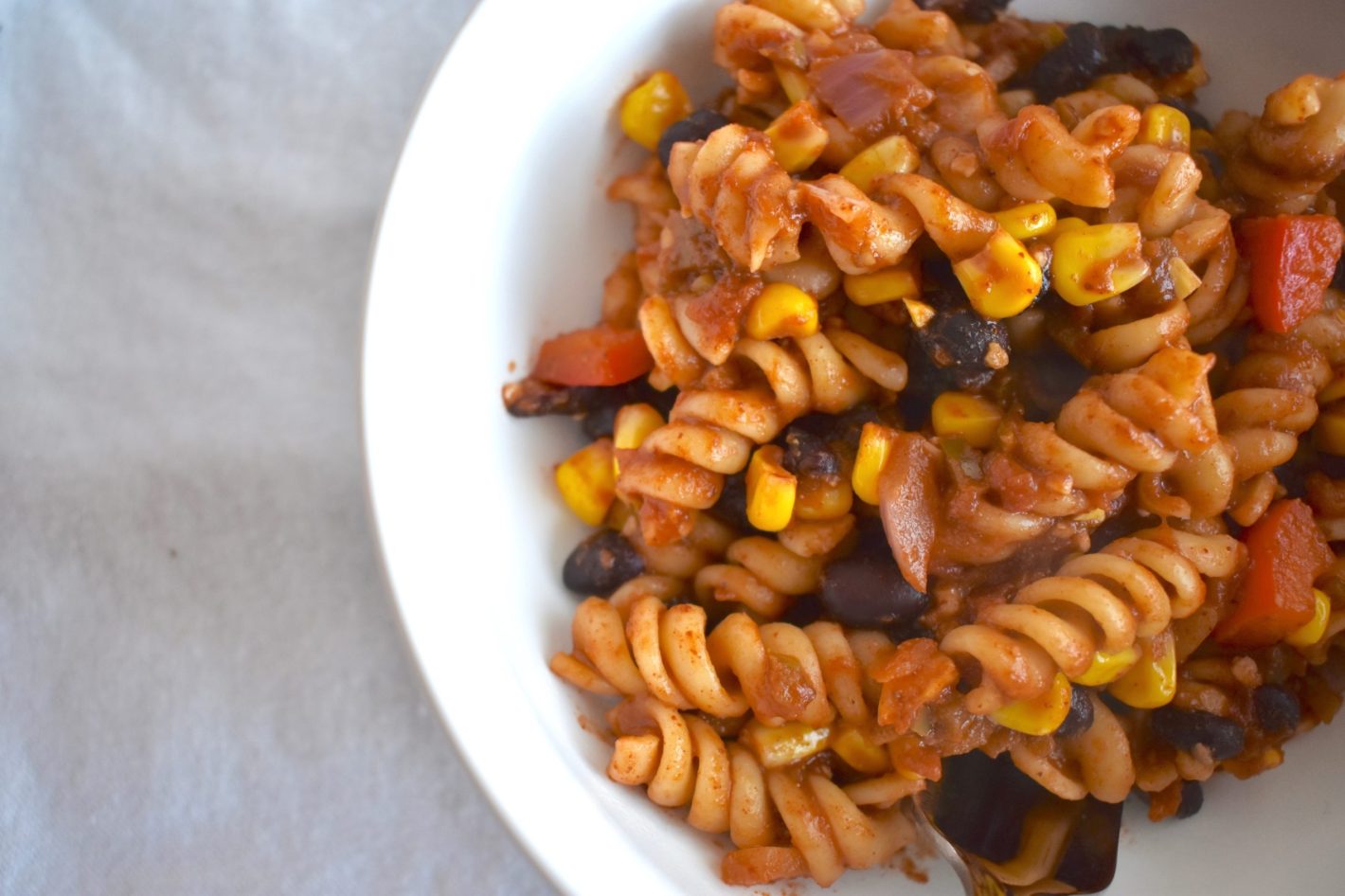 Vegan Mexican Chili Mac (Cass Clay Cooking) - This simple pasta dish tastes like pure comfort food, and it's super fast and easy to make. It's also relatively healthy and packed with protein and fiber!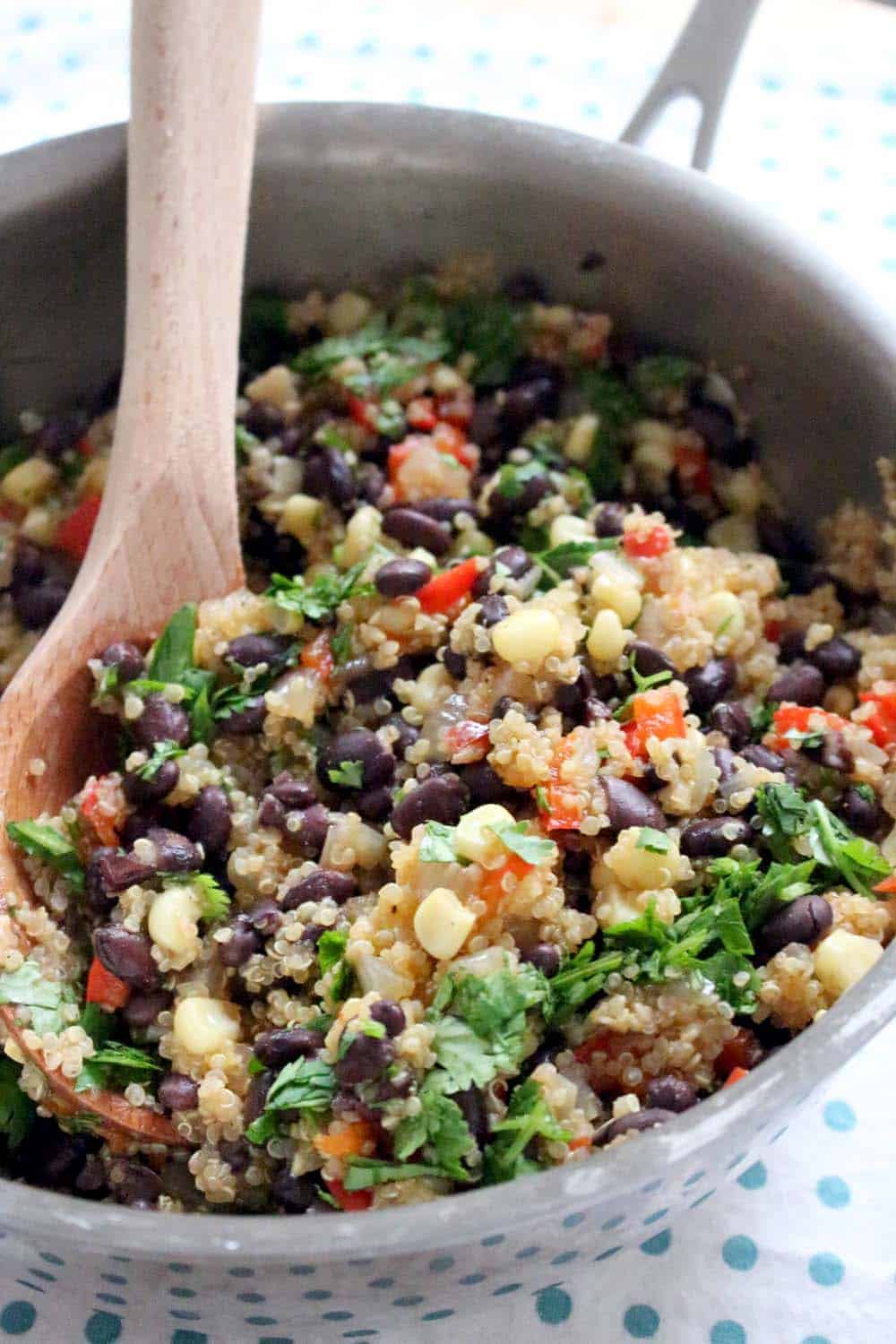 Spicy Quinoa and Black Beans (Bowl of Delicious) - Spicy quinoa and black beans is the ultimate healthy yet satisfying dish. And it's a really easy, one-pot meal! It's vegan-friendly and is packed with nutrient-rich grains, vegetables, beans, and tons of flavor.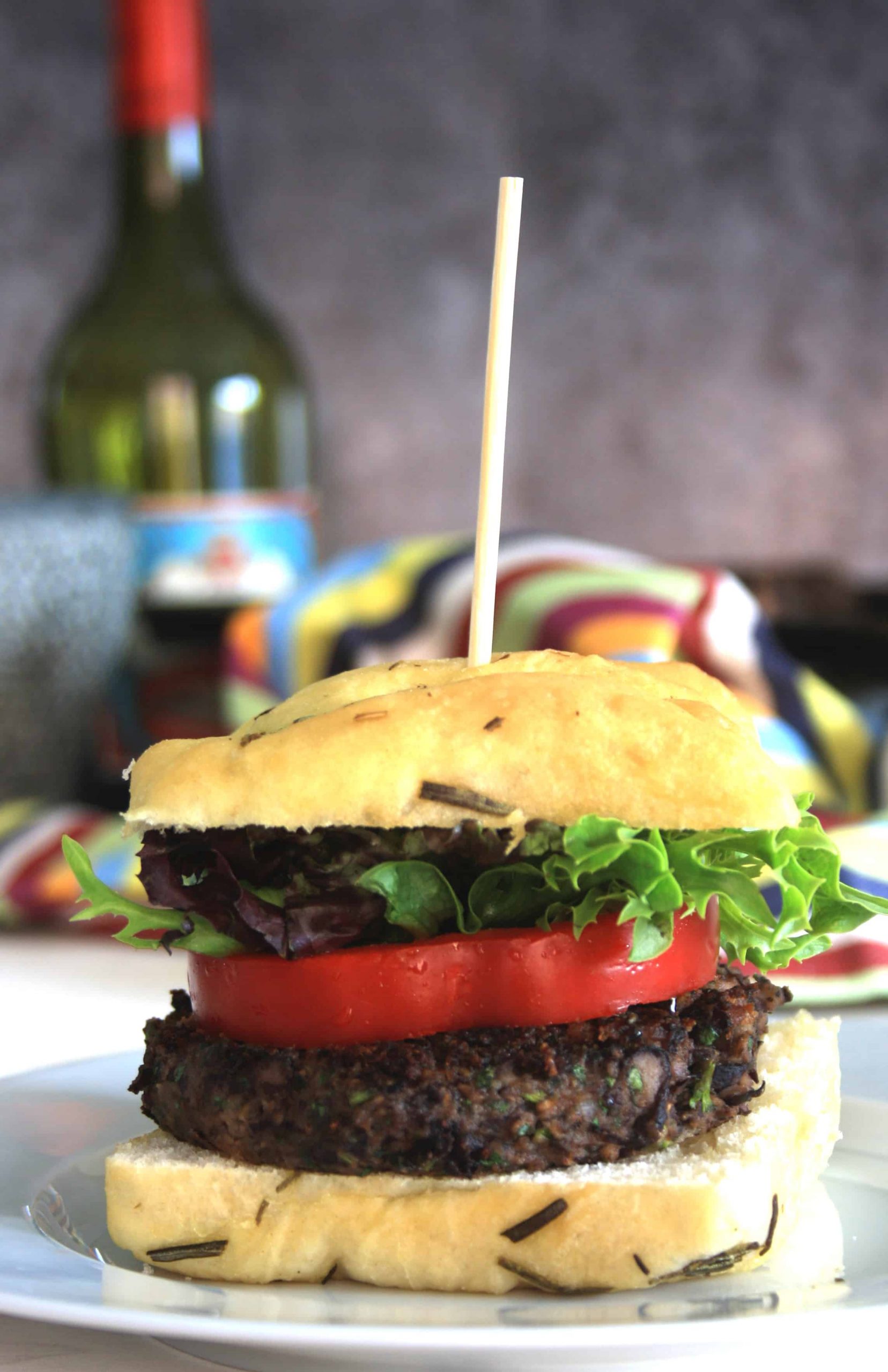 Chipotle Black Bean Mushroom Burgers (Chez Le Reve Français) - Chipotle Black Bean Mushroom Burgers are naturally vegan and totally delicious. The rich flavour of the beans combined with the earthiness of the mushrooms means that even meat eaters feel satisfied after eating one of these.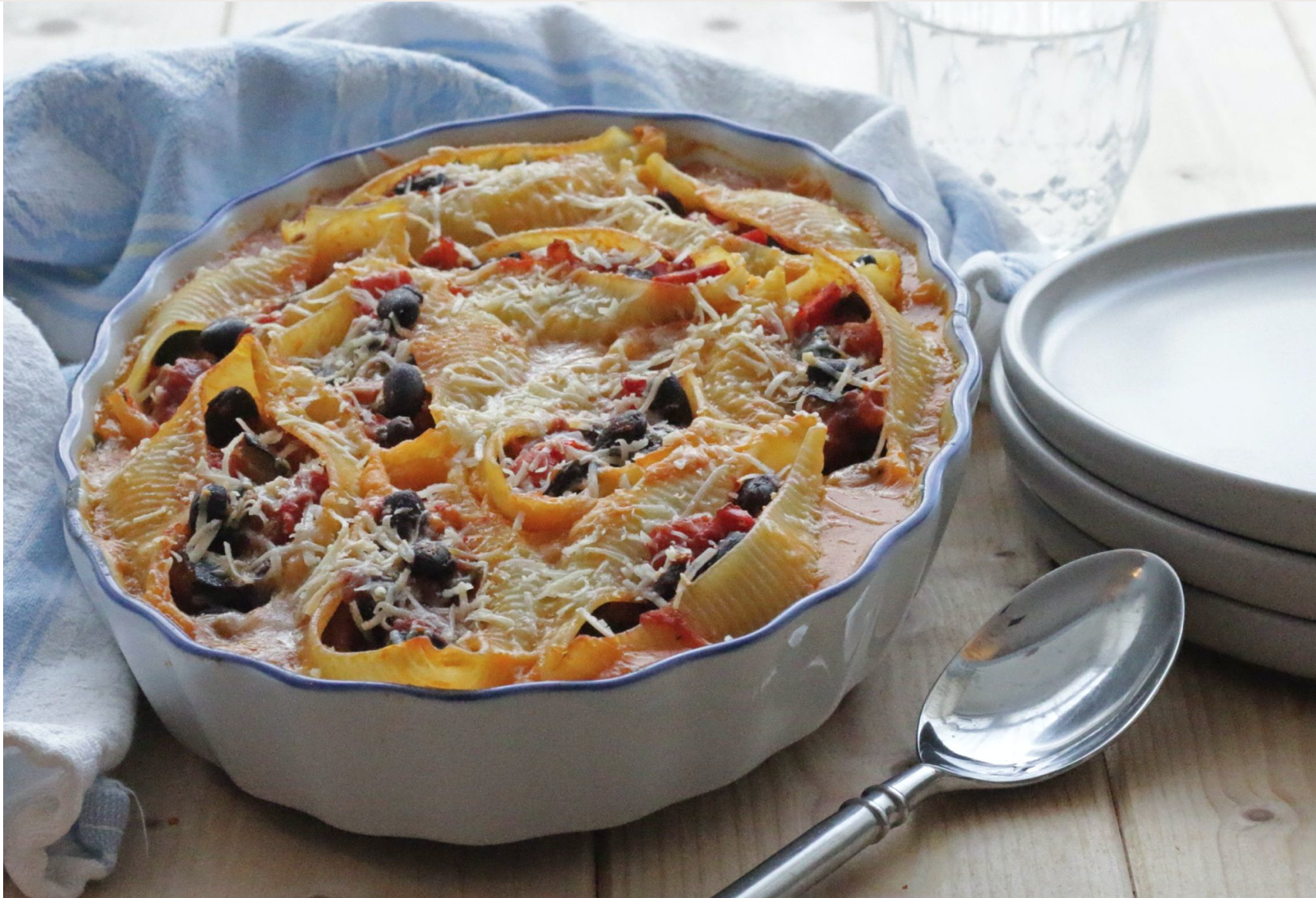 Stuffed Pasta Shells with Butternut Squash Sauce (Nutritious Deliciousness) - These stuffed pasta shells with butternut squash sauce are a real tummy warmer and loved by the whole family. The pasta shells are filled with red onion, garlic, zucchini, tomatoes and red pepper plus black beans for protein and fiber.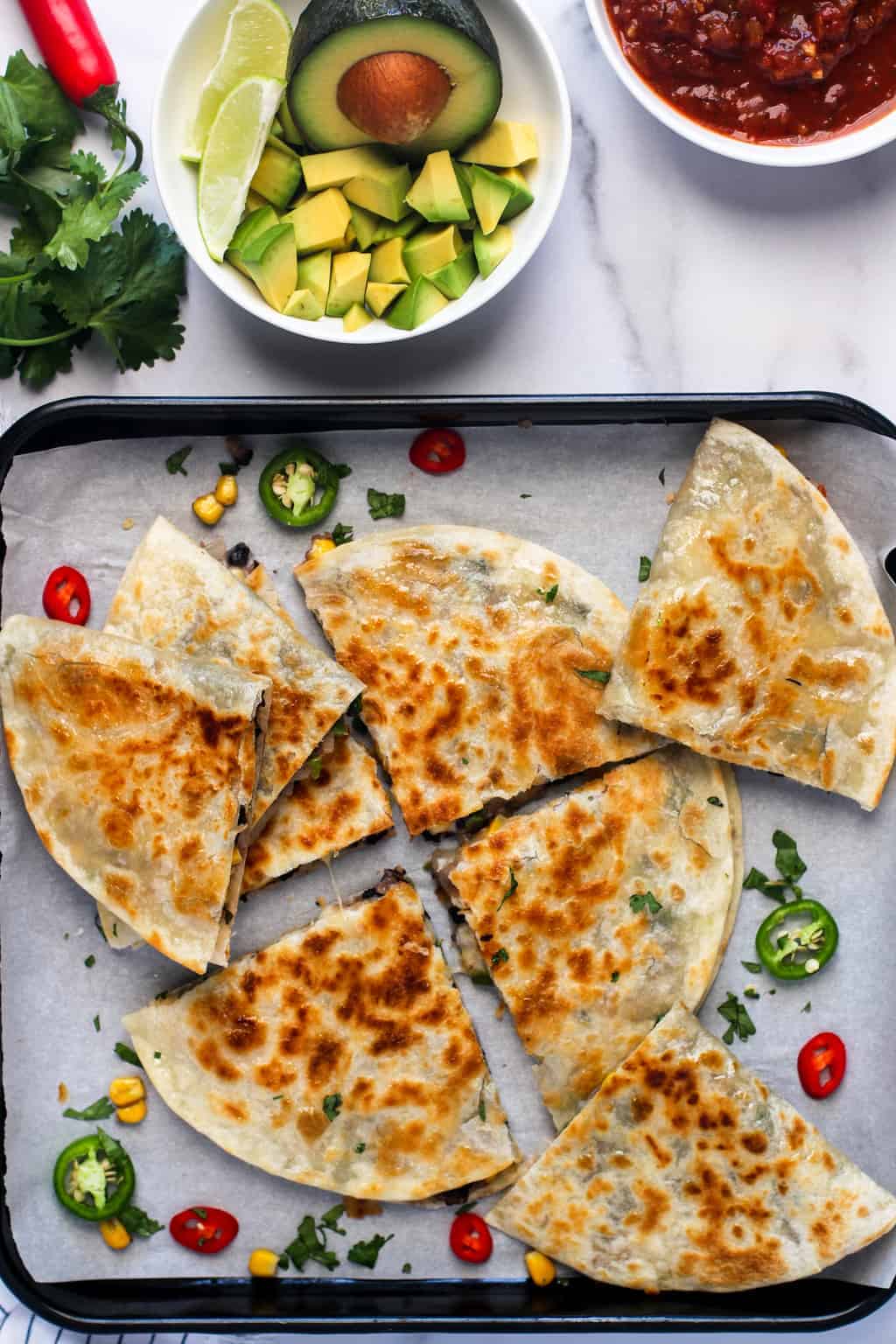 Black Bean and Corn Quesadillas (Ministry of Curry) - Black bean and corn quesadillas make a quick and delicious meal for busy weeknights. They are ready in 20-minutes and can be easily made gluten free.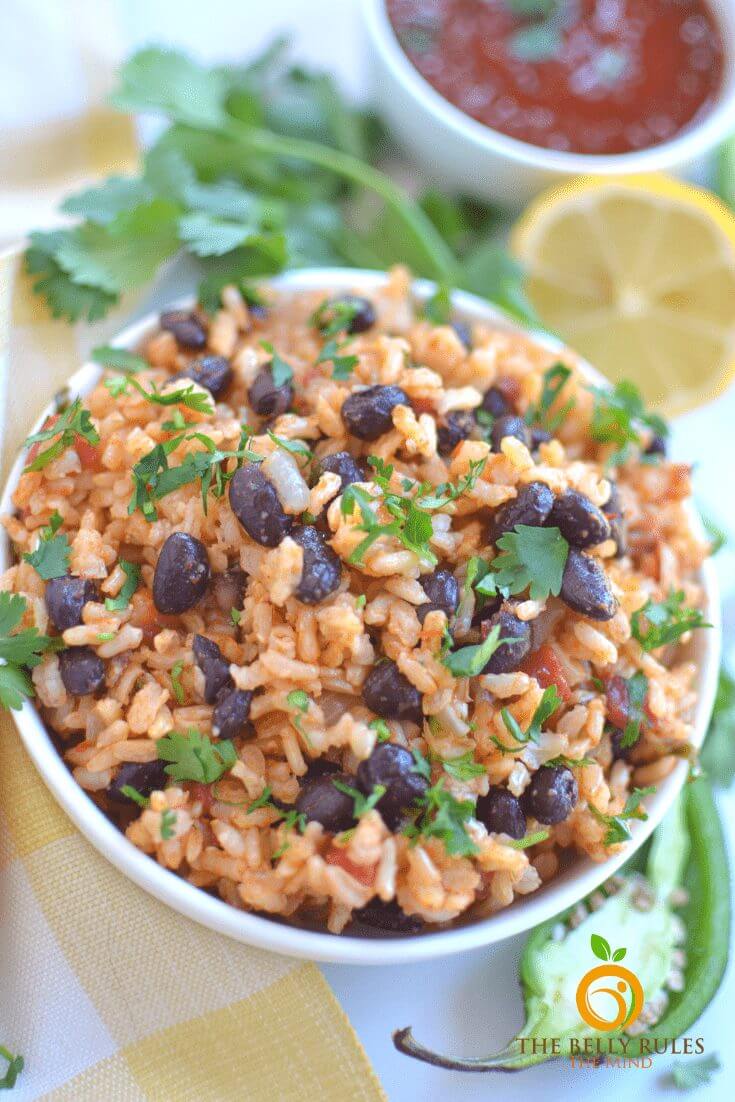 Easy Mexican Instant Pot Rice and Beans (The Belly Rules The Mind) - Easy Mexican Instant Pot rice and beans makes a delicious and quick vegetarian lunch, dinner, or side dish. Loaded with the bold flavor of salsa and spices, this hearty dish is a delicious addition to taco night.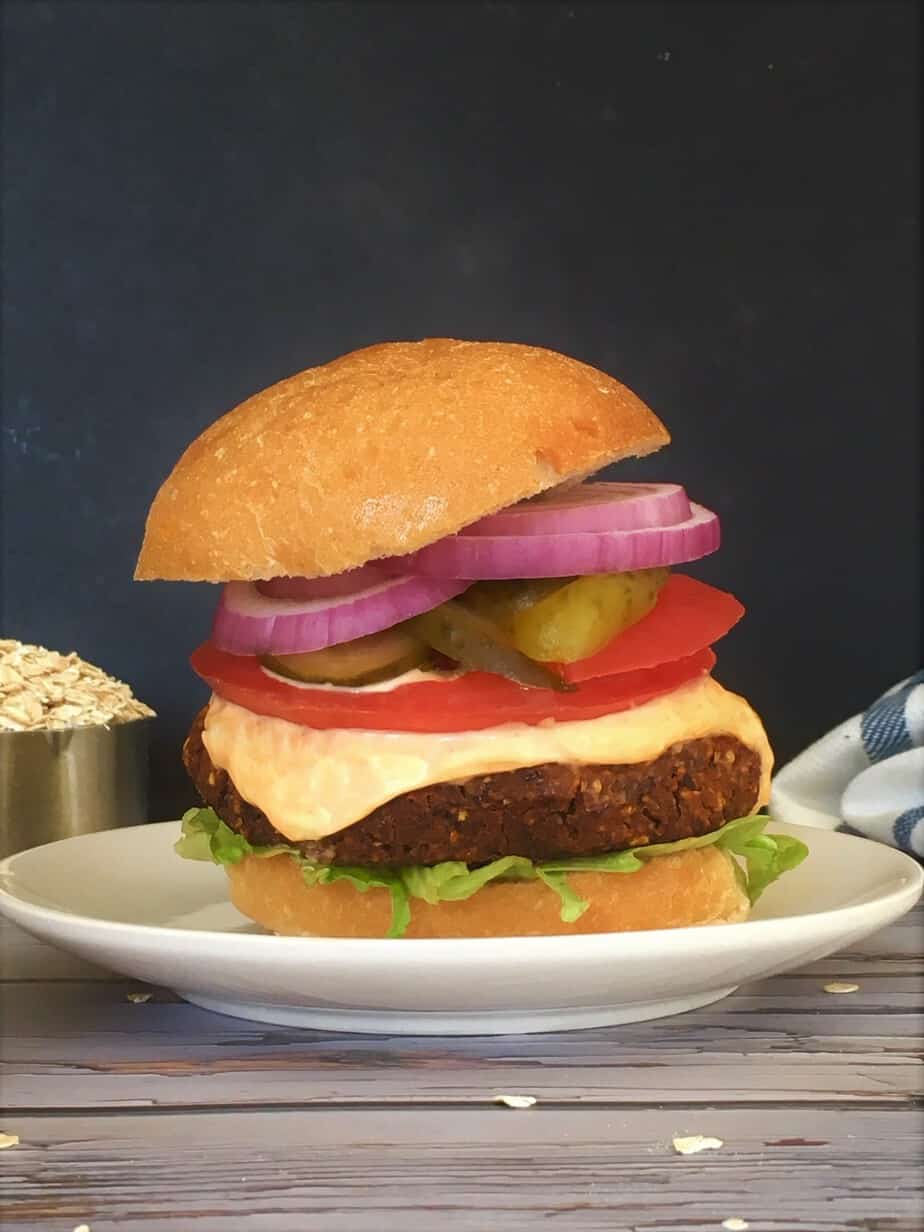 Black Bean Pumpkin Burgers (This Healthy Kitchen) - Pumpkin black bean burgers are jam packed with nutrients, perfectly moist, and so flavorful! These delicious patties offer a hearty bite combined with the natural sweetness from pureed pumpkin that is really just mouth watering. Vegan, gluten free, and oil-free.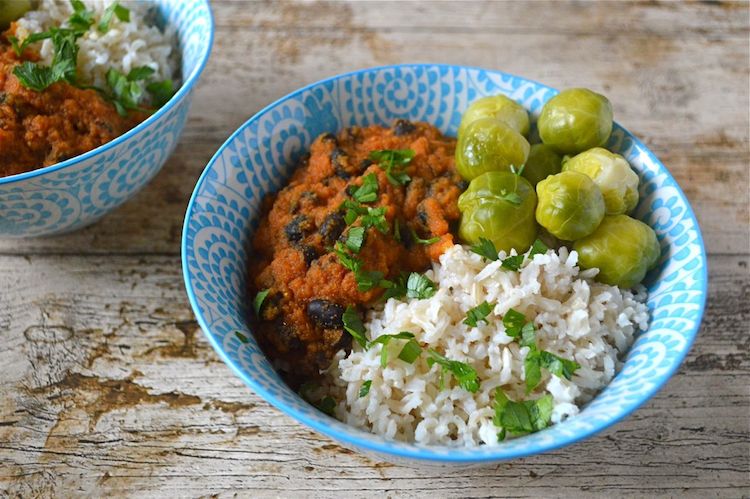 Black Bean Curry Bowls with Brown Basmati Rice (Tin and Thyme) - These black bean tomato carrot curry bowls are simple to make and they taste very good indeed, especially when served with brown basmati rice. A perfect healthy whole food supper for Veganuary and to Jumpstart January.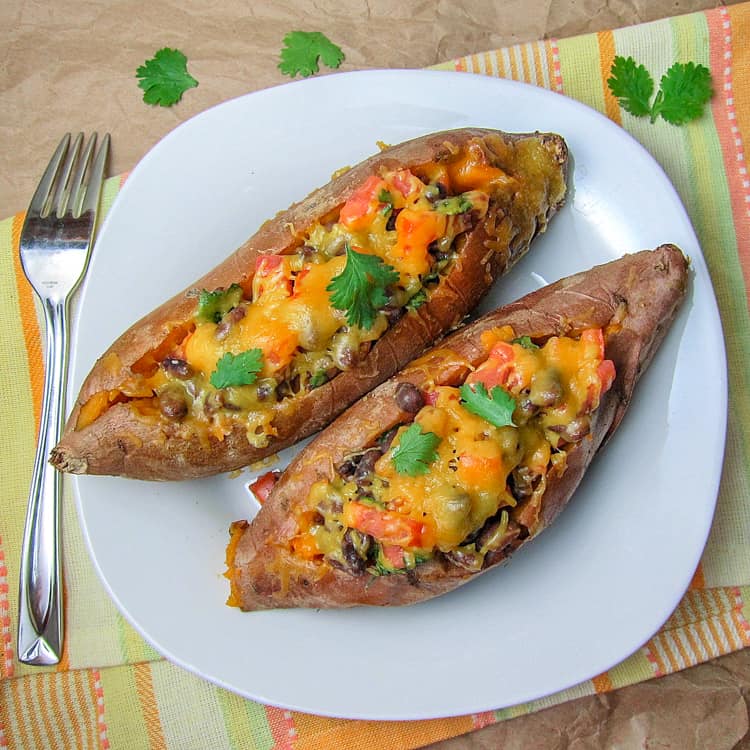 Chipotle Black Bean Stuffed Sweet Potatoes (Babaganosh) - The perfect vegetarian dinner – Chipotle Black Bean Stuffed Sweet Potatoes! A delicious and healthy recipe that is sure to please everyone. The spicy black bean stuffing is a perfect complement to the roasted sweet potatoes.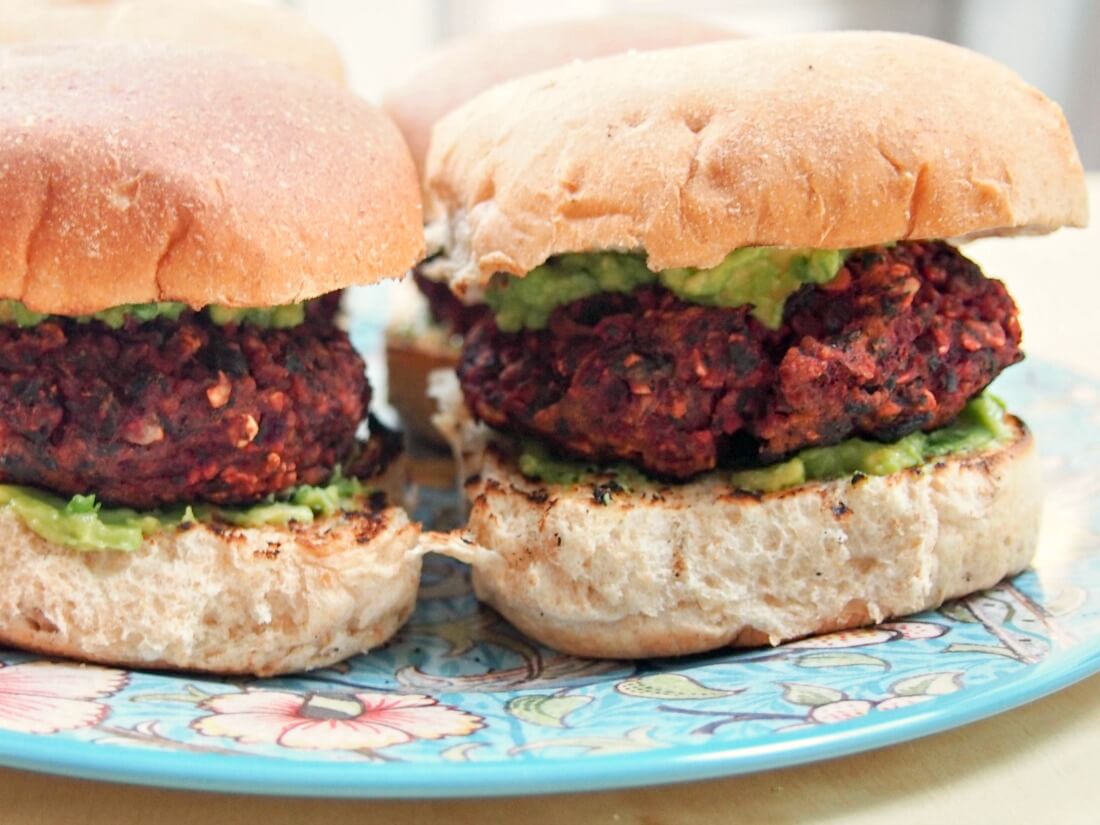 Beet and Black Bean Burgers (Caroline's Cooking) - This delicious beet and black bean burger is hearty and delicious. Naturally vegetarian and gluten-free, it'll be enjoyed by all.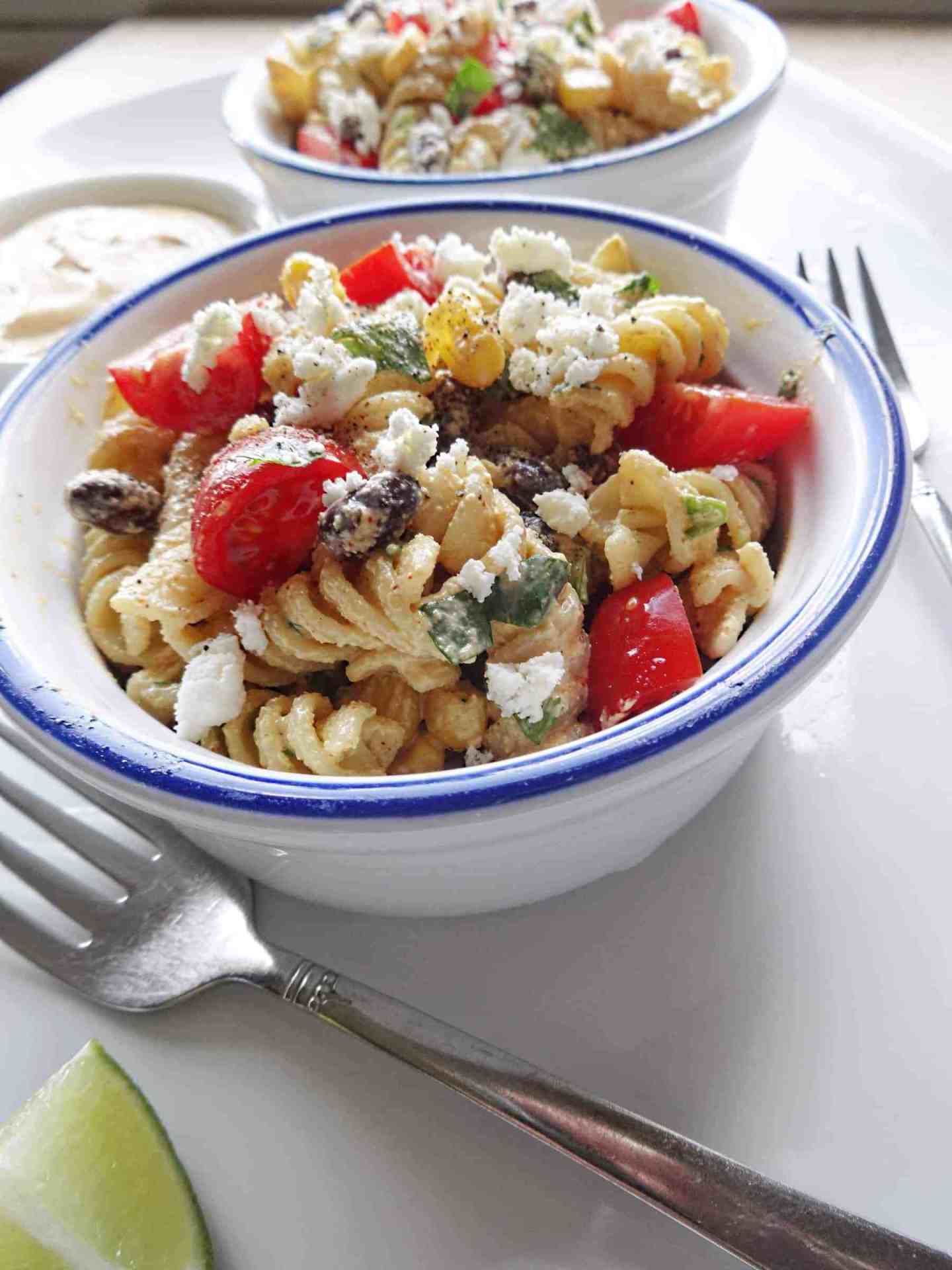 Mexican Pasta Salad with Avocado Lime Dressing (Savory with Soul) - This Mexican pasta salad is lightly spicy and creamy and full of flavor. Perfect for weeknights or at your next potluck, cookout, or picnic.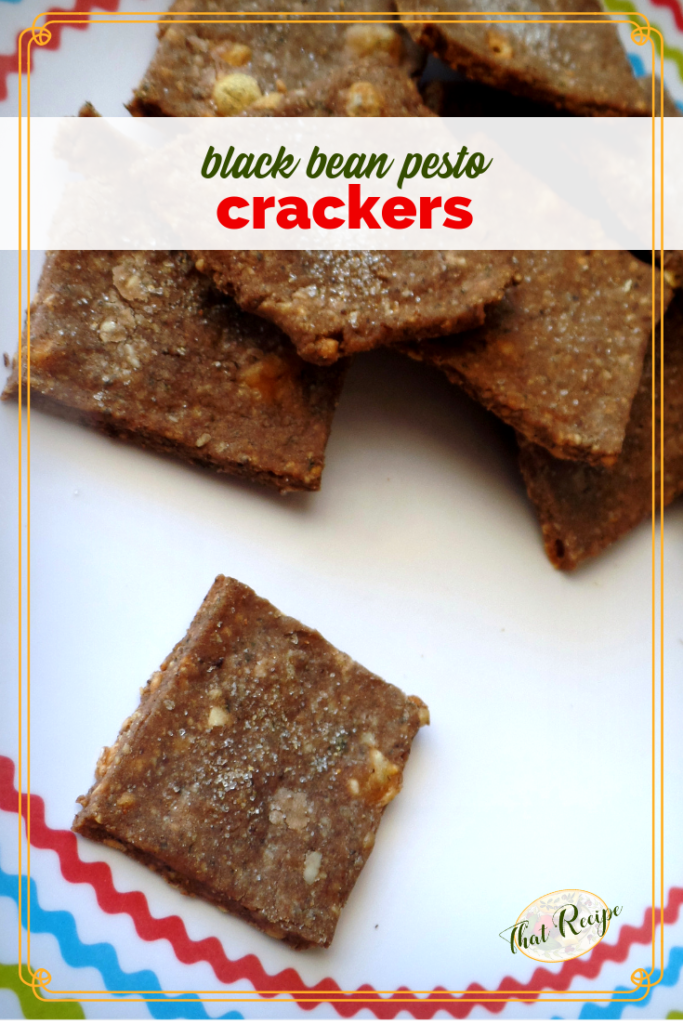 Homemade Black Bean Pesto Crackers (That Recipe) - These Black Bean Pesto Crackers use up items around the house and ended up being a tasty and healthy snack. Win-Win!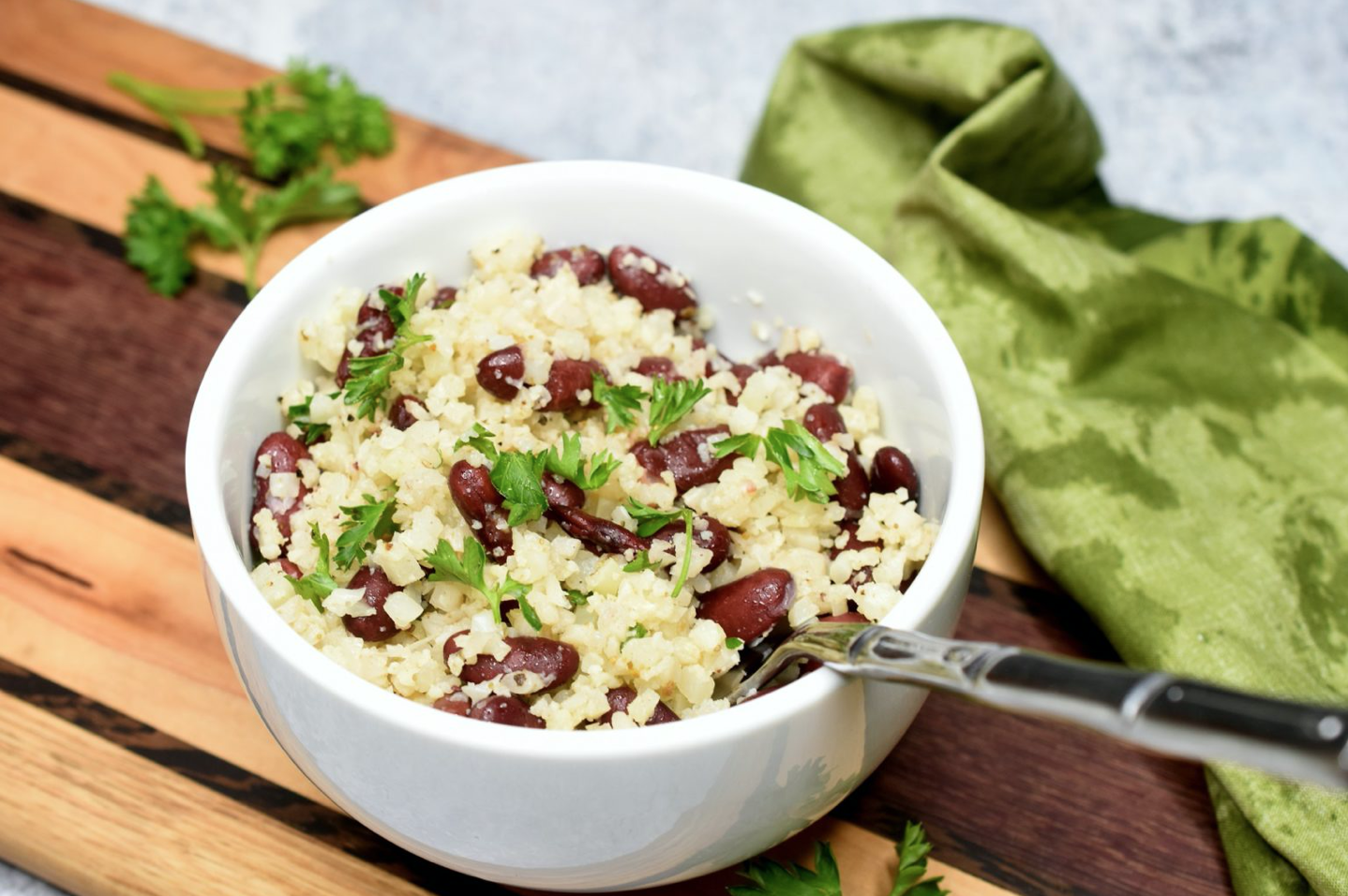 Cuban Cauliflower Rice and Beans (Meals By The Minute) - Cuban Cauliflower Rice and Beans is a hearty vegan dish with lots of bold flavor. It is so healthy and can be ready in under 20 minutes!
Dessert Black Bean Recipes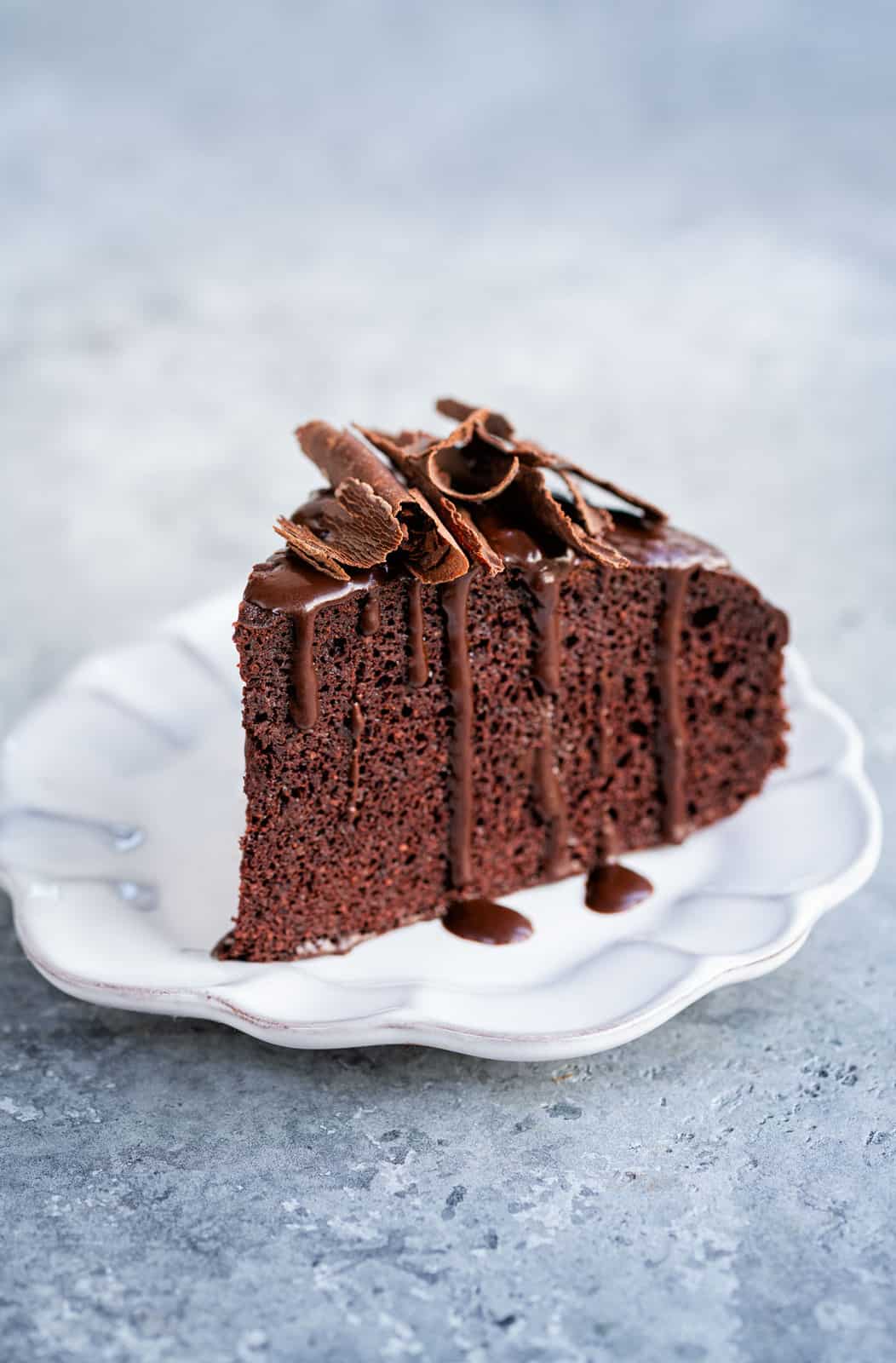 Skinny Black Bean Chocolate Cake (Supergolden Bakes) - This Slimming Friendly Chocolate Cake is low in calories and fat yet scores high on chocolate satisfaction! Easy to make, gluten free and suitable for popular weight loss plans like Weight Watchers and Slimming World.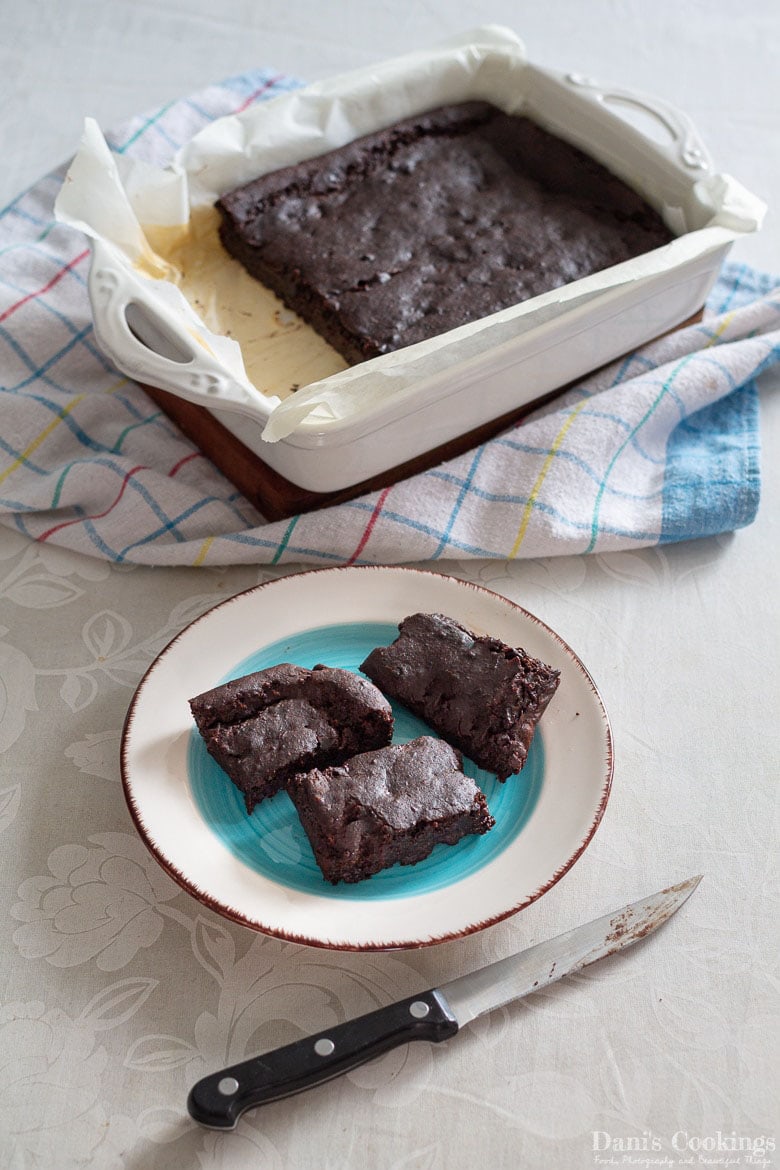 Vegan Black Bean Brownies (Dani's Cookings) - Looking for vegan fudge brownie recipe that is full of proteins and tastes divine? Try out these Vegan Black Bean Brownies with dates: they are easy to make, tasty and will last a whole week in the fridge (if you manage to save them, which won't be easy).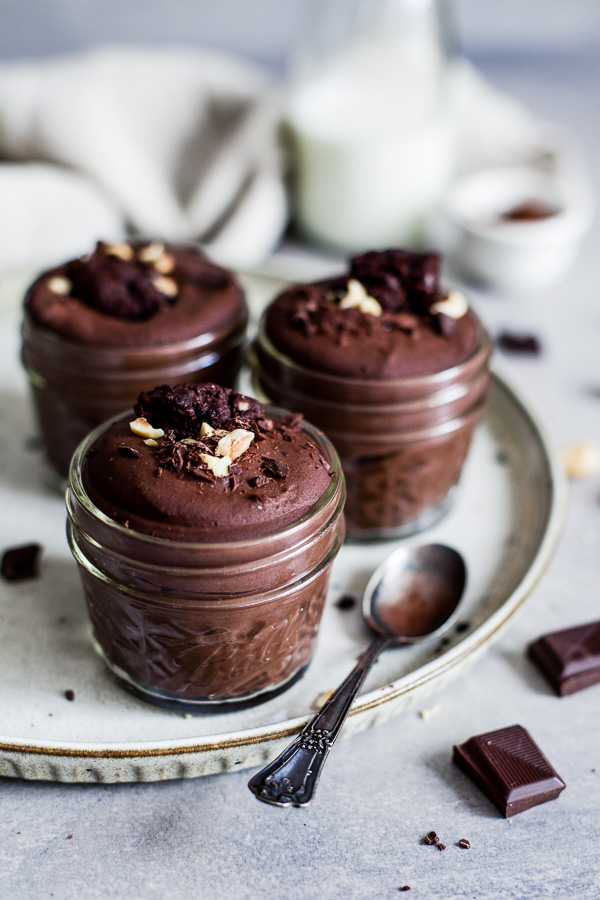 Black Bean Chocolate Mousse (Delicious & Healthy by Maya) - This Black Bean Chocolate Mousse is so super decadent and chocolatey you wouldn't believe it was also healthy, protein rich, gluten free, vegan, refined sugar free and healthy.
I hope this big collection of delicious black bean recipes will give you some inspiration! Be sure to give credit to the original bloggers if you make any of these tasty dishes 🙂 Happy cooking!