If you're craving something cozy and comforting, these Vegan "Beef" and Mushroom Pot Pies are the answer! Simple to make, delicious, and topped with an irresistible puff pastry lid.
Happy Monday, friends! I have been on quite the savory kick this month! I promise desserts will be coming back soon. I've been on a bit of a diet myself so I'm trying to avoid eating too much sugar, which means I haven't been able to bake as much as I've wanted 🙂 Today, I have these incredible savory Vegan "Beef" and Mushroom Pot Pies, which are so good and very easy to make. Using store-bought puff pastry is my favorite "hack"... that flaky top is the best part!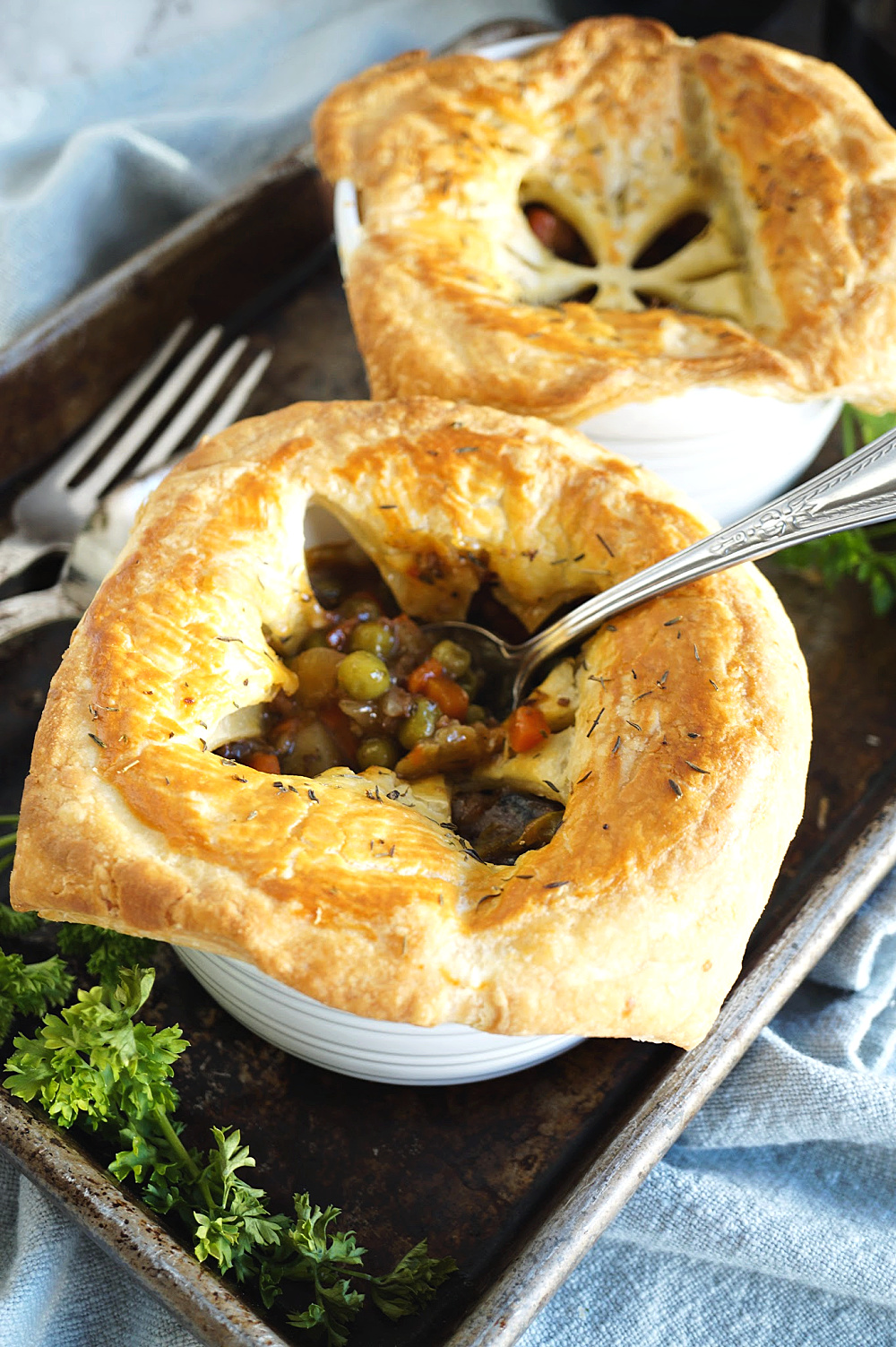 I hope you guys have enjoyed my savory recipes so far! A big goal I have for myself this year is to not stress myself out over the blog. I love it and I do it for fun, but too often it's just another thing to add to the to-do list and it can be so overwhelming to create endless content and always come up with new ideas. Most of the things I have posted so far this year have just been things I've cooked for myself that I liked! These beef and mushroom pot pies are no exception. I combined some meatless mince from Aldi with all the pot pie staples - carrots, onions, peas, potatoes, and mushrooms - cooked the filling down until thick and savory, and topped it with some flaky puff pastry. I know it looks like a fancy dish, but it is totally easier than you'd think!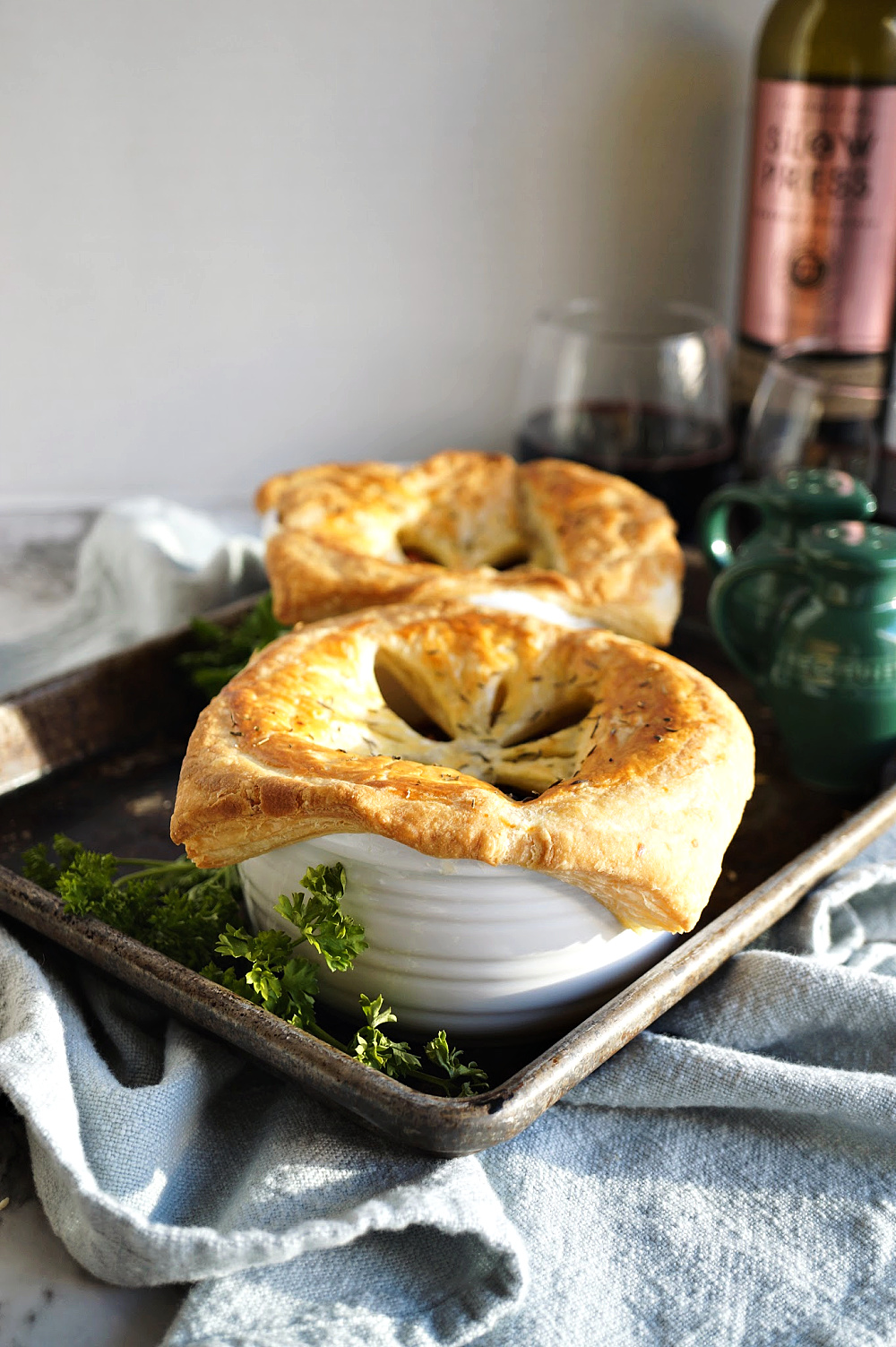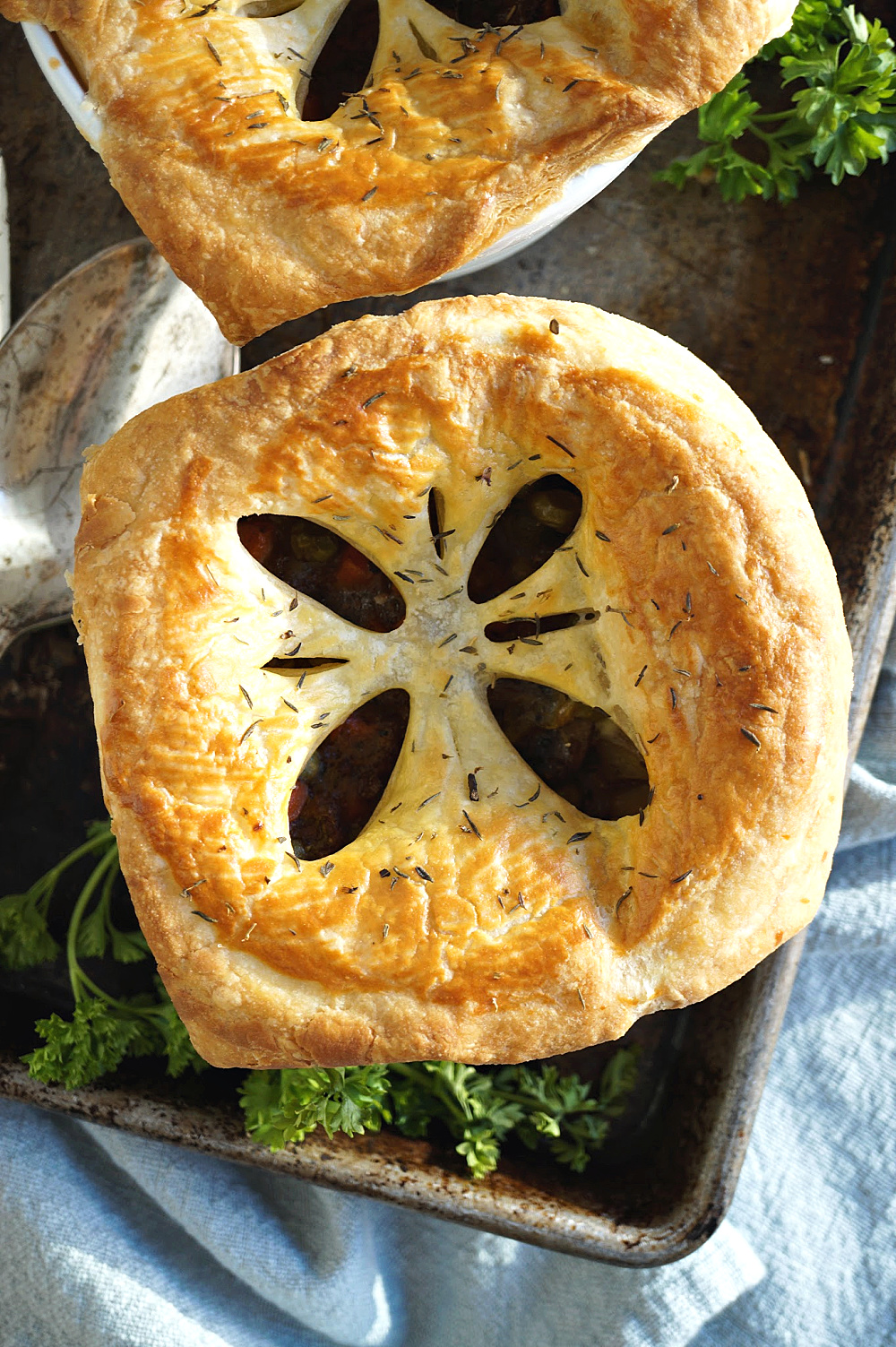 What you need to make vegan "beef" and mushroom pot pies
Meatless ground "beef" - I feel like nowadays, we have SO many options when it comes to fake ground beef! It is awesome and such an easy way to adapt recipes to be meatless. I used the mince from Aldi in my beef and mushroom pot pies, but there are a lot of great brands.

Pure Farmland, Lightlife, and Beyond Beef are all ones that I have used in recipes and liked. You can find all of them in the meat section.
I personally REALLY like the Lightlife Smart Ground (it is vacuum packed and sold in a little cardboard box, usually in the "vegan/natural" section) as it doesn't have much of it's own flavor or aftertaste. I used it to make my lasagna and it totally won me over.
In the freezer section, you can also find Gardein beef crumbles and Beyond Meat crumbles which I am also a fan of!

All the veggies! It is up to you and what you like in your pot pie, but for me, garlic, onion, peas, and carrots are a must. I also added potatoes for some added bulk and heartiness! Some people like corn in here (I don't), so add it to your discretion. I'm a big fan of mushrooms, and I think they are a delicious addition to any "meaty" dish so I added them in here as well!
The flaky crust on top - I love using puff pastry for this, but you have some options! You can use store-bought pie crust for a more traditional pot pie feel, or even top with a biscuit! The choice is yours and you can pick whatever you prefer.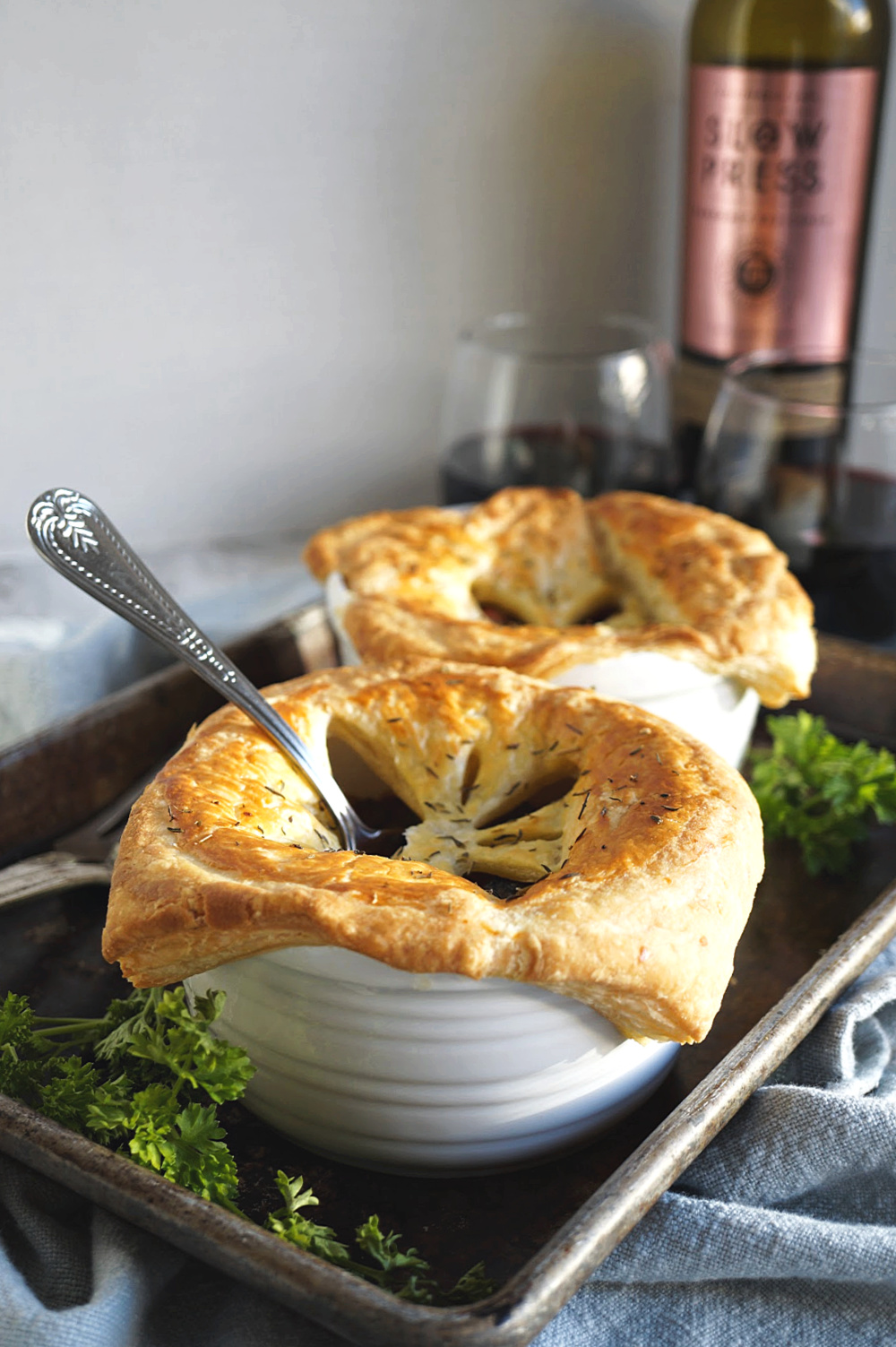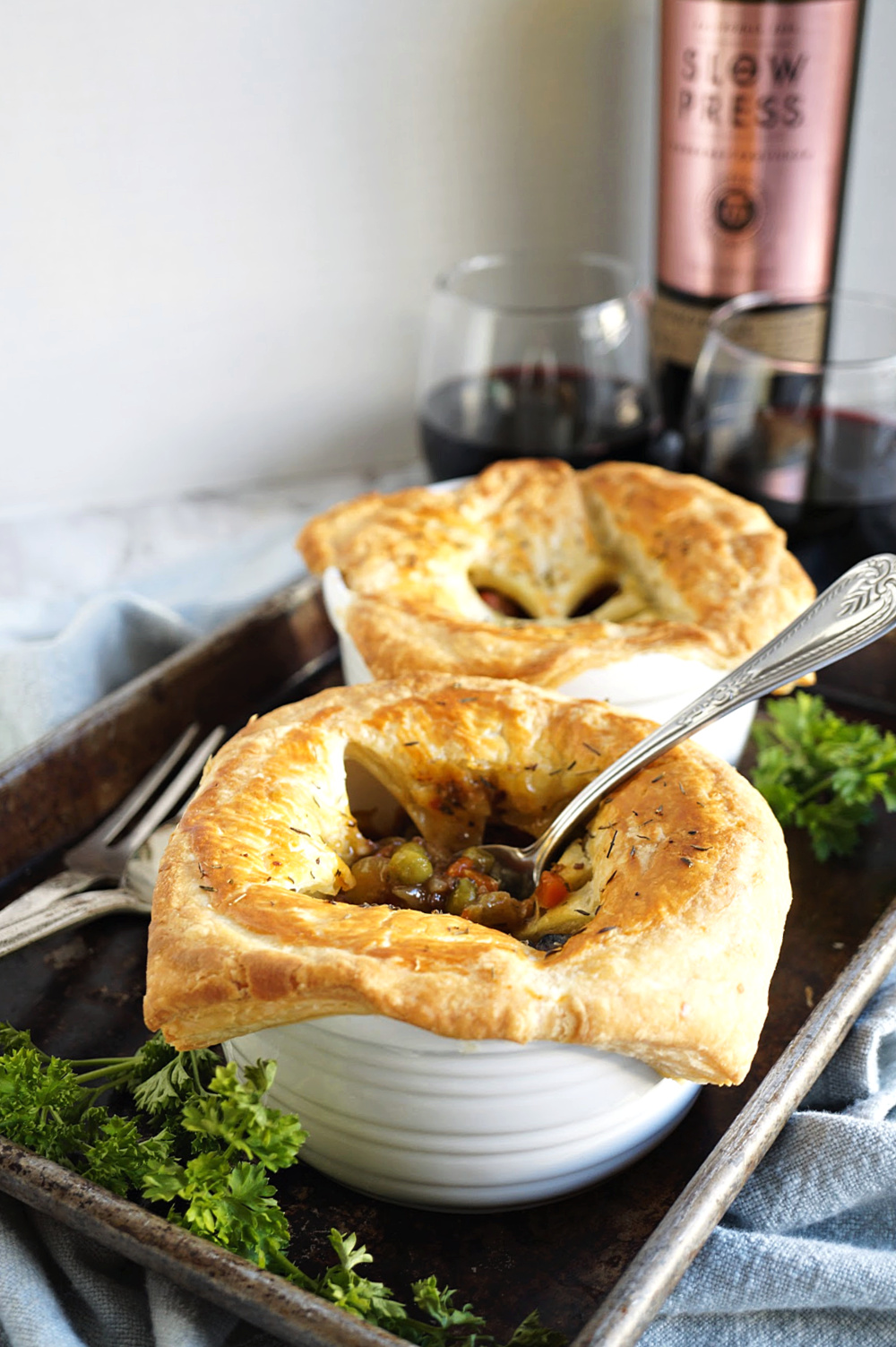 I hope you guys will give these vegan "beef" and mushroom pot pies a try! They are so cozy, comforting, and the perfect meal for a chilly night. These would also be super fun for a dinner with friends! Let me know how your personalize them to make them your own 🙂
More savory vegan dinner ideas -
vegan "beef" and mushroom pot pies
If you're craving something cozy and comforting, these Vegan "Beef" and Mushroom Pot Pies are the answer! Simple to make, delicious, and topped with an irresistible puff pastry lid.
Author:
Valentina | The Baking Fairy
Ingredients
2 tablespoon olive oil
8 oz meatless "ground beef"
½ white onion, diced small
4-5 cloves of garlic, minced
2 carrots, diced small (about 1 cup)
3 potatoes, peeled and diced small (about 1 cup)
1 cup sliced mushrooms
1 cup frozen peas
1 tablespoon tomato paste
½ teaspoon garlic salt
2 teaspoon garlic powder
2 teaspoon onion powder
1 teaspoon paprika
1 teaspoon dried thyme
½ cup red wine (can substitute with more vegetable broth)
½ cup vegetable broth
1 tablespoon cornstarch
1 sheet frozen puff pastry, thawed
1-2 tablespoon Just Egg or nondairy milk and herbs, for topping
Instructions
First, preheat oven to 425F.
Next, prepare the filling. Heat the olive oil in a large nonstick pot over medium high heat.
Add in the meatless "beef" with the onion and garlic.
Cook, stirring often, until "meat" has caramelized and the onion has softened. Mix in the tomato paste.
Stir in the diced carrots, potatoes, and sliced mushrooms, and stir to combine. Add in the seasonings - garlic salt, garlic powder, onion powder, paprika, and thyme.
Cook the mixture for 5-7 minutes, until the vegetables start to soften and release their liquids.
Add in the red wine (or extra vegetable broth), and stir to combine. Let the alcohol and most of the liquid evaporate.
Finally, stir the cornstarch and vegetable broth together in a small bowl. Whisk well until smooth and lump-free, and add into the meat and veggie mixture. Stir to combine. As the vegetable broth heats up, it should almost immediately make a thick gravy. Remove from heat.
Divide the filling into 4 oven-safe bowls.
Use a rolling pin to gently stretch out the thawed out puff pastry, and cut into 4 equal pieces. Make some small cuts in the center to allow the steam to escape.
Lightly wet the edge of each bowl, and place the square of puff pastry on top, pressing firmly around the edge to make it stick.
Brush the surface of each puff pastry with some Just Egg or nondairy milk, and sprinkle on additional dried thyme.
Place the bowls on a baking sheet, and into the preheated oven. Bake for 20 minutes, until puff pastry is puffed, flaky, and golden brown. Serve immediately!
*Disclosure: I am part of the Amazon Associates Program, and there may be affiliate links on this page. If you buy anything through my website, I will receive a small percentage of the profit at no extra cost to you. Thank you for supporting my blog!*