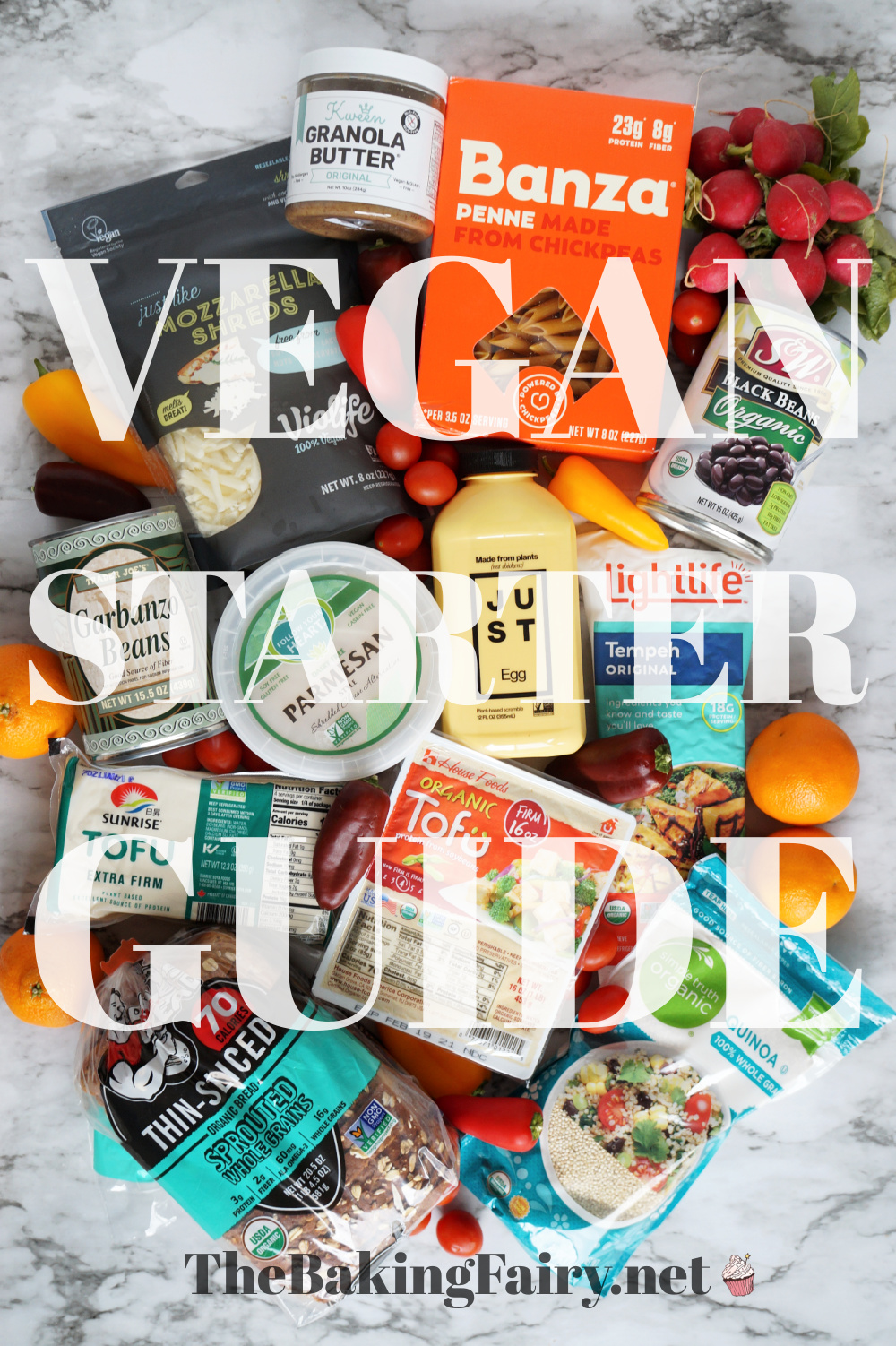 Hello friends and happy January! Or if you are partaking... happy #Veganuary! As you know, lots of people make new year's resolutions, and a very popular one is to go vegan for the month of January (and hopefully beyond!). I've talked about my journey before, but I was not a "cold turkey" vegan. My transition took YEARS, but I couldn't be happier with where I have ended up. This means that I really have tried a million and one vegan products, and I am happy to share all my favorites with you.
If you are a brand-new vegan, or just starting out with dipping your toe in plant-based eating, it can be so overwhelming. There are so many things that you have to buy, and products to replace! I'm here to tell you that 1. It can be done, and 2. You don't have to do it all in one go! It can be expensive, and not to mention, wasteful. What I recommend is as one product runs out, buy a vegan version to replace it! This also helps keep costs down 🙂 Without further ado, here we are... my Vegan Starter Guide!
Fridge Must-Haves
Nondairy milk - of course, we need milk! It is such a staple in our way of eating and in my house, we use it for cereal, oatmeal, cooking, baking, all the things. My personal favorite is Silk Unsweetened Plain Cashew Milk. It is creamy and has a perfect neutral taste that can be used in sweet or savory recipes. I also like buying oat milk (such as Chobani Extra Creamy or Oatly) to add to my coffee in place of creamer. The Oatly Barista Blend is especially awesome for coffee!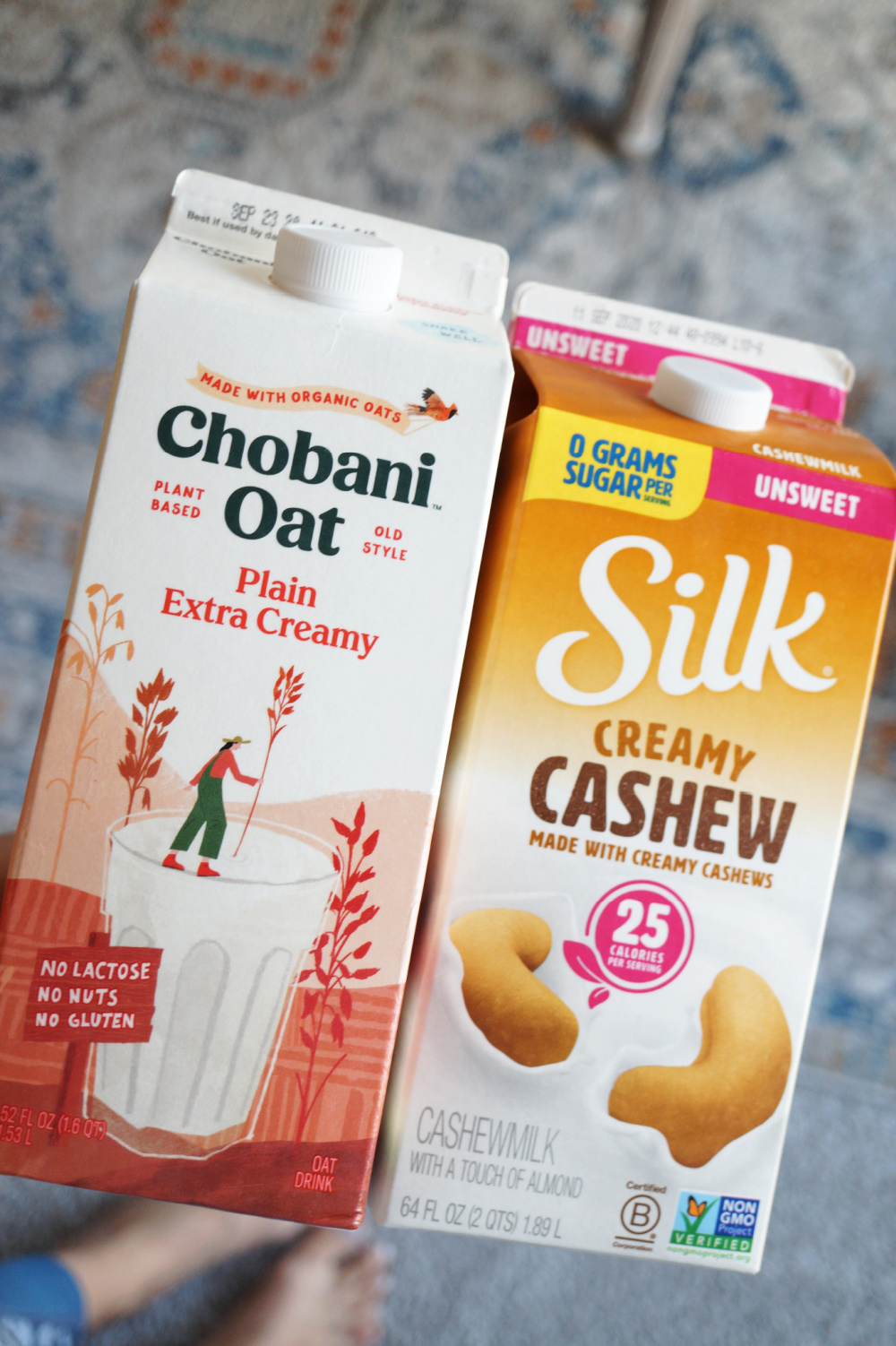 Coffee creamer - I don't always buy coffee creamer, but when I do, I really like the Starbucks Nondairy Hazelnut Latte Creamer which is made with almond milk & oat milk. I also like Silk Oat Yeah! Oatmeal Cookie Creamer.
Tofu - truly one of my BIGGEST fridge staples! I always try to have tofu on hand for recipes. It can be transformed into a tofu scramble as an egg replacer, diced and baked to add to buddha bowls, pureed in the food processor to make into quiche, and you can even turn it into faux egg salad. It is so versatile and I love it. I usually purchase Firm or Extra Firm Tofu.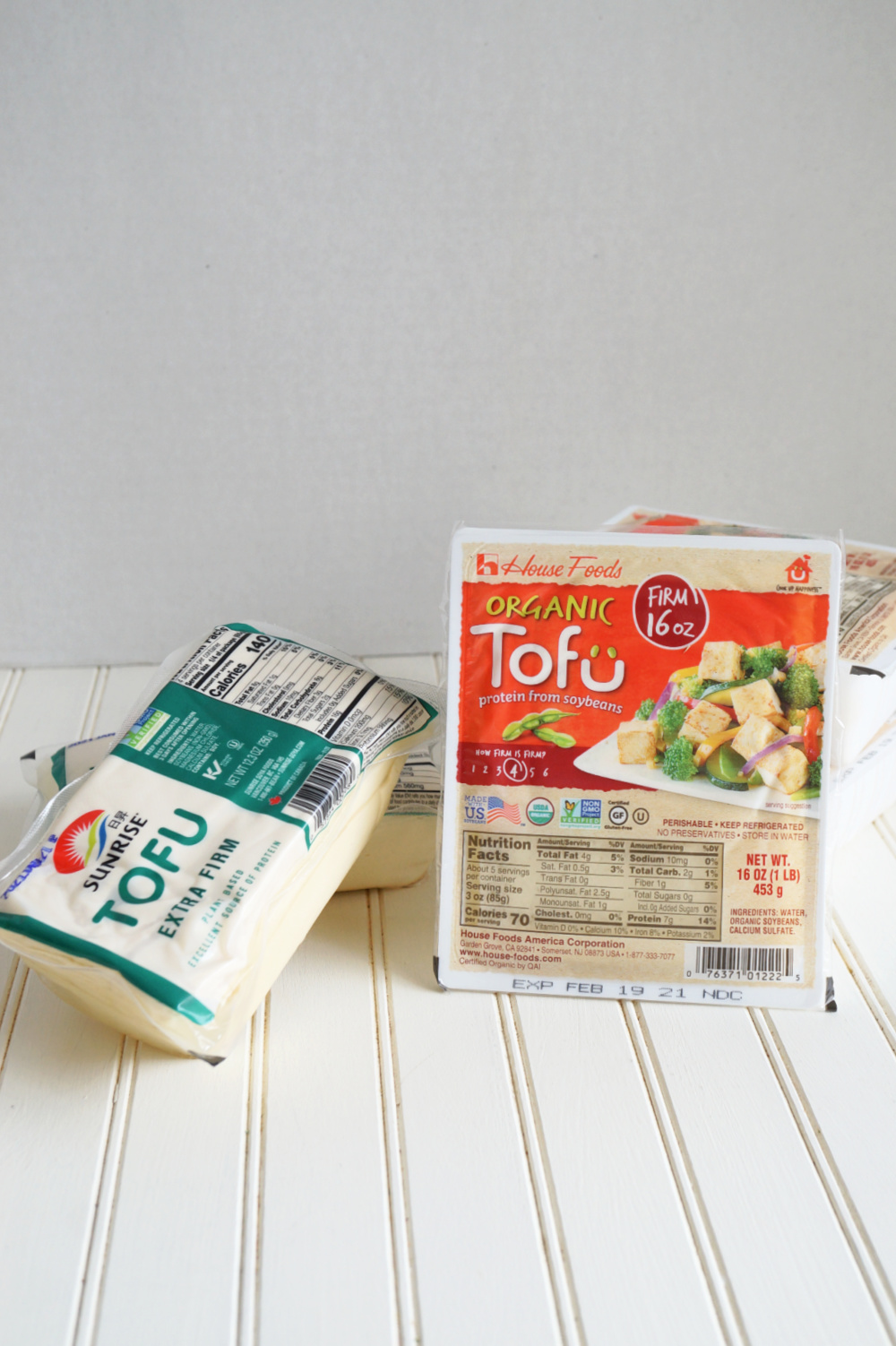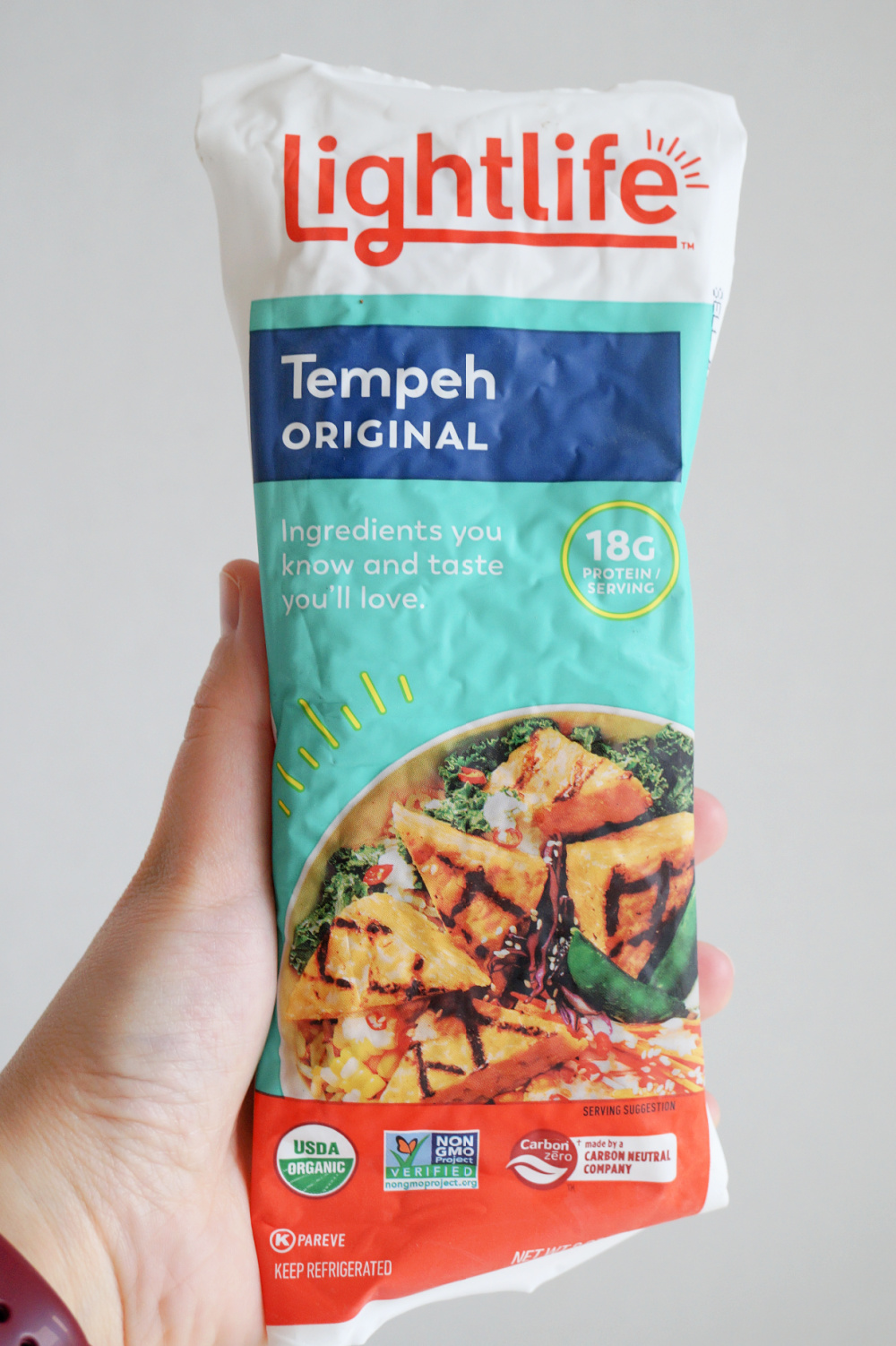 Vegan butter - as a baker, you know I can't function without vegan butter! My favorite brand is Country Crock Avocado Oil Plant Butter. EarthBalance is also a great substitute. For a "fancier" butter (like to spread on toast), I recommend Miyoko's or Flora. If you're not a huge baker, vegan butter is not a must (but for me - it's a staple!)
Vegan cheese - I will admit I don't buy or use tons of vegan cheese, but I have definitely found my favorites for when I need a fix! My favorite brands are Violife, Follow Your Heart, and Miyoko's Creamery. They are great quality, taste good, and they actually do melt like cheese! They do usually take a bit more heat/time to melt than dairy cheese, but I promise they will do it. I especially love the Violife parmesan wedge and the FYH shredded mozzarella and cheddar. If I had to choose a brand for cream cheese, I would pick Violife or GoVeggie!
Just Egg - if I want a true "scrambled egg" experience and don't want to mess with pressing and scrambling tofu, Just Egg is truly a miracle product. It behaves and tastes just like egg! Think of it like the vegan version of Egg Beaters. Heat up your pan with some oil, add it in, season it, and scramble it like you would real eggs. I use this to make breakfast sandwiches and I've also been successful at turning it into quiche! It also comes in frozen patties ready to heat & eat.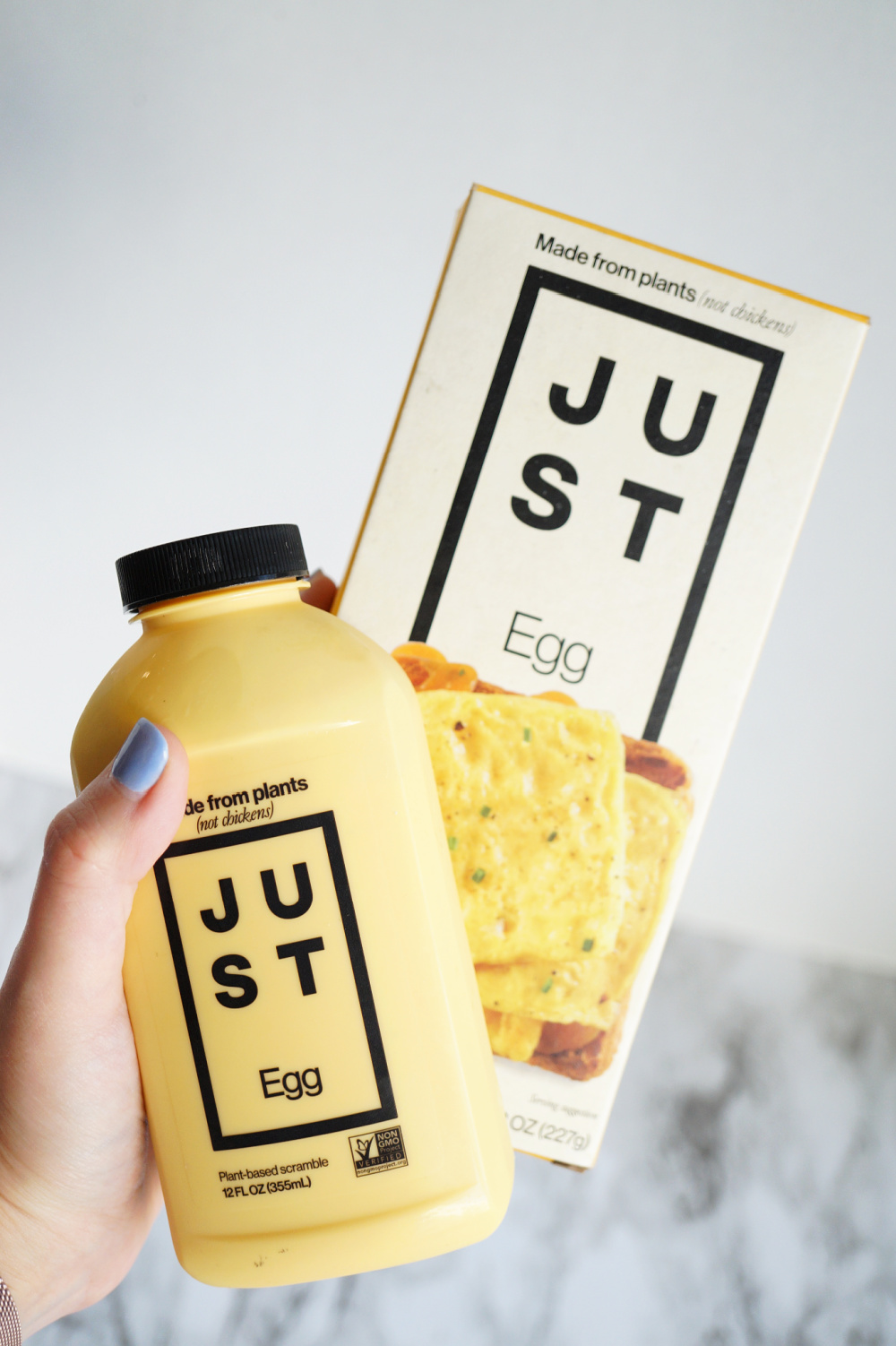 Hummus - this is just my personal preference, but I love having hummus in the house for a healthy snack with some veggies or chips. In a pinch, you can also water it down and turn it into a drizzle sauce or a pasta sauce, too! Practically all hummus is vegan, but be sure to double check and make sure there's no dairy before you buy.
Fruits & vegetables - let's not forget the core of veganism - PLANTS! I encourage you to focus on your favorite fresh fruits and vegetables and find new ways to cook them. Roasting is my absolute favorite way to eat veggies, and you can do this with almost anything! Experiment with different seasonings and cooking methods to keep it interesting. Frozen produce is also a great option, I love having some steam-in-bag veggies in the freezer on hand for easy meals!
Freezer Favorites
Vegan burgers - I am only human, and sometimes I crave a good hamburger. Thankfully, I can now fulfill those cravings in a plant-based way! My favorite brands for burgers are Beyond Burger and Impossible Burger. Lightlife also makes a decent vegan burger and ground "meat". I keep a stash in the freezer for easy access. You can use this as you would regular ground beef (like in lasagna or for tacos) - don't feel like you can only use it for burgers!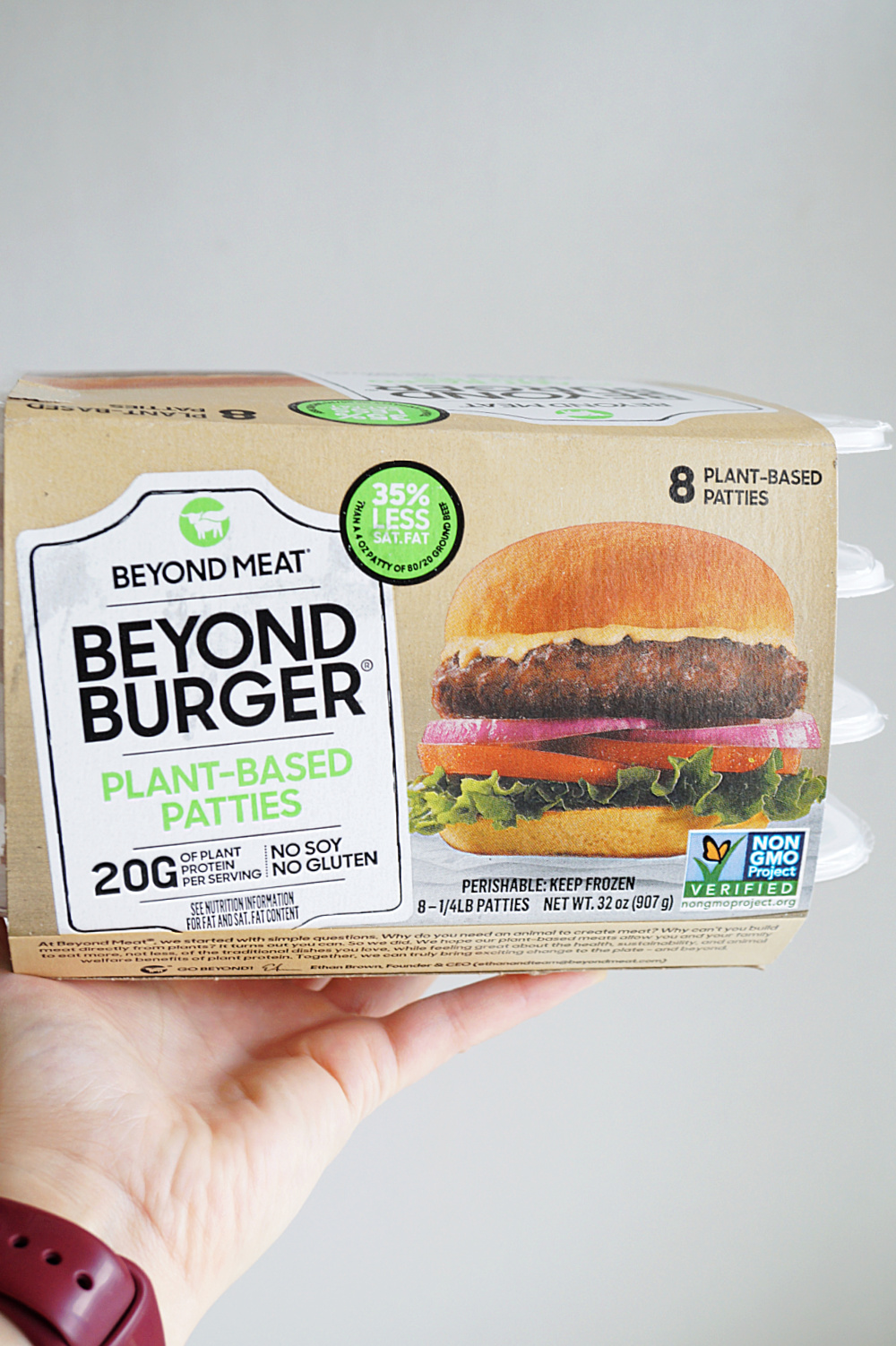 Vegan breakfast sausage - the winner for me in this category is Beyond Sausage - by a LANDSLIDE. The flavor and texture are seriously spot-on. My carnivorous husband said he actually prefers this to real breakfast sausage.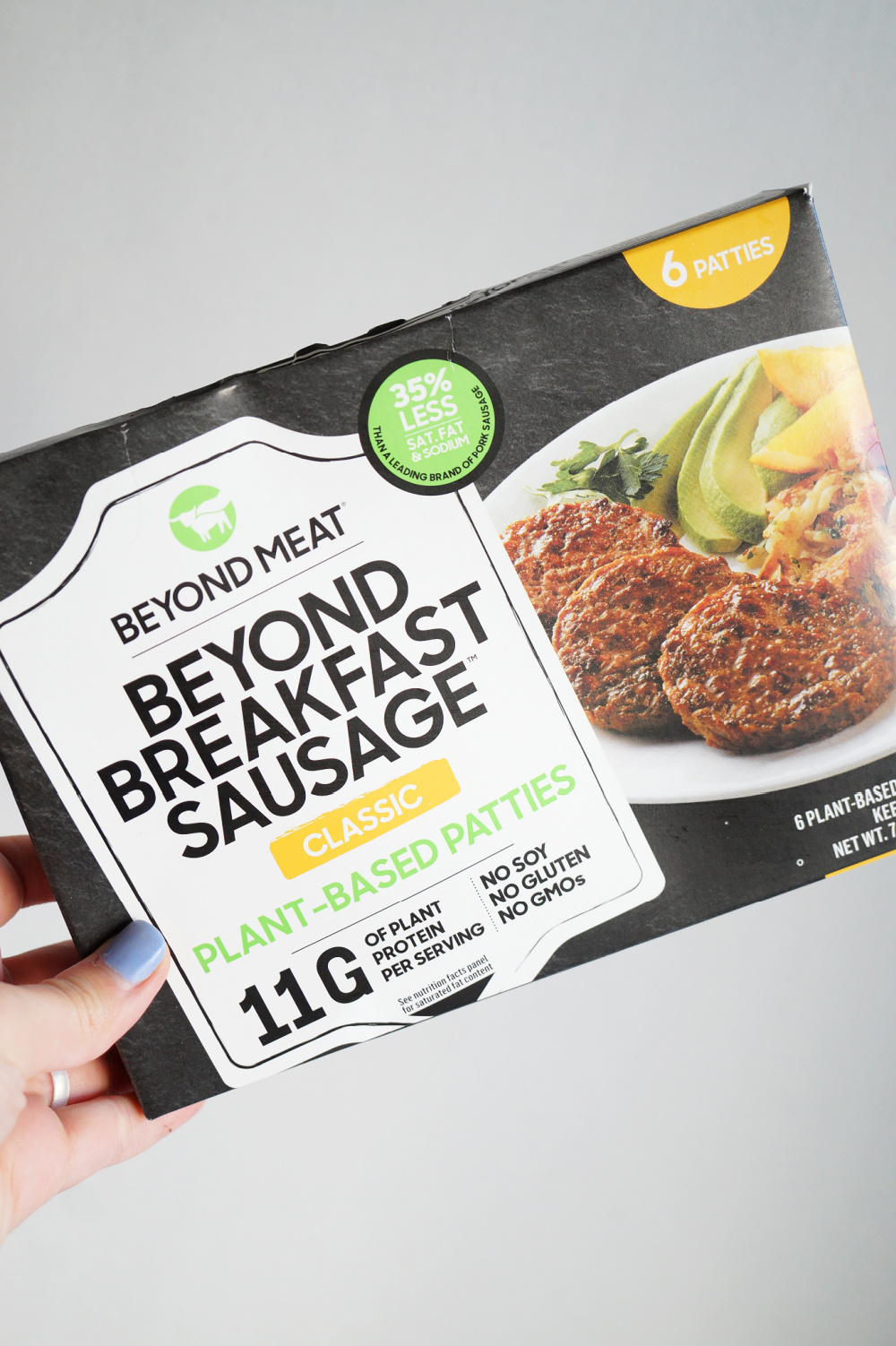 Coconut whipped cream - I love having So Delicious's CocoWhip in the freezer to put on desserts and hot cocoa whenever I want! Think of this as the vegan version of Cool Whip.
Vegan ice cream - there are truly a million and one dairy free ice creams nowadays! Some of my favorites I've found are Ben & Jerry's, NadaMoo, Haagen-Dazs, and Magnum chocolate-covered ice cream bars (especially the ones with almond!).
Vegan frozen pizza - truth be told, I have yet to find a vegan pizza I super duper love, but in a pinch, I do enjoy Daiya! I really like their Supreme V/GF Pizza. Banza also has a frozen, vegan-friendly pizza crust that you can top as desired for an easy pizza night.
Pantry Staples
Pasta - I'm Italian so of course pasta is a must for me! My favorite normal pasta is Barilla. I also love having Banza and other healthier pasta options, especially because they're packed with protein! A note - most pasta is vegan friendly so no need to worry! The only exceptions I see are "fresh" pasta (such as ravioli) or things like egg noodles which are specifically made with egg.
Grains - I like having brown rice and quinoa on hand so that I can easily add them to meals! Sometimes I'll change it up and add farro, wild rice, or freekeh to the rotation. These are a great source of plant-based protein and fiber!
Beans - I am the queen of convenience so I like to stock up on canned beans which I can easily use in recipes! My go-to are chickpeas, black beans, and red beans. They're cheap, tasty, and so versatile!
Nut butters - I always keep at minimum a jar of peanut butter in the house, but I also like to change it up with cashew butter or almond butter! My favorite way to use it is with these peanut noodles. I've also recently been loving granola butter, which is a great nut-free and gluten-free option for snacking and adding to oats and smoothies.
Canned tomatoes - again, I'm Italian... gotta have those tomatoes in the house for pasta dishes! I don't like buying pre-made pasta sauce. I prefer buying canned diced or pureed tomatoes and making my own. It is so easy and tastes a million times better than store-bought!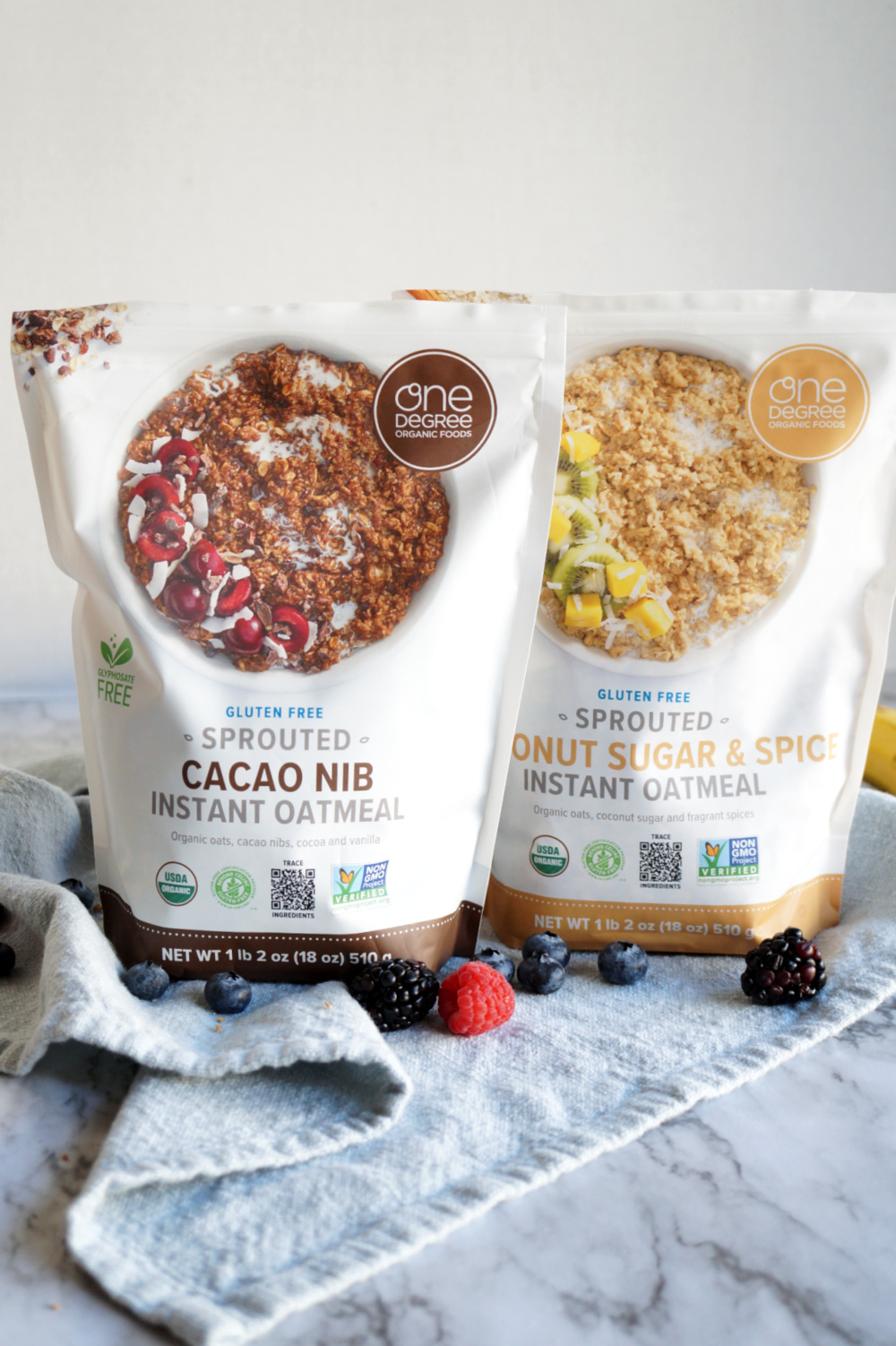 Oats - I am so bad at coming up with breakfast ideas, so I like to keep oats in the house for an easy option. I recommend these by One Degree Organics which are glyphosate-free. They also make granola and cereal for more simple breakfasts!
Coconut milk - this stuff is seriously gold. I use it for baking as well as adding to soups and curries for a creamy component. If you buy full-fat coconut milk (or coconut cream), you can refrigerate it until solid and then whip it like whipped cream!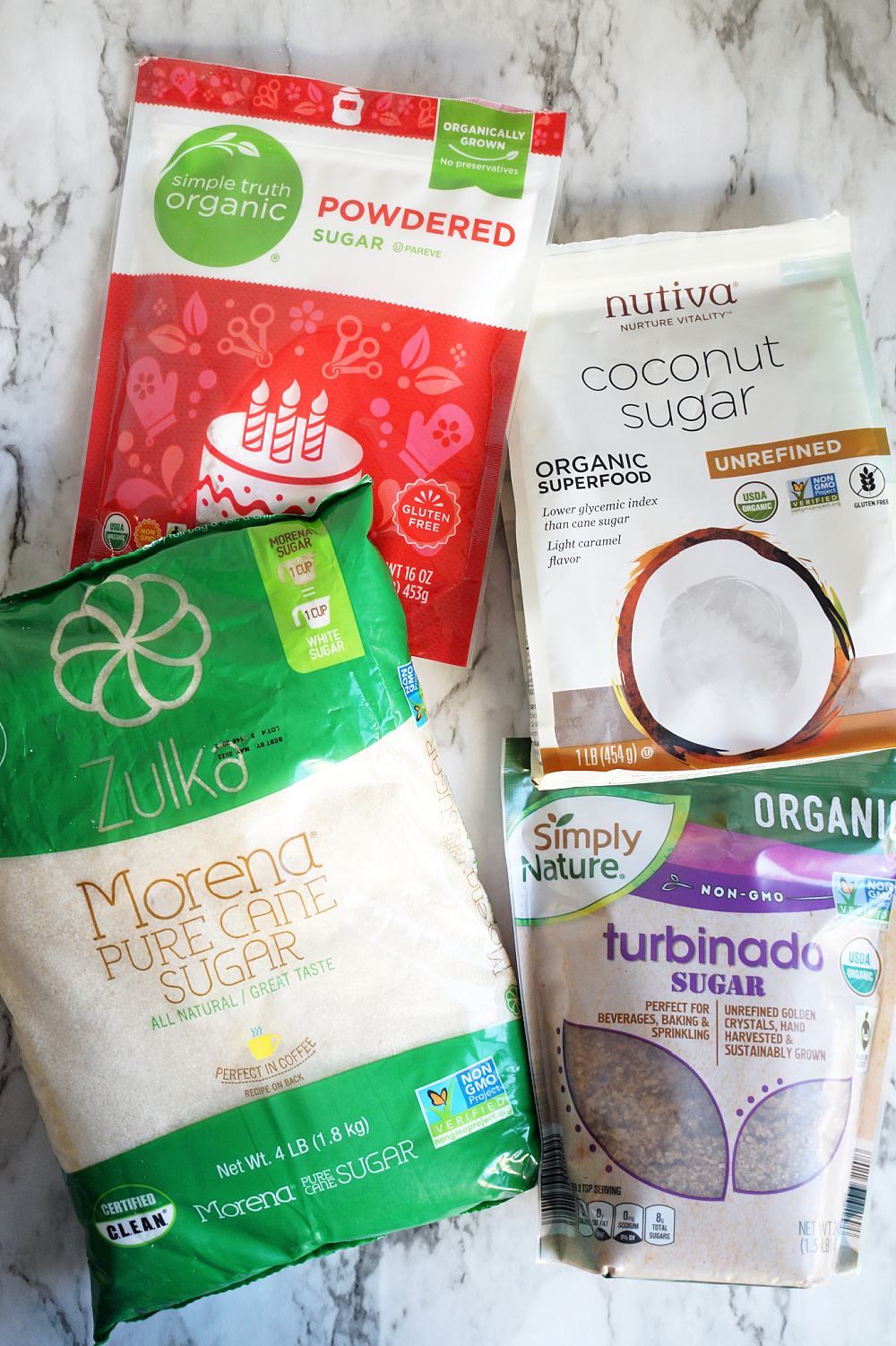 Sugar - I have mentioned it a few times before but... did you know most sugar sold in stores is NOT vegan? That is because it's processed with bone char to be filtered and bleached. YUCK. You can buy any organic sugar which is sure to be vegan-friendly. I like Florida Crystals! Zulka is also a safe option. Target's Good & Gather brand of sugar is also not processed with bone char (I spoke with a rep myself and confirmed it), so that's my favorite since it's the most affordable option. Natural options like coconut sugar and turbinado sugar are also okay!
Olive oil - I do 99% of my cooking with extra virgin olive oil. It's such a staple for me!
Vegetable oil - In contrast, I do 99% of my baking with vegetable oil. Cheap and flavorless so it goes well in lots of recipes. Canola, sunflower, and corn oil are also comparable.
Shortening - this is really just because I'm a big baker, but I find that using a blend of vegan butter and shortening yields best results in a lot of frostings and baked goods. I always opt for a "cleaner" shortening as it tastes better. My favorite brands are Nutiva and Spectrum.
Bread - let me preface this with, most bread is vegan anyway. But my favorite to have in the house for sandwiches, avocado toast, etc is Dave's Killer Bread. Organic, vegan friendly, and they have awesome fiber and protein stats. Their line also includes bagels and English muffins (which are actually hard to find without dairy)!
That is all I can think of for now, but I hope this vegan starter guide is a helpful starting point! If you're a vegan, I would love to know your household staples. And if you're not vegan... let me know what substitutes you're looking for. I am happy to help! I know you'll do awesome this Veganuary!
*Disclosure: I am part of the Amazon Associates Program, and there may be affiliate links on this page. If you buy anything through my website, I will receive a small percentage of the profit at no extra cost to you. Thank you for supporting my blog!*